Edna Clarke Hall was 14 years old when she began her studies at the Slade School of Art in the mid-1890s as an 'infant prodigy,' according to her family. Her friend Augustus John would eventually call her the 'star of her generation', though her career would follow a quieter, more circuitous path than that of some of her peers at the Slade, like John.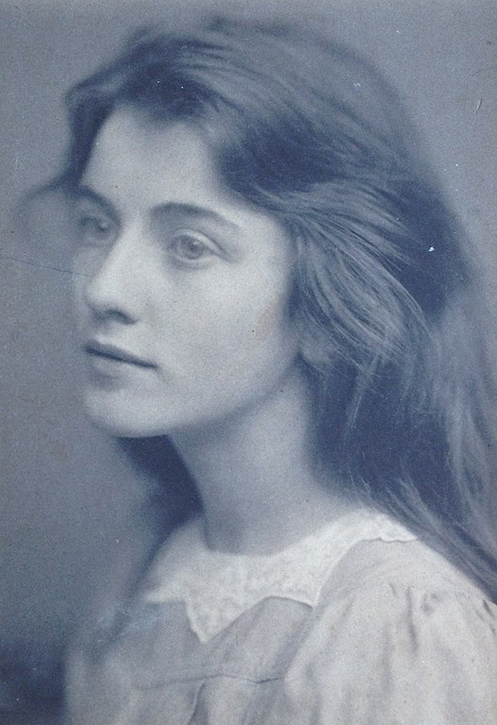 Clarke Hall was born Edna Waugh in 1879. She grew up in a large family with no artistic connections that moved regularly around the suburbs of London, eventually settling in St Albans. Her father, Benjamin Waugh, was a social campaigner and Christian minister who co-founded the National Society for the Prevention of Cruelty to Children. Edna was the tenth of his twelve children and was mostly educated by her older sisters.
Clarke Hall remembered her childhood as idyllic. She had the freedom to follow her own interests, especially drawing. A friend of the family, barrister William Clarke Hall, was so impressed by her work that he suggested she attend the Slade School of Art in London.
The Slade was still a relatively new art school when Clarke Hall arrived. The school was founded in 1871 based on a financial bequest from Felix Slade, who became its namesake. It was, and still is, part of University College London (UCL), which had been founded in 1826 as London's first university and the first university in Britain to be entirely secular. The Slade admitted women students on equal terms with men from its founding, and they quickly outnumbered male students. This trend continued throughout the Slade's history up to the Second World War.
In her autobiography, Clarke Hall wrote of her early years at the Slade: 'Already I was possessed by that touch of genius of which I was scarcely conscious, yet which dominated my life.'
She was surrounded by a close circle of illustrious friends, many of whom would go on to become some of the biggest names in British Modernism. Her closest female friends were Gwen John, Ursula Tyrwhitt, Gwen Salmond and Ida Nettleship. Her wider circle of friends included Ambrose McEvoy, Augustus John, Albert Rothenstein, and William Orpen. Clarke Hall described her circle as existing within 'a generation of students who were brilliant or had arresting personalities.'
Clarke Hall was especially close to Ida Nettleship, who would go on to marry Augustus John and be the subject of some of his most famous paintings. Many of Nettleship's letters to Clarke Hall survive and are overflowing with love for her friend. In August 1895 she wrote: 'I give unto thee from my life a kiss of blessing, a kiss of joy, and a kiss of great love beyond knowledge.' The two regularly encouraged each other to continue to work hard at their art. Clarke Hall wrote of her friendship with Nettleship many years later, 'Ida – her darling presence – her voice – my first real friendship. How dearly I loved her!'
In April 1896, towards the end of their time together at the Slade, Nettleship wrote to Clarke Hall: 'In the world there are roads that go straight somewhere and roads that go nowhere in particular. I believe you want to paint. Then walk down that road and don't get looking at the sky, and don't get down side paths. You've got to go for your end with your might. Stir up, and look the thing in the face and be a man for a time.'
This pep talk, as we might call it now, is firm and rousing. In particular, Nettleship's direction to 'be a man for a time' is powerfully revealing of the pressures facing these young women. Much as they succeeded at the Slade, winning prizes and praise from their tutors, they faced expectations from their families and larger social worlds to follow the traditional path expected of a middle-class woman: marriage, children, and homemaking. With each other's support, Nettleship and Clarke Hall both tried hard to 'be a man', but eventually surrendered to marriage and motherhood.
Clarke Hall won the Summer Composition Prize in 1897 and a scholarship award in 1898, making her the recipient of two out of the Slade's three biggest prizes – the third was the figure drawing prize. She was a great success, and recounted that one of her teachers, Professor Henry Tonks, who was well-known for his harshness, never made her cry, as he was known to do.
But in 1898, at the age of 19, Clarke Hall married the family friend who had first suggested she go to the Slade – William Clarke Hall, who was 13 years older than she was. The newlyweds moved to Richmond, from which Clarke Hall finished her final Slade year, and then to Upminster, Essex, where they established themselves permanently.
Clarke Hall was thus whisked from the bustle of hard work and thriving social life to the quiet and solitude of rural living, and the pressures of a demanding husband who no longer supported her art now that it impacted his own home life. She rapidly sank into the 'doldrums', as she called them, and struggled to find fulfilment without the pursuit of education and an artistic career.
Around 1900, she began obsessively drawing scenes inspired by Emily Brontë's novel, Wuthering Heights. 'I had such a strong feeling for it,' she wrote. 'I seemed to work under a spell... My obsession with Wuthering Heights was so persistent that for years these drawings used to slide out of my mind with complete ease.' These drawings would become her life's work, and would dominate her focus for the next three decades or more.
The drawings are visceral, idiosyncratic and modern. Many are undated and they are scattered throughout public museums and private collections throughout the UK, making it difficult to study them individually. They become instead a single body of work that represents one artist's ongoing creative practice.
Clarke Hall used her own body as a model for the characters of Catherine Earnshaw and Heathcliff, wearing vintage clothing she sourced with fellow Slade graduate Mark Gertler in the East End of London. Because of this, the drawings occupy a strange place between the categories of self-portrait, illustration and performance. Clarke Hall's imagined embodiment of both Catherine and Heathcliff can be read as a representation of her own inner conflict over her identity as an artist and a woman. She exhibited some of them at Vanessa Bell's Friday Club.
In a letter to her old friend Augustus John written in 1907, Clarke Hall wrote, 'There is a kinship between us, for we are both artists. It is true I have failed in so proving myself to the world...'
Despite her belief in her own failure, and her preoccupation with raising her two sons, Justin and Denis, born in 1905 and 1910 respectively, and keeping house for her family, she never wavered in her self-identification as an artist. After suffering from a serious mental breakdown in 1919, her husband – with the prompting of her old Slade tutor, Henry Tonks – set up a studio in London for her and helped her begin exhibiting again. She continued to make her Wuthering Heights drawings, and began to also draw other subjects, including flowers and scenes of her children.
After the death of her husband in 1932, Clarke Hall's professional career flourished even more, and she published volumes of poetry. Her studio was demolished in the Blitz in 1941, which was a serious blow to her work, marking the beginning of the end of her active years as an artist. She lived to be 100 years old, dying in 1979.
Clarke Hall is the sort of figure who touched the lives of so many artists whose names we know well, yet never received her due – either in life or after her death. Her works are unusual and many have been lost, but they are powerfully felt and convey the essence of this remarkable fixture of the twentieth-century British art world.
Eliza Goodpasture, writer and art historian
Further reading
Jad Adams, 'William and Edna Clarke Hall: Private and Public Childhood, "Your Child for Ever"', English Literature in Transition, 1880–1920, 49, no. 4, 2006, pp.398–417
Rebecca Birrell, This Dark Country: Women Artists, Still Life, and Intimacy in the Early Twentieth Century, Bloomsbury, 2021
Max Browne, 'Edna Clarke Hall (1879–1979) and Wuthering Heights', The British Art Journal, 16, no. 2, 2015, pp.108–118
Edna Clarke Hall, Heritage of Ages, Tate Gallery Archive, unpublished manuscript
Michael Holroyd and Rebecca John, The Good Bohemian: The Letters of Ida John, Bloomsbury, 2017
Allison Thomas, Portraits of Women: Gwen John and Her Forgotten Contemporaries, Cambridge University Press, 1994