Reviewing Clara Klinghoffer's first solo exhibition on 3rd May 1920, the art critic of the Daily Graphic proclaimed the 19-year-old a 'new star' and the 'Girl Who Draws Like Raphael'. The fine drawings and paintings by this hitherto unknown young woman caused something of a press sensation, propelling her rapidly into the limelight.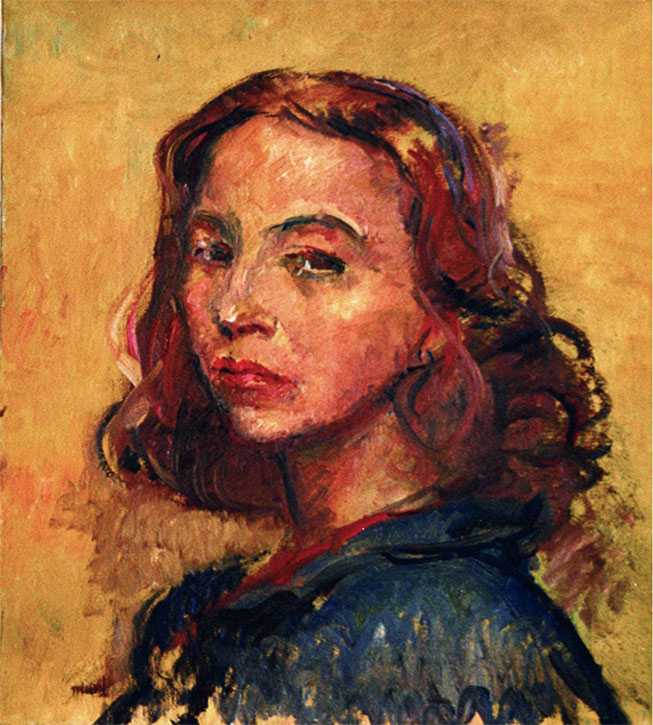 In March 1939 her friend the sculptor Jacob Epstein would describe her as 'a painter of the first order... Her understanding of form places her in the very first rank of draughtsmen in the world.' Yet it is fair to say that among the gallery-going public, Clara Klinghoffer's name today is little known, save for enthusiasts of early modern British art.
Clara (Chaje) Esther Klinghoffer was born on 18th May 1900 to Hannah (Annie) and Soloman Klinghoffer in Szczerzec (Shchyrets), a small village near Lviv in Galicia, Austria-Hungary, in what is now Ukraine. Soloman moved to England when Clara was just one month old, arriving in June 1900, to find work as a tailor in Manchester. Clara, with her mother and sister Fanny, joined him three years later. In 1904 they relocated to London, at first taking small dingy rooms in Puma Court off Whitechapel Road, and then Chrisp Street and Grove Road (now Golding Street), off Commercial Road. As Soloman's business prospered, as a 'job buyer' of cotton mill-ends for the tailoring business, the growing family moved again, settling in about 1910 around the corner in roomier three-storey quarters at 148 Cannon Street Road, where her mother ran a dress shop.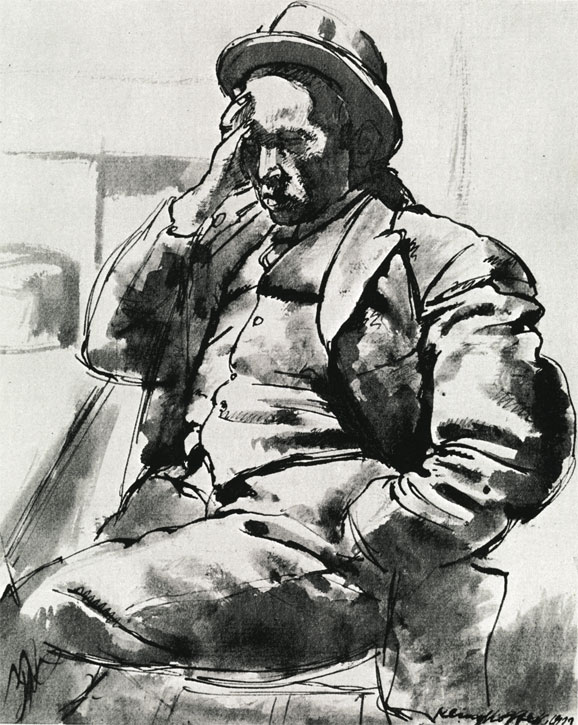 In April 1914 Soloman Klinghoffer applied for naturalisation – a move prompted in part, perhaps, by the prospect of war in an increasingly restless Europe, particularly in their native Austria-Hungary. In later years Clara would describe herself as an 'international' painter, holding over her lifetime no fewer than four nationalities: Austrian by birth, Dutch by marriage, British and then American by naturalisation.
In London Clara Klinghoffer briefly attended several East End schools, latterly St Mark's, a parish school serving poor and largely immigrant children in the shadows of the railway line at Goodman's Fields, E1, a stone's throw from the Tower. From about the age of ten she showed a keen interest, and remarkable precocity, in drawing.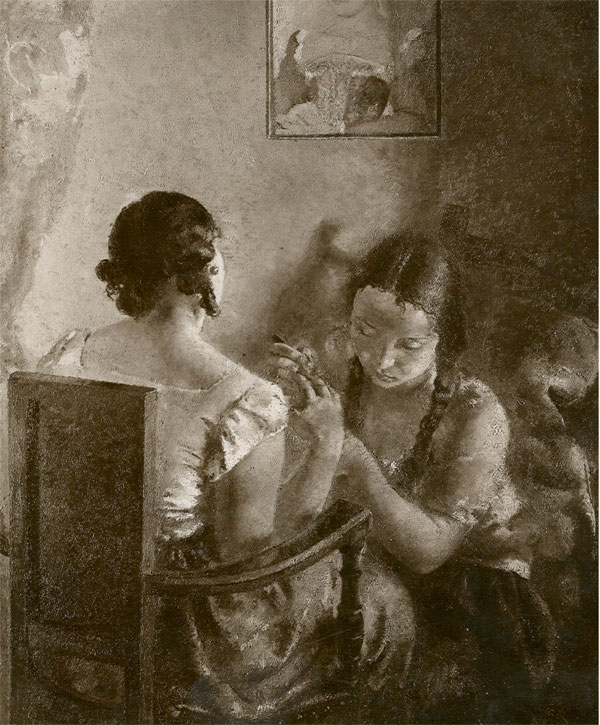 Whiling away hours in her mother's dress shop sketching clients, her ability was spotted by a client, who persuaded the Klinghoffers to provide their gifted daughter with art lessons.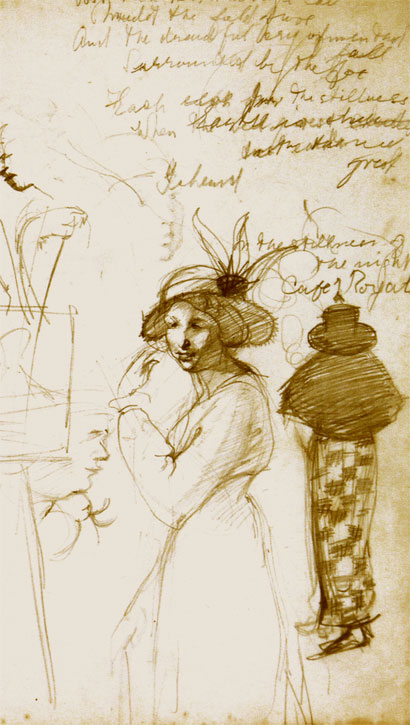 They raised sufficient funds to send her to the John Cass Institute, in Jewry Street, Aldgate, which she attended very briefly, aged just 14, before transferring to the Central School of Arts & Crafts. At Central, she met the Ukrainian immigrant artist Bernard Meninsky, who taught life drawing and became a mentor and an important influence on her work. On first entering the school she met Meninsky with fellow tutor Duncan Grant and they set her to draw a cast of a hand. Meninsky's response, on seeing the result, was reportedly, 'Good Lord, that child draws like da Vinci!' Through him, she made the acquaintance of many connected with the art world such as Thérèse Lessore (Walter Sickert's third wife), Wyndham Lewis, and Jacob and Peggy Epstein, who became her firm friends.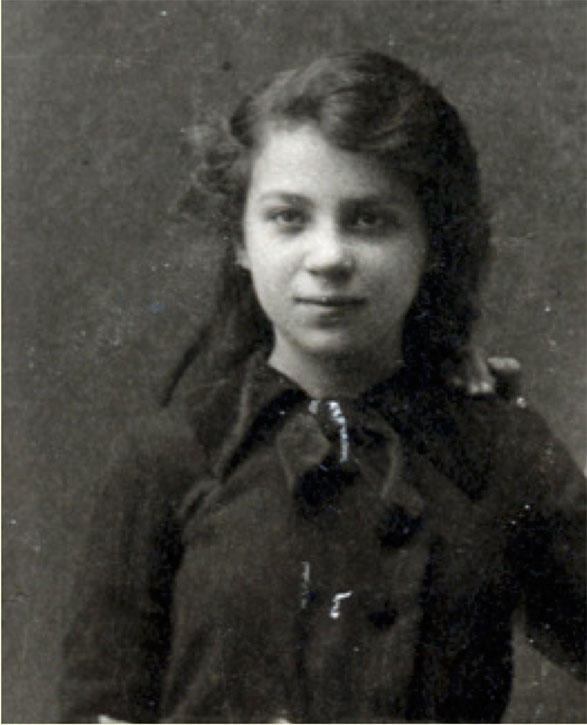 In 1918 Klinghoffer enrolled at the Slade in Gower Street, where she studied for two years under Frederick Brown and Henry Tonks. She excelled at figure studies, awarded second prize for Figure Drawing in 1919, and the Orpen Bursary. Whilst there, she spent much time drawing in the sculpture halls of the British Museum (which today holds a sizeable collection of her work).
Among her family, friends and neighbours she found no shortage of models, and particularly her six sisters, Fanny, Rose, Rachel, Bertha, Leah and Hilda, all strikingly different. Rose and Rachel became her most frequent sitters. (Rose also sat for Epstein.)
Whilst still a student (in May 1920) Klinghoffer held her first solo show, of 53 drawings and paintings, at the newly established Hampstead Art Gallery in Finchley Road. She was recommended to them by Alfred Wolmark who exhibited there. This exhibition was an enormous success, resulting in rave reviews, portrait commissions, and invitations to exhibit from other galleries. Adolphe Braun reproduced her drawings in his technical manuals The Child in Art & Nature (1921) and The Human Form of Art (1926) in which he noted her 'delicate feeling', adding that after a 'sensational' debut, Klinghoffer was 'settling down to an effective and efficient style of draughtsmanship.'
In June Klinghoffer participated in the 'spirited' 62nd Exhibition by the New English Art Club at Pall Mall; her Mother and Child – which actually showed her eldest sister, Fanny, bathing the youngest, Hilda – was described in the Westminster Gazette as 'a triumph of luminosity', although the reviewer remarked that 'to some, the general effect will be too meaty for enjoyment.'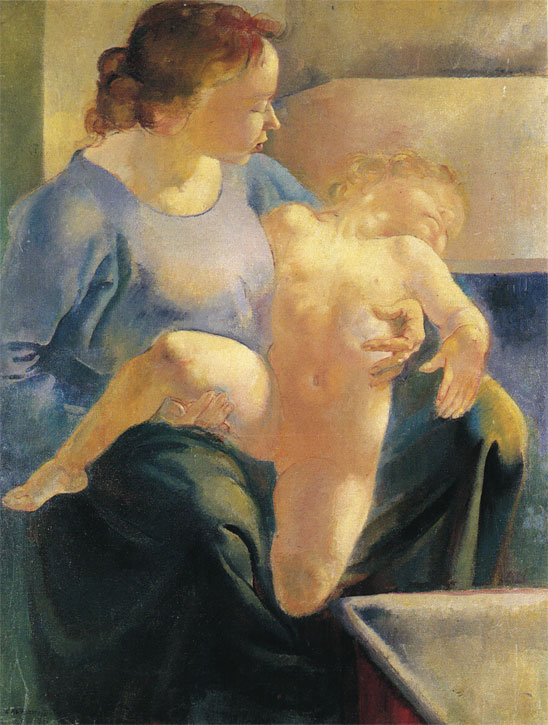 In November 1920 Klinghoffer exhibited in the Goupil Gallery Salon, which comprised more than 150 works by diverse artists such as Augustus John, Lucien Pissarro, William Roberts and Matisse. Again her portrait of a child drew attention, for its 'individuality and conviction' (The Common Cause). Over the next ten years, she enjoyed four more successful solo exhibitions in London: at the Leicester, Godfrey Phillips, and Redfern Galleries, as well as participating in group shows such as those by the New English, the Goupil salons, the Women's International Art Club, and the Imperial Institute.
Her work was frequently likened to the Old Masters. One anonymous review – believed to be by Aldous Huxley – in April 1922 in Vogue, of the Grosvenor Galleries' 'Colour Magazine' exhibition, drew attention to the influence of Clara's former tutor, remarking that the inspiration for her portrait of her youngest sister Hilda, 'seems ultimately to be derived from those queer post-Leonardesque painters of the Renaissance, though it probably came by way of Mr Meninsky.'
In November 1923, writing in Colour magazine itself, Amelia Defries recorded how tiresome Klinghoffer found 'the endless comparison of Leonardo', complaining that her subject (in this case one of her sisters) actually looked like a Leonardo – 'I can't help that, can I?'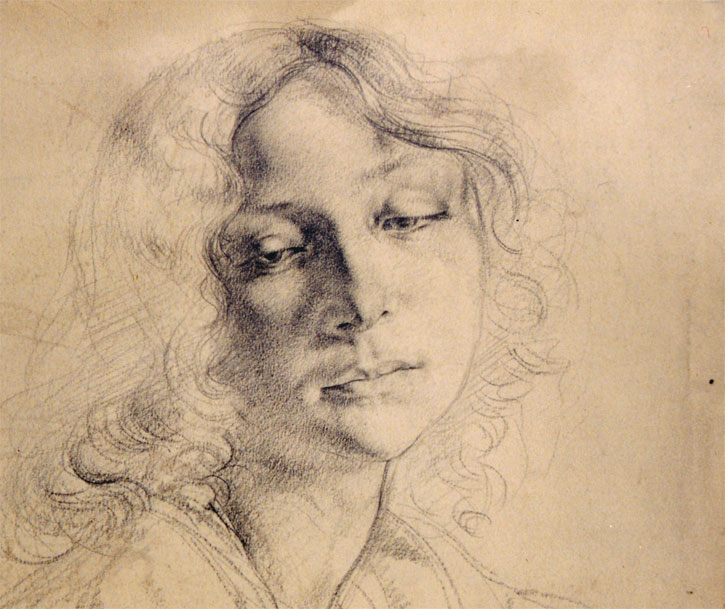 Overall her reviews were very positive: if occasionally commentators would note a 'false colouration' or 'unattractive colour arrangements', the consensus was that any weakness in her handling of colour was more than made up for by her fine draughtsmanship. Yet writing in April 1925 of the Redfern Gallery show, Observer art critic Paul Konody (who himself had selected the works for the Grosvenor's 'Colour' exhibition) worried that her 'undeniable accomplishment and sensitive draughtsmanship seems to have led her into a blind alley, from which she does not even attempt to escape.'
Throughout the 1920s Klinghoffer also exhibited on the Continent, in the Venice Biennale, in Stockholm, in Amsterdam. In July 1926 she married Joop Stoppelman, a Dutch journalist, at Duke Street Synagogue, the couple honeymooning at Menton-Garavan in the Alpes-Maritimes, near the Italian border, where they stayed for ten months.
There she painted The Old Troubadour, which was shown in the Royal Academy's 1933 Summer Exhibition and subsequently purchased by the Chantrey Bequest Trustees for the Tate. It depicts Torquato Simoncelli, an elderly guitarist whom Klinghoffer and her husband met at Menton that summer. It was probably there, too, that she painted the near-lifesize The Girl in a Green Sari.
Klinghoffer's early success resulted in numerous portrait commissions, such as of the acclaimed concert pianist Harriet Cohen, and Helen Ede, who with her husband Jim (a fellow Slade student) founded the 'living' private art collection at Kettle's Yard in Cambridge.
Klinghoffer would go on to paint many well-known personalities: her friend Lucien Pissarro, and his daughter Orovida; Albert Schweitzer; Sir Winston Churchill, Isaac Bashevis Singer, actors Vivien Leigh, Sybil Thorndike and Miles Malleson, among others.
Klinghoffer's Jewish identity figured largely in her early sketches of the vivid characters of her East End neighbourhood (then predominantly Jewish), among them rabbis and scholars.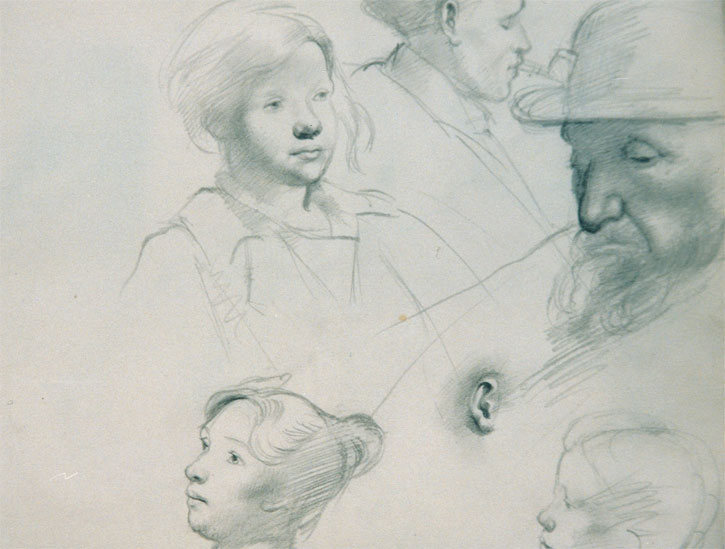 She disliked being labelled a Jewish artist, however, finding it an alienating distinction – as her son Michael Laurence would later observe, no Catholic or Presbyterian painters were ever identified as such. Nonetheless, in October 1923 she participated in the 'Jewish Artists' exhibition at the Whitechapel Art Gallery (organised by the Society of Jewish Artists). This was a highly successful show, with some 20,000 visitors in its first week, but many reviewers played into the racial undercurrents of the day, like The Times's critic whose article 'Jewish Art: Race and Nationality in Painting', noted what it termed the 'Oriental exuberance' of her Mother and Child.
In contrast, Louis Golding, writing in the New York-based Menorah Journal (1924) found the exhibition (which was arranged by medium) neither stylistically cohesive nor with any particular Jewish content, and failed to discover any 'latent unifying impulse we might have termed Jewish'. Praising Klinghoffer's work for its 'filmy and opalescent, poetical rather than pictorial' quality, Golding went on to comment that she seemed to be in revolt against the 'monumental solidity' of Mark Gertler or David Bomberg. Both were former Slade students and part of a small group of emigré artists from Klinghoffer's neighbourhood known as 'Whitechapel Boys'.
She once shared a studio with Bomberg, whom (so her sister Rachel said) she 'couldn't stick', but she was friendly enough with Gertler, exhibiting with him at the Leicester Galleries in 1932. Among her friends was Clara Birmberg (later Clare Winsten, or Weinstein) – the only woman artist hitherto identified with the Whitechapel Boys group.
In May 1927, Klinghoffer again participated in the Whitechapel's 'Jewish Art and Antiquities' exhibition, with many works loaned by the Ben Uri Gallery.
This included Bomberg's Ghetto Theatre and a work by Gertler that the Daily Herald described as a 'delectable study of bread and onions'. As well as local artists it included works by overseas artists, like Isaac Lichtenstein's The Blind Fiddler and Samuel Hirszenberg's The Sabbath Rest.
A portrait by the 'more than promising' Klinghoffer of a 'heavy-lidded Jewish character with bowler hat well pressed back' came in for special mention by the Herald, though several reviewers seemed more interested in the unusual artefacts like the Hebrew-inscribed eggshell with verse from the Song of Solomon, and a mandrake root in the shape of a man. The painting in question was Bananas the Pedlar, a local street seller whom Clara persuaded to sit.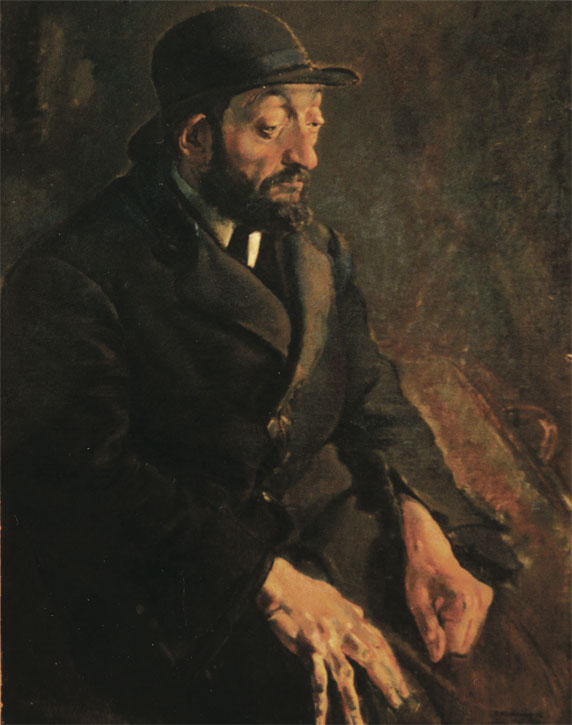 The following year Klinghoffer and her husband moved to Montmorency outside Paris. From there she made use of the life rooms of the Paris art school, La Grande Chaumière, and continued to make figure studies, including of her new baby daughter Sonia. In 1930 they relocated to Heemstede, outside Amsterdam, where their son Michael was born, and Clara joined the KZOD (Kunst zij ons doel), Haarlem artists' collective. Works from this period were exhibited in another solo show at the Redfern Gallery in 1938, described by The Sketch as portraits in the Old Master tradition and some 'modern, very fine' Dutch and Italian landscapes.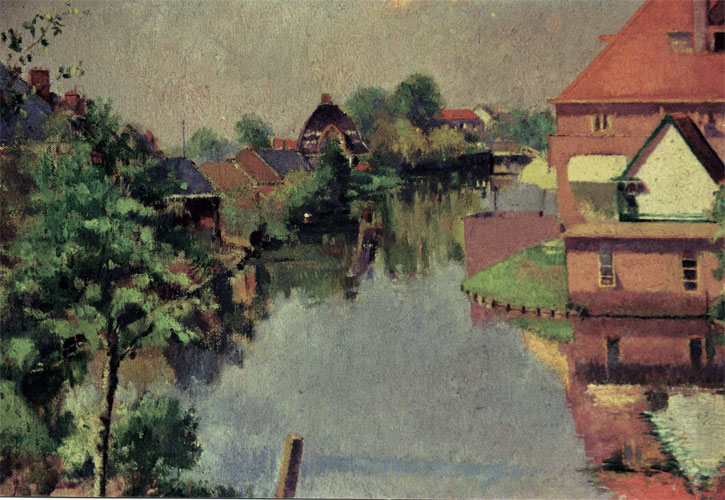 Her painting The Oriental Necklace of around this time highlights her sensitivity as a portrait painter.
With the rising Nazi threat, and the German army turning its sights towards the Dutch border, the family planned to get out as soon as they could. Given Stoopleman's Dutch nationality and his nation's then-uncertain role in the war (which might have caused them difficulties in wartime England), they decided on America, leaving in 1938, though spending some months with Clara's family in London before they eventually crossed the Atlantic.
In New York Klinghoffer's wartime exhibitions, including a solo show at 460 Park Avenue Galleries, met with some success. But this was not to last. The art world was swift to embrace the new abstract expressionism, powered by the new superstars of the art scene such as Jackson Pollock and Willem de Kooning. With the horrors of the Second World War, the 'real world' had let mankind down, appallingly; post-war, perhaps the relative safety (in ideological terms) of an art for art's sake – removed from the potentially problematic, radical, didactic or political ideas of interwar modernism – played a part.
Like many other pre-war figurative artists, Klinghoffer's work became distinctly unfashionable.
Fine though it was – like her 1946 Portrait of a Girl Reading – the artist was out of keeping with, and herself opposed to, much of the new art. She found it hard to get exhibitions – even with those London galleries that had enthusiastically supported her pre-war work. From her studio in Riverside Drive, New York, Klinghoffer was moved to join the Artists' Equity Association (AEA) newly established in the USA in 1947 to protect the livelihoods of artists struggling like herself.
Relief came with a visit to Mexico in 1952. The colourful landscapes were attractive to Klinghoffer, and she found plenty of suitable models among the locals.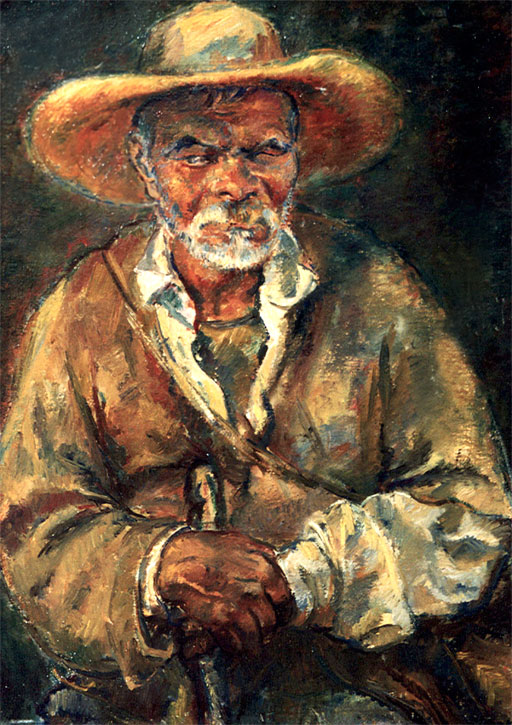 A large solo show at the Juster Gallery, New York, towards the end of the decade, went some way to reviving critical attention, and the 1960s saw several profitable exhibitions in New Jersey, but she never again received the acclaim of her early years. She continued to make portraits, and produced some fine work, among them her 1962 portrait of Orovida Pissarro.
Shown at the RA Summer Exhibition the same year, its monumentality and domestic kickshaws recall Gertler's early portraits of his mother (notwithstanding Golding's previous assertion).
Clara Klinghoffer's last exhibition was in 1969 at the Mexican/North American Cultural Institute in Mexico City, after which she returned to Europe, spending time in Southern France before, in failing health, returning to London, where she died, on 18th April 1970.
Sara Ayad, independent art researcher
All private collection pictures are kindly supplied by the artist's family and are copyright of the artist's estate.