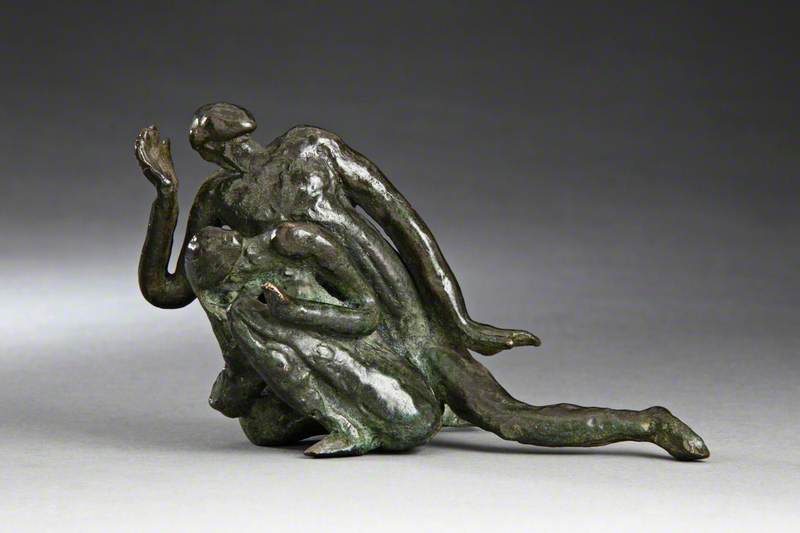 © the artist's estate / Tate Images. Photo credit: Watford Museum
(b New York, 10 Nov. 1880; d London, 19 Aug. 1959). American-born sculptor (and occasional painter and illustrator) who settled in England in 1905 and became a British citizen in 1910. Before then, in 1902–5, he had studied in Paris and visits to the Louvre aroused an interest in ancient and primitive sculpture that lasted all his life and powerfully affected his work. His first important commission was executed in 1907–8: eighteen over-life-size figures for the façade of the British Medical Association's headquarters in the Strand.
Read more
The nude figures aroused a furore of abuse on the grounds of alleged obscenity and were mutilated in 1937 when the building was bought by the government of Southern Rhodesia. Such verbal attacks and acts of vandalism were to become a feature of Epstein's career. The next scandal came with his tomb of Oscar Wilde (1912, Père Lachaise Cemetery, Paris), a magnificently bold and original piece featuring a hovering angel inspired by Assyrian sculpture; it was banned as indecent until a bronze plaque had been fixed over the angel's sexual organs, and after the plaque was removed in a night raid by a band of artists and poets, the tomb was covered with a tarpaulin for two years. While he was in Paris in connection with the tomb Epstein met Picasso, Modigliani, and Brancusi and was influenced by their formal simplifications. Back in England he became involved with Wyndham Lewis and the Vorticists (although he was never a formal member of the movement), and at this time he created his most radical work—The Rock Drill (1913–15, Tate, London, and other casts), a robot-like figure that was originally shown mounted on an enormous drill; he said it symbolized 'the terrible Frankenstein's monster we have made ourselves into'. Epstein's later work was generally much less audacious than this, but his public sculptures were still attacked with monotonous regularity, their expressive use of distortion being offensive to conservative critics even when they were immune to charges of indecency. In the face of such controversy Epstein concentrated increasingly on bronze portrait busts, which found a more appreciative audience than his monumental works. Many notable men and women sat for him and he portrayed them with psychological intensity and great mastery of expressive surfaces, carrying on the tradition of Rodin. It was only after the Second World War that his work began to achieve public acceptance, and in the 1950s he belatedly received a stream of honours (including a knighthood in 1954) and of major commissions, including the enormous bronze group of St Michael and the Devil (1958) at Coventry Cathedral.
Text source: The Oxford Dictionary of Art and Artists (Oxford University Press)