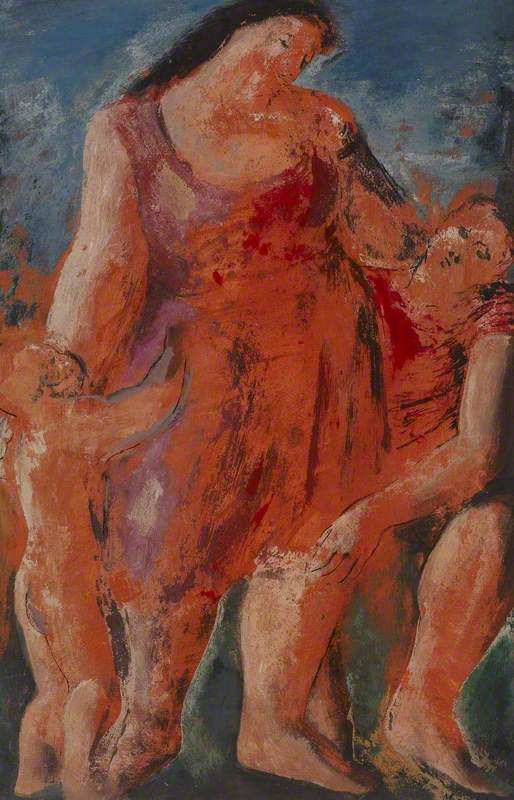 Photo credit: Ben Uri Collection
Painter, draughtsman and teacher, born in Karotopin, Ukraine, father of the artist Philip Meninsky. A few weeks after birth he was taken to England and was brought up in Liverpool, where he attended the School of Art in 1906 after attending evening classes in art. In 1911 left with King's Medal, having in the meantime studied briefly at Royal College of Art and Académie Julian, Paris. With a scholarship he entered the Slade School of Fine Art, 1912–13. In 1913 worked for Edward Gordon Craig at his theatre school in Florence, returning to teach at the Central School of Arts and Crafts. After several years in the Army, in 1918 was naturalised a British citizen, had a nervous breakdown and was discharged from service after six months as a Ministry of Information war artist.
Read more
In 1919, having returned to Central School, Meninsky had first solo show, at Goupil Gallery. In 1920 he began teaching at Westminster School of Art, where he was an influential tutor in life drawing, being a superb figure draughtsman. Later Meninsky was to teach at Oxford City School of Art, 1940, and again at the Central, 1945. A highly sensitive man, Meninsky had periodical mental trouble, finally committing suicide. He had shown with LG and NEAC both of which he was a member; had published Mother and Child: 28 Drawings by Bernard Meninsky, 1928, and illustrated Milton's L'Allegro and Il Penseroso, 1946; and had designed sets and costumes for the ballet David for the Markova-Dolin Company in 1935. Arts Council memorial exhibition, 1951–2, and retrospective show at Adams Gallery, 1958. A retrospective touring Museum of Modern Art, Oxford, and elsewhere was held in 1981. In 2000–1, University of Liverpool Art Collections organised a touring exhibition, A Singular Vision: Drawings & Paintings. Belgrave Gallery held its fifth Meninsky show in 2003. Tate Gallery and provincial galleries hold his work. Lived in London.
Text source: 'Artists in Britain Since 1945' by David Buckman (Art Dictionaries Ltd, part of Sansom & Company)