Phillip King (1934–2021), who passed away in July 2021, was a key figure in the seismic shifts that swept through the field of sculpture during the 1960s, replacing reverence for stone and bronze with explorations of novel forms and materials.
Throughout his career he applied a rigorous intellect that allowed him to analyse the roles of shape and colour, though his work also displays a playfulness and free-spirited imagination. While able to work with substances as varied as wood and slate, King is best known for early experimentation with plastics and his use of steel from the end of the 1960s into the following decade.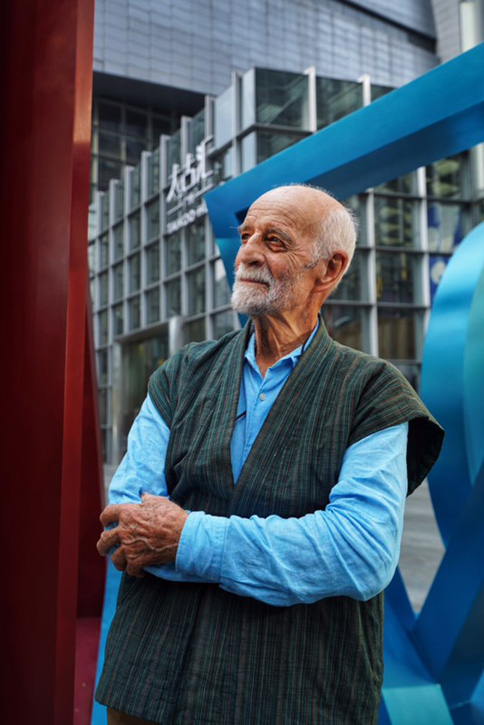 This may seem a far cry from his childhood years spent on the coast of north Africa, though the freedom he clearly enjoyed as a boy seemed to have stayed with him as an adult. King was born in Tunisia in 1934, the son of an English businessman and his French wife, with his early years spent visiting the ruins at Carthage and digging for clay to make pots and animals. The family moved to England after the ending of the Second World War and in 1954 – as art had been discouraged at school – King secured a place at Christ's College, Cambridge, to study modern and medieval languages.
However, it was at university that he started to exhibit and sell small clay works, before going on to study sculpture at St Martin's School of Art, London, from 1957–1958, where he came under the influence of his teacher Anthony Caro. Early on in his career, King was also inspired by old masters such as Michelangelo, Rodin and Picasso, continuing to work in clay, as well as learning to cast in bronze, as with figurative pieces such as Mother and Child (c.1950–1959).
He then taught at St Martin's for a year before gaining, with Caro's support, the role of assistant to the UK's most revered living sculptor, Henry Moore (a position King's former tutor had held before him). With Moore as a mentor, King was able to consider working on a larger scale. In 1960, though, his view of art was turned upside down thanks to his introduction to the revolutionary Abstract Expressionism movement then emerging from the US, especially its physicality, saying the likes of Jackson Pollock and Mark Rothko brought, 'a sort of message of hope and optimism, large scale, less inbred'.
It was only after a visit to Greece, though, where he saw how structures such as the Parthenon connected with the landscape, that he could see a path for himself. On his return, King scrapped his existing work and explore this new inspiration, at first following the lead of Constantin Brâncusi's tall, slender forms.
He gained recognition as part of the New Generation artists, a label derived from a series of exhibitions of that name at the Whitechapel Gallery, London, that focused on young talents keen to defy established artistic conventions. The second such survey in 1965 was themed around sculpture, drawing attention to such figures as King, David Annesley and William Tucker that were concerned with bringing light, freedom and even humour to the form through the use of vibrant, industrial tones and modern materials. All had been taught by Caro.
King himself experimented with fibreglass and plastic, as used in Genghis Khan (1963), a piece that the artist regarded as the last work of his that intentionally represented a subject, alluded to in the tent-like shape and the regal purple hue. However, King soon began to realise that fibreglass's tendency to distort made it unsuitable for broad, curved surfaces such as this, so in the early 1970s, he remade it with a steel frame support. Other works would be completely rebuilt in metal.
Moving into more abstract forms, King found a continuing fascination with the cone thanks to its stability. Key to the New Generation was doing away with plinths, so often their works had to find their own position on the floor of a gallery or outside. King himself rolled up plastic or fibreglass sheets into shapes that were left open, revealing spaces or further forms within and allowing him to explore the tension between the surface of objects and their volumes.
Both King and Caro were included in the seminal 1966 show 'Primary Structures' at the Jewish Museum, New York, which brought to the US some of the British names influencing new art forms, alongside American names including Carl Andre, Dan Flavin and Donald Judd. It also introduced King to the concept of environmental sculpture, works constructed to involve or encompass viewers rather than simply face them. After this, his own work started to spread across the floor and lean against walls as he explored the expressive possibilities of regular progressions of colour or shape, as in Nile (1967).
Another work that started life in fibreglass, Call (1967) was explicitly an environmental work, with its twin boxes and columns responding to others in shape and colour. Call featured in a 1968 retrospective of his work at the Whitechapel Gallery, London, the same year he represented Britain at the Venice Biennale alongside the Op Art pioneer Bridget Riley. Two years later, Call became King's first steel sculpture when he chose to remake it.
His move into steel was inspired by a trip to Japan, where he had taken on a visiting professorship. It was there he learned how to handle the alloy from its use in the shipbuilding industry. Some pieces were made for him by factories with his participation, others involved him welding elements at industrial foundries or even in a large studio he established at Clay Hill Farm near Dunstable, Bedfordshire.
The process enabled King to respond to a growing concern regarding his oeuvre: with individual pieces grouped together, were he and his audience spending too much time distracted by visual arrangements? Working with metal plates solved this dilemma by allowing him to introduce more space within works that came in one piece. Several of his larger works are now found in cities as far afield as Liverpool, UK, Munich, Germany, Guangzhou, China, and Rotterdam, the Netherlands, as well as in his home city of London.
With his Dunstable base and a smaller studio in his garden in West Hampstead, London, King was able to be productive in a variety of materials. Within (1978–1979) includes 32 pieces of steel, slate and elm – the latter chosen, King explained, because of its cheapness and natural feel – either bolted, glued or welded together. It is work that reflects the often improvised nature of his process.
However, during the 1980s, King was faced with two calamities. In 1984 his son Antony drowned while swimming in the Mediterranean. Then his Dunstable studio burnt down, destroying materials and part-built sculptures as well as his place of work. He became less productive, working on a smaller scale that included pieces reminiscent of architectural models, gradually becoming more figurative.
In 1974 King was appointed CBE and three years later was elected an associate of the Royal Academy (RA). Leaving St Martin's in 1980, he became a professor of sculpture at the Royal College of Art moving on in 1990 to take up the same position at the RA until, at the end of the decade, he was elected president of the same institution. While he exhibited work less often, King was honoured with a solo show at the Belvedere fortress in Florence, Italy, the first British sculptor to be celebrated in this way since Moore.
Tate Britain celebrated King's 80th birthday in 2014 with a display of six works from the 1960s in its Duveen Galleries. The museum noted how the sculptor was a pioneer in his use of colour – King himself had said how colour was 'no longer subservient to the material but something on its own'. After his death, King's gallery, Thomas Dane, described him as a free-spirit and risk-taker, saying 'he re-taught us that art and sculpture-making should know no rules or limitations'.
Chris Mugan, freelance journalist