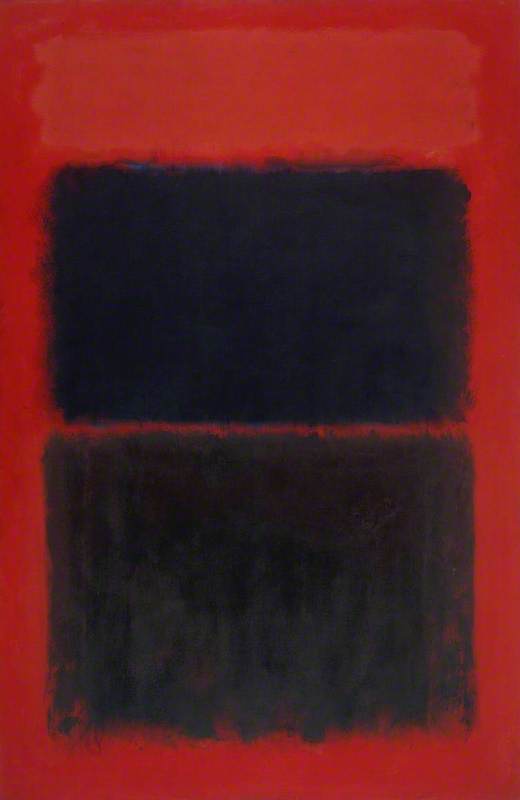 © 1998 Kate Rothko Prizel & Christopher Rothko ARS, NY and DACS, London. Photo credit: Tate
(b Dvinsk [now Daugavpils, Latvia], 25 Sept. 1903; d New York, 25 Feb. 1970). Russian-born American painter, one of the outstanding figures of Abstract Expressionism and one of the creators of Colour Field Painting. He emigrated to the USA as a child in 1913. After dropping out of Yale University in 1923 he moved to New York and studied at the Art Students League under Max Weber, but he regarded himself as essentially self-taught as a painter. In the 1930s and 1940s he went through phases influenced by Expressionism and Surrealism, but from about 1947 he began to develop his distinctive mature style. Typically his paintings feature large rectangular expanses of colour arranged parallel to each other, usually in a vertical format. The edges of these shapes are softly uneven, giving them a hazy, pulsating quality, and they seem to gently hover or float over the canvas.
Read more
The paintings are often very large and the effect they produce is generally one of calmness and contemplation, but in spite of their tranquillity, they cost Rothko enormous emotional effort: 'I'm not an abstract artist…I'm not interested in the relationship of colour or form or anything else. I'm interested only in expressing basic human emotions—tragedy, ecstasy, doom and so on. And the fact that a lot of people break down and cry when confronted with my pictures shows that I can communicate these basic human emotions…The people who weep before my pictures are having the same religious experience as I had when I painted them.'Rothko was poor for much of his career (from 1929 to 1959 he earned at least part of his living by teaching art), but his reputation grew in the 1950s and in 1961 he was given a major retrospective exhibition at the Museum of Modern Art, New York, that sealed his success. In spite of his soaring fame (and the money it brought), Rothko was plagued by depression. He had a prickly temperament, drank heavily, took barbiturates to excess, was fearful and suspicious of younger artists, had two unhappy marriages, and felt he was misunderstood (he disliked having his paintings discussed in formalist terms). His early works had often been bright and vivid in colour, but from the 1950s they became increasingly sombre, typically employing blacks, browns, and maroon. He regarded his fourteen paintings for a non-denominational chapel in Houston, Texas (now known as the Rothko Chapel), 1967–9, as his masterpieces. His last paintings were a series of stark black on grey canvases that evoke his painful state of mind leading up to his suicide (he slashed his veins in his studio).
Text source: The Oxford Dictionary of Art and Artists (Oxford University Press)