Selection and text by Laura Godfrey, Guildhall Art Gallery volunteer
Join us as we take a brief look at five eclectic artworks from the Guildhall Art Gallery collection with a Christmas connection...
Before Mary Berry, or Nigella or Kirstie with her handmade crackers, this was the woman who decreed how Christmas should be celebrated.
In December 1800, Charlotte of Mecklenburg- Strelitz, wife of George III and busy mother of fifteen came up with an idea which was to revolutionise the way in which we decorate our homes. No more would our halls be decked with sprigs of holly and a pine cone, out went the Yule log and the kissing bough in came the Christmas Tree.
For those of you keen to replicate Queen Charlotte's stunning centrepiece, we recommend a tastefully arranged mix of sweetmeats, fruit and small toys. Whilst, candles flickering amongst the branches look particularly festive, we would advise that a minimum of three housemaids and a footman be in attendance whenever the tapers are lit.
Ashamed of that tired tablecloth and those mismatched glasses? Looking for something bold and exciting? Artist and food stylist Matthew Arnold Bracy Smith suggests a simple arrangement of fruit and leaves scattered amongst the turkey and sprouts.
Still Life with Yellow Fish
c.1952–1955
Matthew Arnold Bracy Smith (1879–1959)
Oil on canvas
H 152 x W 114 cm
City of London Corporation
A selection of rustic bowls and a wine jug add height and texture and for that all important sense of fun, why not add a few brightly coloured fish.
Still Life with Blue Fish
c.1952–1955
Matthew Arnold Bracy Smith (1879–1959)
Oil on canvas
H 152 x W 111 cm
City of London Corporation
Christmas will be different this year, but none the less it is important that one looks ones best when entertaining guests. Those of you who admired Alfred Emile Léopold Joseph Victor Stevens Summer frock will be delighted to hear that a Winter gown is now available.
Winter
c.1876
Alfred Emile Léopold Joseph Victor Stevens (1823–1906)
Oil on canvas
H 76 x W 25 cm
City of London Corporation
As theatres begin to open again after lockdown, why not treat the family to a trip to the Pantomime? We hear that the show about the Lord Mayor and his Cat is especially good.
.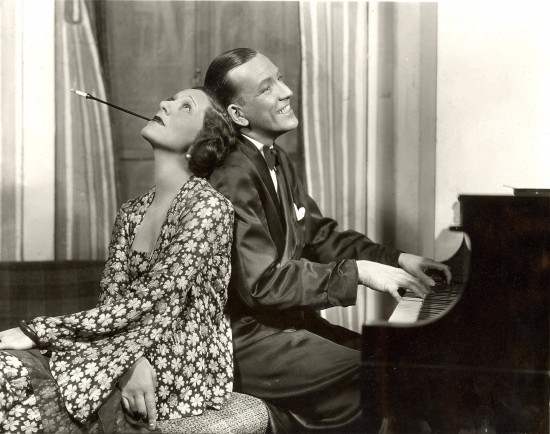 ©  Courtesy of Billy Rose Theatre Division, The New York Public Library for the Performing Arts.. Photo credit: Photo by Vandamm Studio.
And finally, the last word must go, as it so often did, to Sir Noël Coward. Unfortunately Sir Noël will be unable to join us this Christmas, but I have no doubt that he and Gertrude will be with us all in spirit. So for the perfect Martini, let us all fill a glass with gin and then wave it, oh so elegantly in the direction of Italy.
Noël Coward: Art & Style will open at Guildhall Art Gallery on Thursday 14 January 2021.

Gertrude Lawrence and Noël Coward in Private Lives, 1931 - Times Square Theatre, New York.