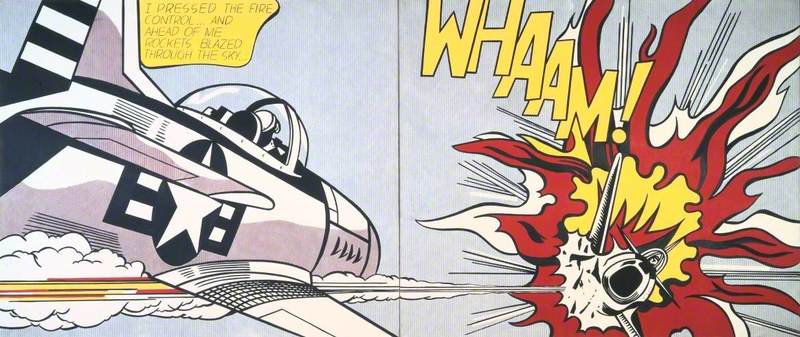 © the estate of Roy Lichtenstein/DACS 2021. Photo credit: Tate
(b New York, 27 Oct. 1923; d New York, 29 Sept. 1997). American painter, sculptor, and printmaker. In the late 1950s his style was Abstract Expressionist, but in the early 1960s he changed to Pop art and his first one-man exhibition in this style, at the Leo Castelli gallery, New York, in 1962, was a sensational success. In common with other Pop artists, Lichtenstein adopted the images of commercial art, but he did so in a highly distinctive manner.
Read more
He took his inspiration from comic strips but blew up the images to a large scale, reproducing the primary colours and dots of the cheap printing processes (Whaam!, 1963, Tate, London). The initial stimulus is said to have come from one of his young children, who pointed to a comic book and challenged, 'I bet you can't paint as good as that.' Despite their use of such kitsch material, his paintings show an impressive feeling for composition and colour, and Lichtenstein enjoyed continued critical success as well as popular appeal. In the mid-1960s he began producing Pop versions of paintings by modern masters such as Cézanne and Mondrian, and also started making screenprints. In the 1970s he expanded his range to include sculpture, mostly in polished brass and imitating the Art Deco forms of the 1930s. His later work included several large commissions for public places, for example Mural with Blue Brushstrokes (1986, Equitable Building, New York).
Text source: The Oxford Dictionary of Art and Artists (Oxford University Press)