What are Curations?
There are around 290,000 artworks – paintings, sculptures, prints, drawings and photographs – from collections all across the UK on Art UK's website.
Our Curations tool allows you to group any of these artworks together. You can also add text to provide information about the artworks or to explain your ideas.
Use Curations to:
save artworks for your own personal research to use in lesson planning
share artworks with your students to explain ideas or illustrate themes
curate a mini online exhibition with your students to share with the rest of the world!
How could you use Curations with your class?
Explain and illustrate themes in lesson planning

Are you exploring a particular topic or theme with your students?
Use Curations to group artworks together so that you have them on hand to use in your lesson.
Have a look at some of the themes others have explored with Curations:
Teaching about art, artists and movements
Are you planning a lesson about a specific artist, art movement or art technique?
Use Curations to show your students examples of artworks or to explain a movement or the characteristics of a medium.
Have a look at these examples of art-themed Curations:
Curate an online exhibition of Art UK artworks

Get 'curative'! Encourage your students to showcase their curation talents (as well as their digital and writing skills). Task them with researching and creating a Curation to share with the world.
This could be as simple as an animal alphabet... or could be a more in-depth exploration of a theme such as Scottish women painters.
Here's how:
task students with researching and selecting artworks on a given theme using the artwork search
they could also write brief texts to accompany their choices and an introductory text for their Curation
add the artworks and texts to a Curation using your account
Each Curation has its own unique URL, so your students can send a link for their Curation to friends and family so that they can see it on Art UK's website.
Types of Curation
There are three types of Curation to choose from. When you make your Curation you can select one of these templates.
Albums
Albums are basic groups of artworks. Use albums to gather artworks on a theme. You can add an introduction to your Album Curation, but cannot add explanatory texts to individual artworks within your Curation if you choose the Album template.
Showcase
With the Showcase template, you can add an introductory text to your Curation and explanatory texts to each selected artwork. Your selected artworks and any text will be shown on a black background. (It looks pretty slick!)
Storyline
Use the Storyline template to show your artworks in a list, plotted onto a line. You can also add dates if you wish. This template is ideal if you want to curate an exhibition of artworks from Art UK's site and include brief description texts for each artwork. The date feature means you can also use the Storyline to create a timeline – if, for example, you are exploring an art movement, an artist's biography or a historical subject.
How to make a Curation
Step 1: Create an account
To use Curations you will need to create an account. Creating an account on Art UK is easy and free of charge. Click 'Sign in' in the top-right corner of Art UK to either sign in or newly register.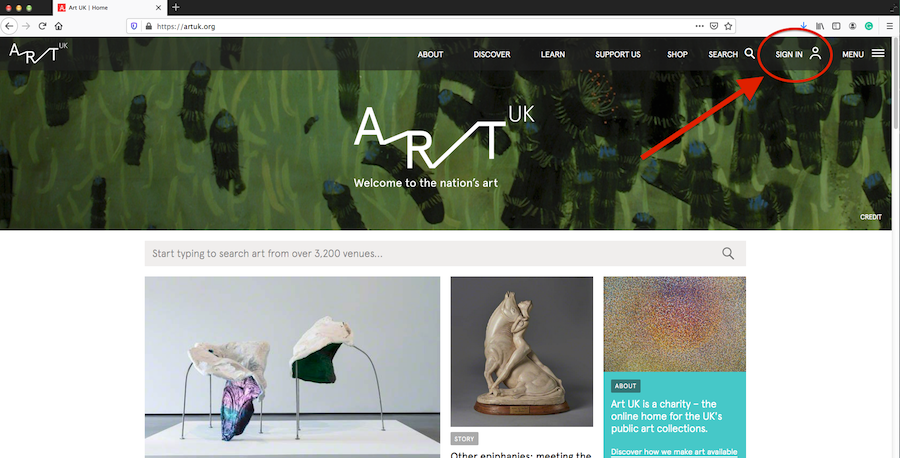 You could create an account for your class or school, or if you teach older age groups, students could create their own individual accounts.
Step 2: Start a Curation
Once you have signed in, your name will appear in the top-right corner.
Click your name to open your personal menu
Click 'My Curations' in the menu
On your 'My Curations' page, click the '+' symbol to start a new Curation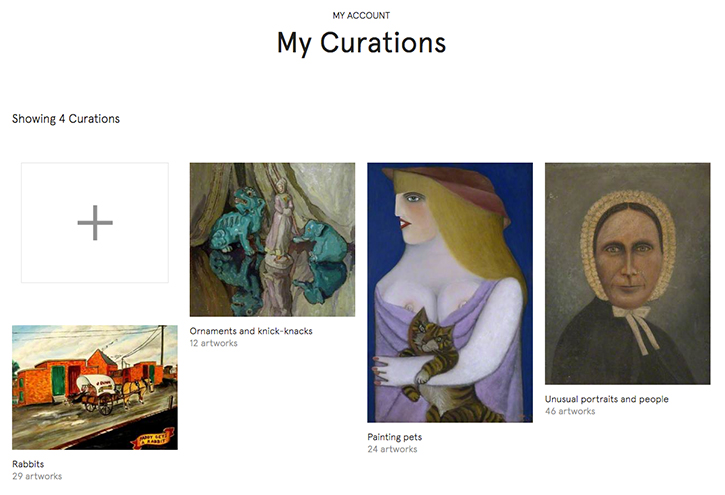 Step 3: Choose a title and template

Decide on a name for your Curation and add this to the title field. You could also add an introduction.
Now choose what type of curation you want to create, by selecting 'Primary template'. You can choose an Album, Showcase or Storyline.
**Remember to save regularly so you don't lose your content. There are 'Save' buttons at both the top and bottom of the page.**
Step 4: Adding artworks
Once you've saved your new Curation, add your chosen artworks.
There are two ways to do this:
from the Curation itself
from an artwork's own page on Art UK
Adding an artwork from the Curation page
Scroll to the end of your Curation page and click the 'Add an artwork' button. Start typing here to search for art by title, and select your choice.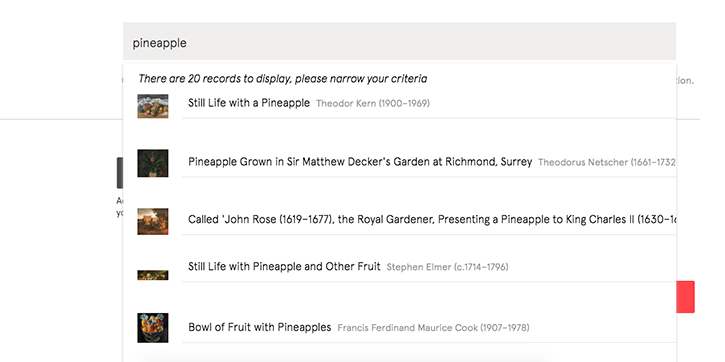 **Remember to click 'Save' after you're finished adding artworks!**
Search for artworks by artist, keyword or type
Go to the Artworks page on our website:
Type the name of an artist or keyword into the search box. (You can also type a Collection name if you are looking for an artwork in a particular Collection.)
Open the artwork's page by clicking the title or image.
Just underneath the image, you'll see a picture icon, which is labelled 'Add artwork to Curation' when you hover over your mouse cursor.

Click 'Add artwork to Curation', and add it to the new Curation by clicking the title. A tick will appear to show this is done and saved. (If you aren't signed in yet, you will see the 'Sign in to Curate' message instead.)
Step 5: Edit your Curation
Once you've added your artworks to your Curation, you can change the order or add text.
Go to your Curation. (You can see all your Curations under 'My Curations' – sign in, and click your name in the top-right corner to open the personal menu).
Click 'Edit' to make changes.
Images
To change the order: click the up and down arrows
To remove an artwork: click the bin icon
Texts and dates
You can add an introduction to your curation and also texts to accompany your selected artworks.
If you want to add a paragraph of text within your Curation, independently of an artwork: scroll to the bottom of the page, and click 'Add description'. Once added, you can move it into place with the up/down arrows. (NB There is a character limit when adding any text.)
You can also add dates to your Curation.
Remember to click 'Save' after making any changes!
Step 6: Publishing your Curation
Ready to publish and share?
Click the 'Published' button, from 'No' to 'Yes'. (The publish button is a red slider button at the top of your Curation.)
More on publishing...
Once you've published your Curation, it takes a little while for it to show on the rest of the website, so don't worry if you can't find it at first.
You can make changes to your Curation when it is published. (Just remember to save the changes for them to appear!)
If you want to take your Curation offline again, click 'Published' back from 'Yes' to 'No'.
Please note that the website address of your Curation will include the name of your Curation in its title. If you change the Curation title, this action will also change the URL, so please keep this in mind when sharing a link to your Curation.
Be inspired!
You're all set to get curating! Take a look at some of the wonderful Curations made and shared on our website, for inspiration.