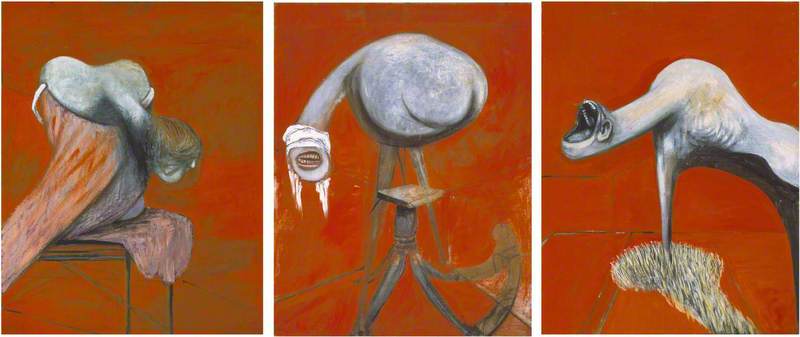 © Tate. Photo credit: Tate
Francis Bacon (b Dublin, 28 Oct. 1909; d Madrid, 28 Apr. 1992). British painter, born in Ireland of English parents. He left home in 1925 at the age of 16 and moved to London, where he worked for a time as an interior decorator. In the late 1920s he lived in Berlin and then Paris (where he was powerfully affected by an exhibition of Picasso's work), then returned to London in 1929. He had no formal training as a painter. In the 1930s he began exhibiting in London commercial galleries, but he destroyed much of his early work and dropped out of sight until 1945, when his Three Studies for Figures at the Base of a Crucifixion (Tate, London), painted in the previous year, was exhibited at the Lefevre Gallery, London, and made him overnight the most controversial painter in the country.
Read more
John Russell (Francis Bacon, 1971) writes that visitors to the exhibition were shocked by 'images so unrelievedly awful that the mind shut snap at the sight of them. Their anatomy was half-human, half-animal, and they were confined in a low-ceilinged, windowless and oddly proportioned space. They could bite, probe, and suck, and they had very long eel-like necks, but their functioning in other respects was mysterious. Ears and mouths they had, but two at least were sightless. One was unpleasantly bandaged.' Bacon's imagery later became more naturalistic, but at the same time the emotional impact of his work was increased by a change in technique, as he moved away from fairly impersonal brushwork to develop a highly distinctive handling of paint, by means of which he smudged and twisted faces and bodies into ill-defined jumbled protuberances suggestive of formless, slug-like creatures from some nightmare fantasy: 'I would like my pictures to look as if a human being had passed between them, like a snail, leaving a trail of the human presence and memory trace of past events as the snail leaves its slime.' Typically his paintings show single figures in isolation or despair, set in a bleak, sometimes cage-like space, and at times accompanied by hunks of raw meat: 'we are all meat, we are potential carcasses'. Often his work was based on his own everyday world (he did numerous self-portraits), but he also used imagery from photographs and film-stills as a starting point. In particular he based a series of paintings (begun in 1951) on Velázquez's celebrated portrait of Pope Innocent X, but in place of the implacable expression of the original, he sometimes gave the pope a screaming face derived from a still from Sergei Eisenstein's film The Battleship Potemkin.Bacon's work was so novel and unsettling that for many years 'Critics and public vacillated uneasily between the opinions that he was a flashy sensationalist and that he was the most significant painter whom Britain had produced for several generations' (John Rothenstein, Francis Bacon, 1967). In 1962, however, a retrospective exhibition of 90 of his paintings was held at the Tate Gallery, London, subsequently touring to several venues on the Continent, and this event firmly established him as a major figure. Thereafter his international reputation grew rapidly, and in the catalogue of a second major retrospective exhibition at the Tate, in 1985, the director of the Gallery, Alan Bowness, wrote that Bacon was 'surely the greatest living painter; no artist in our century has presented the human predicament with such insight and feeling'. Many critics at the time concurred in this judgement, although others found his despairing vision—his view of life as a 'game without reason'—hard to take. Alongside his reputation as a painter he built up a sulphurous personal legend on account of his promiscuous homosexuality, hard drinking, and heavy gambling.
Text source: The Oxford Dictionary of Art and Artists (Oxford University Press)