The idea of a 'secret code' is somehow thrilling in art. Think bestselling novels and action-packed TV shows with high budgets – in their plots, it turns out, all along, that everything fits into an exciting narrative, solving a mystery. This is utterly untrue of course. The joy of art is that no two people will experience the same thing, with each finding multiple meanings and messages.
One thing authors do use, however, in these sensational tales, is the baseline truth that art is a vehicle for communication. It's the ultimate in non-verbal storytelling – the body language of people within artworks, colour, form, materials used and location all carefully manipulate our senses to convey complex narratives.
In this cocoon-like landscape, pre-decriminalisation, what are we witnessing?
Queer communities historically are highly sensitive to this form of communication. In situations where open display of your sexuality/identity could result in physical harm, unemployment or rejection by family members, coded communication becomes a form of safety. The senses strain to pick up tiny details of recognition in another person – a lingering glance, a small moment of body language that's familiar, and the way in which something isn't said.
Pre-1967, and the partial decriminalisation of homosexuality in Britain, this is amplified further – to be yourself was literally illegal. Queer communities are marvellous, rambunctious, clever and intuitive collectives: solutions bloom in art history if you're looking for that connection.
Take Francis Bacon, for example, and his Figures in a Landscape (1956–1957). Painted pre-decriminalisation in the UK, this raw, uncomfortable and stark image screams out to us of pain. Aggressive brushstrokes gouge the canvas in a moment of almost violence. This is not a comfortable piece, and we are put on our guard echoing this tension.
A carefully laid out background of lines – perhaps a curtain? – gives us a clear signal Bacon can act without abstraction in his artwork. This is further seen in the loving detail of the central figure's ear, and the musculature of the neck. We're presuming male? A recurring gender in Bacon's works.
As our eyes move further downward, detail breaks into abstraction as we find the central figure. What immediately strikes us is the pose: twisted, painful, almost a gargoyle in this murky landscape. The figure defies the limits of flexibility as the head curves painfully down, the face deliberately hidden. The flesh tones feed further into a growing sense of abstraction as we reach the centre. What exactly is happening? Is the central figure nude? Is this perhaps a boat, perhaps a bed?
Form falls from focus as our imagination wanders over the connotation of the naked form.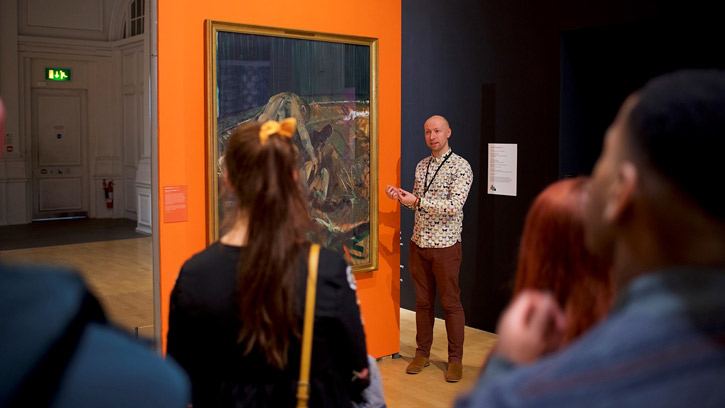 We then realise the title of the work, figures in a landscape. He's not alone. How many people can we see? Why is gender obscured? If we suppose the landscape is an internal domestic one, dark and safe, and that the central figure is a nude, do we automatically associate this with something sexual? As the thought forms, homoeroticism builds. In this cocoon-like landscape, pre-decriminalisation, what are we witnessing? From a queer vantage point, are we seeing what we wish to see?
Add to this the artist himself. Bacon was noted for the expression of his sexual identity in his life and relationships.
Abstraction becomes a vehicle for safety. Are you reading this artwork from the perspective of being queer? No-one will ever know, coded messages render it non-explicit. Could the artist have been publicly charged over this? No, again abstraction renders it safe – 'if you saw that, it's your mind, not mine.' Abstraction allows coded messages to be used in art history – give enough clues, but whatever you do, don't be explicit.
Jon Sleigh, Learning Officer, Arts Council Collection, Birmingham Museums Trust