How do sites, networks and affinities shape artistic practices?
The exhibition 'Speech Acts: Reflection-Imagination-Repetition' at Manchester Art Gallery (25th May 2018 to 22nd April 2019) places works typically considered 'collection highlights' alongside lesser-known works that are seen principally through lenses of biography and difference. Showcasing more than forty artists, the works are drawn primarily from four public collections in Manchester and Bradford. The exhibition, as part of the research project Black Artists & Modernism, examines the role of museums in telling our collective stories, through the artworks they hold and the exhibitions they arrange.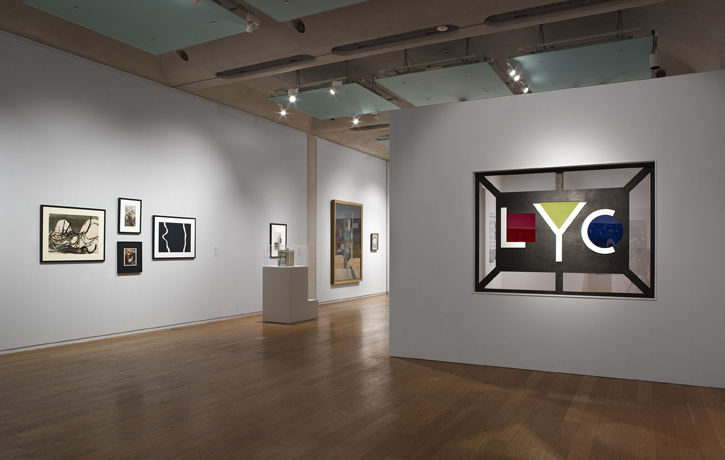 At the heart of this section of the exhibition, viewers encounter a stylised reconstruction of the LYC Museum & Art Gallery (1972–1983) – Li Yuan-chia's museum-as-artwork and community hub. The museum's expansive Cumbrian cosmopolitanism remains largely unacknowledged in the histories of British art, despite showing the work of more than 300 artists – including Barbara Hepworth, dom sylvester houédard, Winifred Nicholson, Stansfield/Hooykaas and Shelagh Wakely.
In contrast, the 'School of London' has dominated accounts and public collections of modern art in Britain. Its leading lights – Frank Auerbach, Francis Bacon, Lucian Freud, David Hockney and R. B. Kitaj – enjoyed a confident internationalism. Their position was made possible by the liberalism that shaped British immigration policies in the twentieth century.
William Crozier, Alan Davie, Ahmed Parvez, William Turnbull, Aubrey Williams, Bryan Wynter and Li also came to London to participate in an international modern art world. Their works suggest a shared investment in abstraction. Their approach emphasised what Williams termed the 'human predicament', embracing myths, rituals, and ideas of place and the spiritual.
William Rothenstein was influential as an artist, mentor and patron (as advisor to his philanthropist brother, Charles Rutherston). His legacy is made concrete in Manchester Art Gallery's collection – as seen here in the works of Henry Moore and Samuel Fyzee-Rahamin.
Yinka Shonibare's Untitled (Dollhouse) – commissioned as a Christmas gift by American collector Peter Norton – is an eloquent reminder of the facilitating role of collector-patrons. Do Ho Suh's Who Am We? (Brown) – composed of hundreds of teenage faces from the artist's school yearbooks – asks us to reflect on how individuals become communities.
What enables art to circulate, informing our collective imaginations? How do artists become part of our larger shared stories?
Hammad Nasar, exhibition curator
The free exhibition 'Speech Acts: Reflection-Imagination-Repetition' was on at Manchester Art Gallery from 25th May 2018 to 22nd April 2019.
The exhibition is presented in partnership with the Black Artists & Modernism (BAM) project. BAM was a three-year research project funded by the Arts and Humanities Research Council lead by UAL in collaboration with Middlesex University.
This text has been reproduced with permission from the publication produced by UAL with Manchester Art Gallery to accompany the exhibition, curated by Hammad Nasar with Kate Jesson.