A new exhibition at the Barbican Art Gallery provides one of the most comprehensive surveys to date on one of the most vibrant periods in British art. The two decades that followed the end of the Second World War included the formative years of some of our most loved artists, and the creation or adoption of influential genres.
'Postwar Modern: New Art in Britain 1945-65' encompasses the dramatic evolution in painting, sculpture and photography that was led by a generation scarred by the war years, who then faced a new unease as the Cold War emerged while rationing continued. Many of these developments are already well-known and continue to fascinate us today, among them the friendly rivalry that drove Lucian Freud and Francis Bacon to greater heights, or the invention of Pop Art by the likes of Richard Hamilton.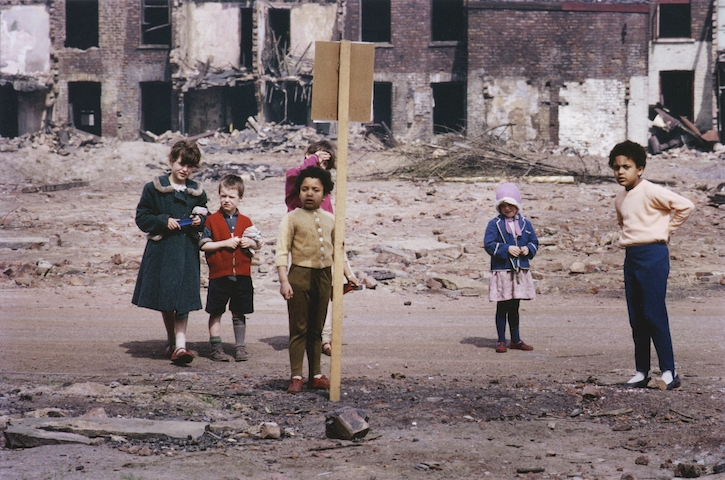 Curator Jane Alison has sought to reassess this period, shining a light on lesser-known practitioners, and exploring deeper currents than the high-profile movements that generated such a richness of imagery and materials at this time. In particular, Alison has been keen to foreground the work of previously overlooked women.
One such artist is the Manchester-raised photographer Shirley Baker. Her home city's fabric changed hugely during this period, partly through a drive to improve housing conditions for the underprivileged, which led to the destruction of slum dwellings and the movement of whole communities to new estates such as Hulme. Baker felt that the lives of those affected remained largely unrecorded, something she addressed with warmth and humour. It was in Hulme in 1965 that she experimented with colour photography, her vibrant tones reflecting the area's vitality.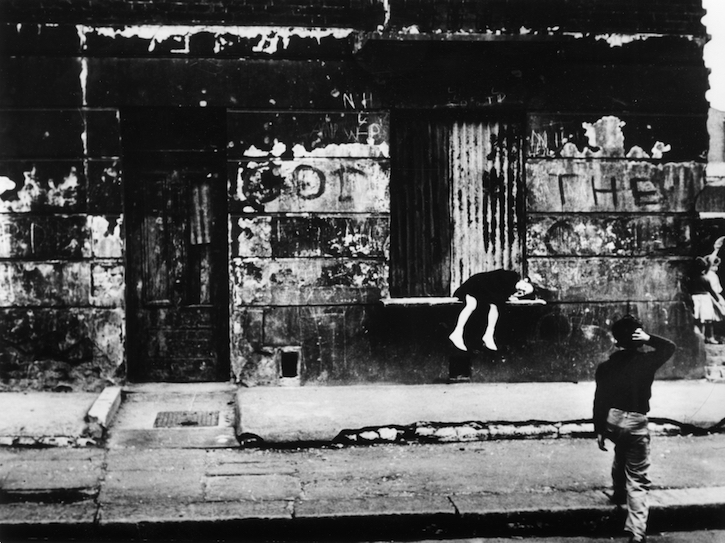 Urban areas such as Manchester also needed urgent rebuilding due to bomb damage suffered during the war. Poor conditions and the effects of the Blitz made a dramatic backdrop for street photographers, among them Picture Post's Bert Hardy, while the likes of Nigel Henderson and the self-taught Roger Mayne found particular inspiration in the innocent play of children and teenagers' more self-conscious posing.
Focusing on London, especially working-class neighbourhoods such as North Kensington, Mayne captured the newfound confidence of British youth. Elsewhere in 'Postwar Modern', celebrated prewar photojournalist Bill Brandt is shown experimenting with a series of unsettling nude studies that chimed with the works of one of Britain's most important painters.
It was amid the backdrop of austerity Britain that some of its most revered twentieth-century artists made their names. Among them was Lucian Freud, whose early style was much more precise than his later, freer portraits.
Girl With Roses (1947–1948) features Freud's first wife Kitty, daughter of the artist Jacob Epstein and Kathleen Garman. Her pale face and thick clothes hint at a life of unheated rooms and ration coupons. Displayed in the same room at the Barbican is Freud's later work Hotel Bedroom (1954), showing Caroline Blackwood, later his second wife, following their elopement to Paris, within an atmosphere that feels just as tense.
The curator asks us to compare Freud's forensic revelation of deep anxieties with the intimate portraits Welsh artist Sylvia Sleigh painted of her younger lover (later husband), the art critic Lawrence Alloway, while she remained married to another man. These cross-dressing performances – with Alloway as the bride – that allude to Renaissance and Rococo styles have until recently remained largely unknown: too transgressive to be exhibited until decades after they were made, they hung in their subject's rented rooms, a hidden riposte to wider society's repressive gender norms.
Other artists found inspiration outside the studio, among them Leon Kossoff. A London-born Jew, Kossoff seemed particularly affected by the war and driven to great heights of expressionism. He did, though, also see the potential for renewal in the capital's bomb-damaged streets. Among his favoured locations was Willesden Junction – he moved to north west London in 1962 – represented in the Barbican show with a work from that year that captures the railway station's sense of energy and movement. It was devised from drawings taken from a footbridge, as with the view above, captured in oils four years later.
Kossoff was a close friend and collaborator of Frank Auerbach, who had come to Britain in 1939 under the Kindertransport scheme. With similar backgrounds, the pair developed a distinctive style based on lengthy observation and applying thick layers of earthy tones. Whether working on portraits or cityscapes, they both devoted themselves to subjects already familiar to them, so Auerbach regularly painted the neighbourhood around his Camden Town studio and only painted close friends and relatives, among them his cousin Gerda Boehm. The thick impasto can appear abstract at first glance, before a human form begins to emerge.
Auerbach wasn't the only migrant whose contributions added to the vibrancy of British art. Eva Frankfurther also arrived as a child in 1939 and through her own sense of displacement developed compassion for marginalised communities. She studied at St Martin's School of Art, but, disillusioned by the London art scene, found work among the ethnically diverse staff of a Lyons Corner House complex of tea shops and restaurants, where she found both a sense of community and artistic inspiration.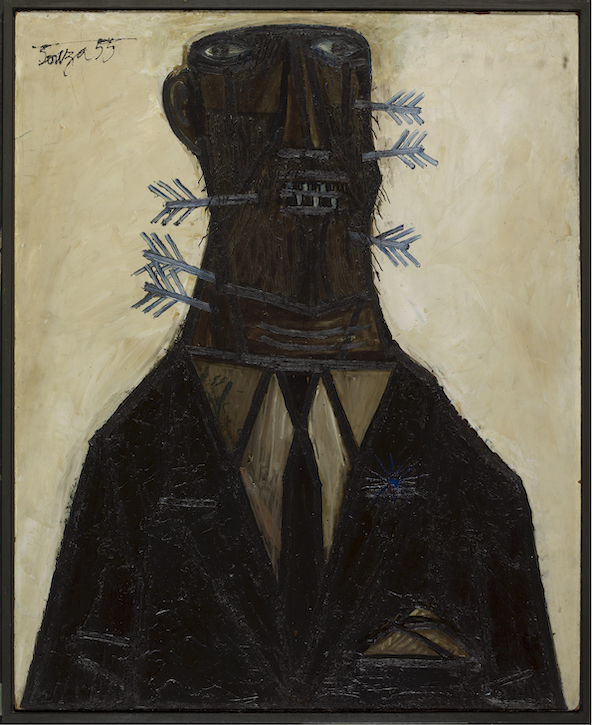 Born in colonial Goa, Francis Newton Souza found his modernist sensibility stymied by India's conservative attitudes. He moved to England in 1949, where he carried on his explorations of identity in an expressionist style, usually limiting himself to a dark palette, in common with several of his peers. The Catholic imagery in Souza's painting Mr Sebastian reflects his Jesuit education (Saint Sebastian was martyred by a hail of arrows) and hints that while he did achieve some success in the UK, the artist continued to face personal and professional challenges before he moved to New York in 1967.
Women artists born and raised in the UK could also feel alienated from the art world, partly due to the traditional mindsets that persisted in the early post-war years, strengthened perhaps by a desire to return to normality after the upheavals of global conflict. This was especially true in domestic settings, where the strains of newfound independence clashed with gender stereotypes and provided the turbulent backdrop to the relationship between two artists in particular – Jean Cooke and John Bratby.
They met and married in 1954, with the latter's fame soon eclipsing the career of his wife. However, Bratby remained jealous of Cooke's talent. Despite violence within the partnership, they stayed together for 20 years, generating works that evinced a close artistic dialogue, especially regarding their marriage. Cooke reasserted her identity through a series of self-portraits that make for uncomfortable viewing, as with Mad Self Portrait, in which she defiantly flaunts her black eye.
Abstract artist Gillian Ayres, meanwhile, had to resist advice from tutors at Camberwell School of Art to move into more traditionally feminine pursuits such as needlework. Instead, she found inspiration from American Abstract Expressionism, notably Jackson Pollock, from whom, early on in her career, she adopted the technique of pouring pigment directly onto the canvas.
By the turn of the decade, she returned to using brushes to provide relatively more order and structure. Yet the lightness and bright tones of Break-off, along with Ayres's freer sense of form and space, suggest an emerging optimism as the 1960s progressed. They evoke a world in tumult, but also one full of possibilities yet to come.
Chris Mugan, freelance writer
'Postwar Modern: New Art in Britain 1945-65' is at the Barbican Art Gallery, London, until 26th June 2022