Contemporary British sculptor and installation artist Cathie Pilkington has continued to produce a unique and absorbing body of work. While defying simple classification, interpretations of her practice largely focus on her critical engagement with the history of figurative sculpture, while exploring themes often focusing on the unconscious mind.
Her seemingly chaotic – yet conversely precisely situated – gatherings of everyday objects in her assemblages have also enabled comparisons of Pilkington's work with that of the Dadaists and Surrealists.
Born in Manchester, Pilkington later studied silversmithing at Edinburgh College of Art between 1986 and 1991. Speaking of her time in the jewellery department, the sculptor stated that she found the environment was one in which she could experiment, gaining from what she termed as 'a fluid language of making'.
After graduation, she was awarded the first John Watson Prize for Art and began her study of sculpture at the Royal College of Art (1995–1997). Pilkington's rise to prominence continued as she was awarded the Cheltenham Fine Art Fellowship in 1998. The sculptor has since exhibited in numerous group and solo exhibitions and her work is part of several gallery collections.
While producing work in bronze, fibreglass or ceramics, Pilkington's exploration of materials has added to a challengingly and varied catalogue of creativity. In turn, the sculptor's employment of found objects, including fabrics, and her use of domestic settings, have confronted the boundaries of fine art practices, while acknowledging a 'herstory' of craft.
Descriptions of the sculptor's work have been as assorted as the work itself as labels such as 'satirical' and 'profound' have attempted to encapsulate an expanding practice and complex thematic considerations. Pilkington herself says 'Contemporary Art by its very nature can be anything – and look like anything, and its meaning can change depending on its context.'
Examples of Pilkington's work include two early commissions for public spaces. Bill and Bob (1999) depicts two Jack Russell terrier dogs partly engulfed in a blue rubber pool.
Featuring a dog of the same breed, Jasmine (1999) is posed standing alertly with a trailing leash as if waiting for, or deserted by, an owner.
Both are presented realistically in painted bronze, typifying the sculptor's use of the wittily familiar, in neatly sculpted and accessible form.
Moulded roughly in jesmonite then painted, later sculptural works Flopsy (2009), B&B (2009) and Threesome (2009), however, exude a homemade quality, raising questions on divisions between art and craft.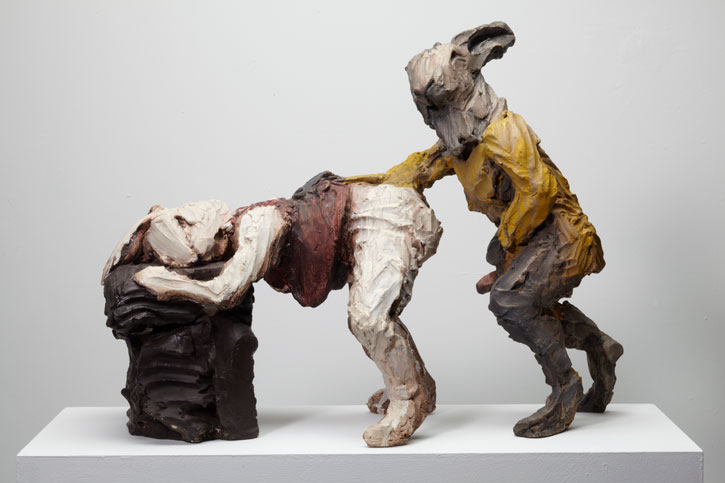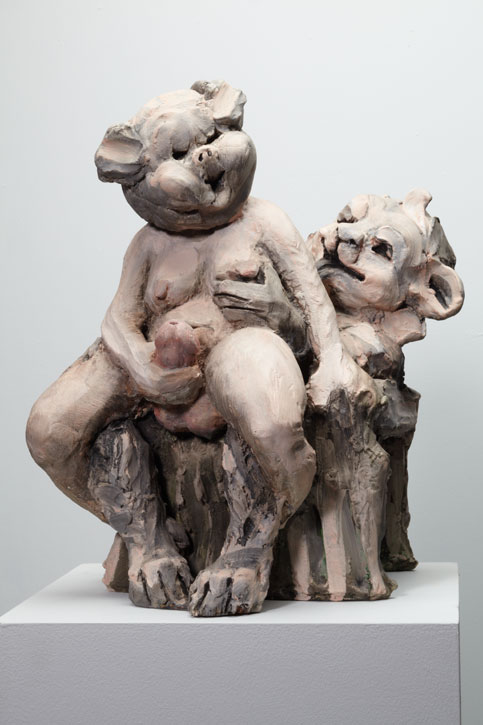 While recalling a British obsession with the kitsch knick-knack figurine, Pilkington's humanised animal figures are contrastingly presented in darkly humorous lewd acts. The sculptor toys with expectations, here fusing the innocence of the likes of Beatrix Potter with the most bawdy and parodic references of Shakespeare and Aphra Behn, with both comical and unsettling results.
Pilkington's work derives from what she defines as an 'intuitive, emotional and psychological' approach. Her exhibition 'The Value of the Paw' at the V&A Museum of Childhood (2012) explored childhood imagery, memory and the collective unconscious.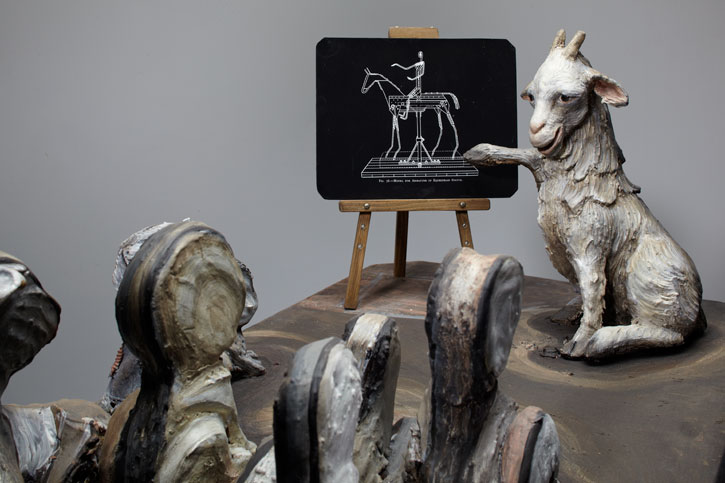 Incorporating a dubious cast of toy characters and various props in installations and assemblages, Pilkington unnerves the viewer by presenting the pleasantly familiar as amusingly strange or even nightmarish, thus always communicating on multiple levels.
Pilkington may also be perceived as ruminating on and critically engaging with iconic moments from art history. Her doll-like figures and mannequin heads may evoke the stylised imagery of the Surrealists. Such work, in turn, plays with ideas of fantasy, often considering notions surrounding the object and the objectified.
The artist transports the doll-like figure, a toy typically in female form and found in the domestic realm, into the culturally revered gallery space for public consumption. In doing so queries are raised around the hierarchies of art history combined with notions of artistic value and representation in relation to gender, class, identity and more.
The sculptor does not pose direct questions, however, allowing the viewer to ponder on the complexities of her work. In her exhibition 'Life Room: Anatomy of a Doll' (2017), her doll figures – situated on plinths in the Royal Academy Schools' Life Room – occupied a traditional space utilised for practising drawing from life models.
The work in 'Life Room' was partly inspired by Edgar Degas' sculptural work; the French artist's Little Dancer Aged Fourteen (1878–1881), created utilising a thin and impoverished young model, was originally much criticised for presenting a non-idealised female figure.
Degas' work has also been more recently analysed in terms of the concentration of his 'male gaze' on female subjects. Pilkington's figures – posed in seductive or almost reanimated contorted forms – highlight the act of voyeurism and the desires and fantasies in the very art of 'looking'.
The sculptor's work entitled Reclining Doll (2013), referencing the iconic work of Henry Moore, is impishly reimagined in a black and white pleated dress, with a cute doll face and pointed toes.
Nevertheless, there is a disjointed awkwardness to the work. Alluding to the distortions of Modernist Abstraction, a disproportionally large arm opposes the light frivolity of the pose. Although suggesting the delicacy of a ceramic Art Deco ornament, the figure is actually created in painted bronze cast from an amalgamation of various materials composed by the sculptor. Even Pilkington's choice of form questions the viewers' assumptions.
Based around themes involving the private realm and the psyche, the exhibition 'Working from Home' at Pallant Gallery, Chichester (2018–2019), was commissioned to commemorate the 250th anniversary of the Royal Academy of Arts. The show featured various artworks Pilkington selected from the gallery's collection to accompany her own work.
In one room Pilkington's Good Bed Bad Bed, an installation including the gallery's four poster bed with the addition of Pilkington's painted covers, is utilised to stage a seated doll figure seemingly observed by a row of mannequin-like assorted heads. While exposing the normally intimate and private space of a bedroom to the public gaze, the artist composes a scenario for viewers to project their own interpretations, as the title of the work perhaps suggests.
Pilkington's more recent exhibitions and projects include 'The Covering' at Karsten Schubert, London (2020) and 'Night Sea Journey' at the SPRING/BREAK Art Show in New York (2021).
While creating and exhibiting work in a range of expressions and mediums, including paintings, in a hugely productive and successful ongoing career, Pilkington has also been involved in prestigious teaching roles. She was elected as a member of the Royal Academy of Arts in 2014 and became Professor of Sculpture at the RA Schools two years later. In addition, the sculptor began a role as Keeper of the Royal Academy Schools in 2020.
One of Pilkington's most recent exhibitions, 'Estin Thalassa' at Karsten Schubert, London (2021) was created amidst the global pandemic.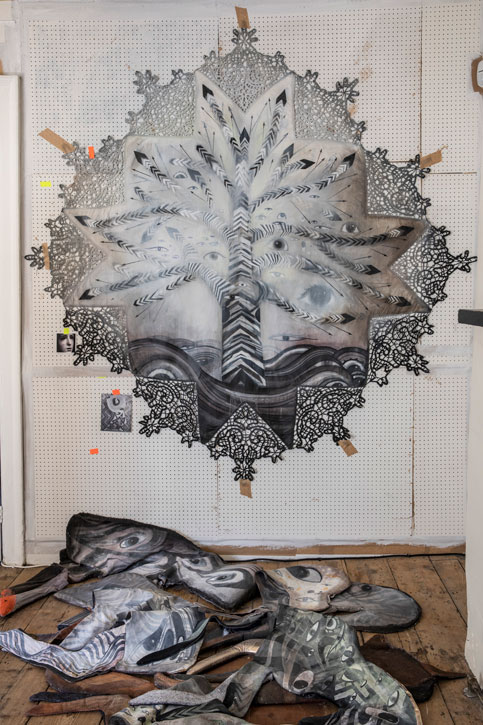 The show was named partly after the spirit of the sea in Greek mythology, through which Pilkington explores the darker forces of nature, and inevitably human nature and the subconscious. 'The show is complex and multilayered', Pilkington explains, and there is perhaps no better explanation for such an intriguing and evolving body of work as a whole.
To put it simply, Cathie Pilkington is one of the most compelling British artists of the contemporary age.
P. L. Henderson, art historian, curator of @womensart1 and author of Unravelling Women's Art (Aurora Metro, 2021)