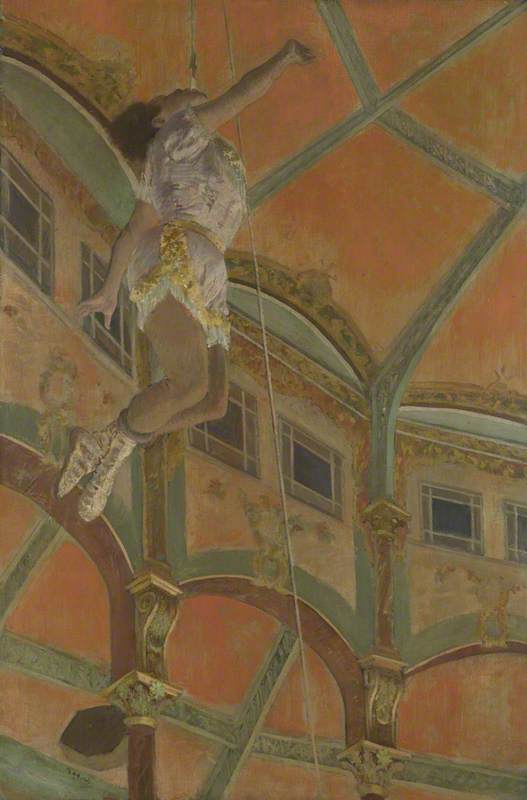 Photo credit: The National Gallery, London
(Born Paris, 19 July 1834; died Paris, 27 Sept. 1917). French painter, draughtsman, printmaker and sculptor. He was the son of a wealthy art-loving banker and was initially trained for the law. In 1854, however, he began studying with Louis Lamothe (1822–1869), a pupil of Ingres, who handed on the master's tradition of draughtsmanship. Degas also attended the École des Beaux-Arts, but the most important part of his artistic education was gained through assiduous study of the Old Masters, both in the Louvre and in Italy, where he lived 1856–9 (he had Italian relatives and made several subsequent visits to the country). Most of his early works were portraits or history paintings on classical themes (Young Spartans Exercising, c.1860, NG, London), but in 1862 he met Manet (while copying a Velázquez in the Louvre) and this helped to bring about a decisive change of direction in his art. Manet introduced him to the circle of the young Impressionists and during the next few years he abandoned historical pictures and turned to contemporary subjects; they included scenes of the ballet and theatre, café interiors, laundresses at work, and women bathing—no other painter of his time portrayed such a rich variety of themes from contemporary urban society.
Read more
Degas participated in seven out of the eight Impressionist exhibitions and figures prominently in all accounts of the movement. However, he was Impressionist only in certain restricted aspects of his work and like Manet (who also came from an upper middle-class background) he stood somewhat aloof from the rest of the group. He had little interest in landscape and therefore did not share the Impressionist concern for rendering the effects of changing light and atmosphere (his favourite outdoor subject was horse racing, but he painted the pictures in the studio and usually left the setting generalized). As with the other Impressionists, he depicted the world around him in a fresh and informal way, and liked to give the suggestion of spontaneous and unplanned scenes, often using unfamiliar viewpoints or figures cut off as if in a snapshot (he was very interested in photography). However, the appearance of spontaneity was an appearance only: in reality his pictures were carefully composed. 'Even when working from nature, one has to compose', he said, and 'No art was ever less spontaneous than mine.'

Up to 1874, because of his prosperous background, Degas never had any need to sell his work, but in that year his father died leaving unexpected debts, which Degas largely paid off himself, selling his house and his picture collection to do so (going far beyond what was legally required of him). Unlike the other Impressionists, however, he never had any difficulty marketing his work (his formidable skill as a draughtsman made him more immediately acceptable to most buyers) and by 1880 he had overcome his financial crisis and was a well-established and prosperous figure in the art world. After the final Impressionist exhibition in 1886 he stopped showing his work in public, selling it selectively through a number of dealers. By this time he had turned 50 and was having serious trouble with his eyesight. Because of this he turned increasingly from oils to pastel, in which he was physically closer to the surface on which he was working; the figures in his later pictures are often shown in intimate close-up, as if he is peering at them from a very near viewpoint. His failing eyesight and his use of pastel led to a broadening and blurring of form and the use of richer colour, with the somewhat ironic result that in the 1890s—by which time the Impressionist group had broken up—his work came closer in style to mainstream Impressionism than it had ever been before. He experimented boldly with pastels, as he did with other techniques: he sometimes mixed different kinds of paints in the same picture, for example, and he sometimes steamed his pastels, so he could manipulate the colours more fluidly. Degas also made prints in various techniques, and from the late 1860s he produced wax sculptures; as his sight failed, this tactile medium became of more importance to him. Most of his sculptures were small, private works, but a few were more ambitious, including the only one he exhibited in his lifetime, the famous Little Fourteen-Year-Old Dancer, dressed in a real tutu, which was shown at the fifth Impressionist exhibition in 1881 (like his other sculptures, it was cast in bronze after his death; one cast is in Tate Modern, London).

After the turn of the century Degas could produce little work and in his final years he was virtually blind. Contrary to what is sometimes said, he was not a misanthrope (he had numerous friends and was good with children, and it was only in old age, when his eyesight made life difficult for him, that he became reclusive and cantankerous). However, he was a formidable personality, feared for his biting wit, and his complete devotion to his art made him seem cold and aloof to many people (as far as is known he never had any kind of romantic or sexual involvement). Among his fellow artists, though, his genius compelled universal respect (Renoir ranked him above Rodin as a sculptor, and in 1883 Camille Pissarro described him as 'certainly the greatest artist of our epoch'). By the time of his death he was almost a national monument and his reputation as one of the giants of 19th-century art has endured undimmed.
Text source: The Oxford Dictionary of Art and Artists (Oxford University Press)