National Volunteers' Week (1st to 7th June) is an opportunity for us to celebrate the goodwill, commitment and contribution of our volunteers. They provide essential assistance to Art UK and an opportunity for us to benefit from a vast pool of knowledge, skills and passion. Like many charities, Art UK would be unable to deliver several of our programmes without our dedicated community of volunteers.
Members of the public contribute to Art UK in a variety of ways, from online micro-volunteering to providing expert art knowledge and showcasing their photography skills.
Tag artworks
Tagger is a crowdsourcing tool where you can add 'Tags' to artworks with descriptive words. Taggers add keywords to artworks on the Art UK website, tagging the people, places and things they can see.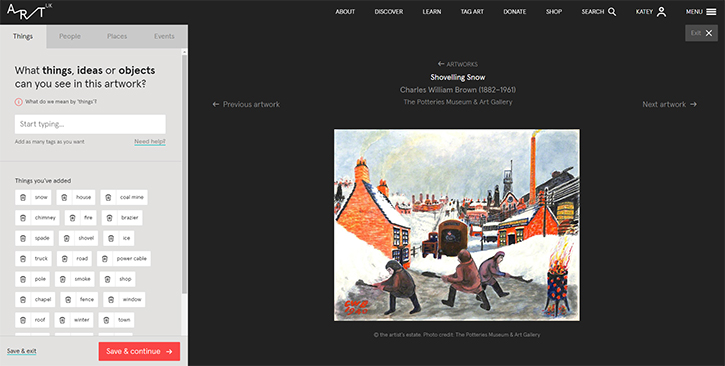 No prior knowledge of art or art history is required. Anyone can make a valuable, enjoyable and rewarding contribution. Taggers are shown an image of an artwork and asked to add Tags which describe what they see in the artwork, for example, 'cat', 'table', 'girl', 'mouth', 'apple', 'umbrella' or the names of people, places and events shown in images.
Tagging is easy, fun and free. As a type of micro-volunteering, it can be done at any time and Taggers can do as little or as much as they like.
By becoming a Tagger, you will be contributing to making the UK's art collections more searchable and accessible. You can develop your observation skills and also discover new art and artists along the way.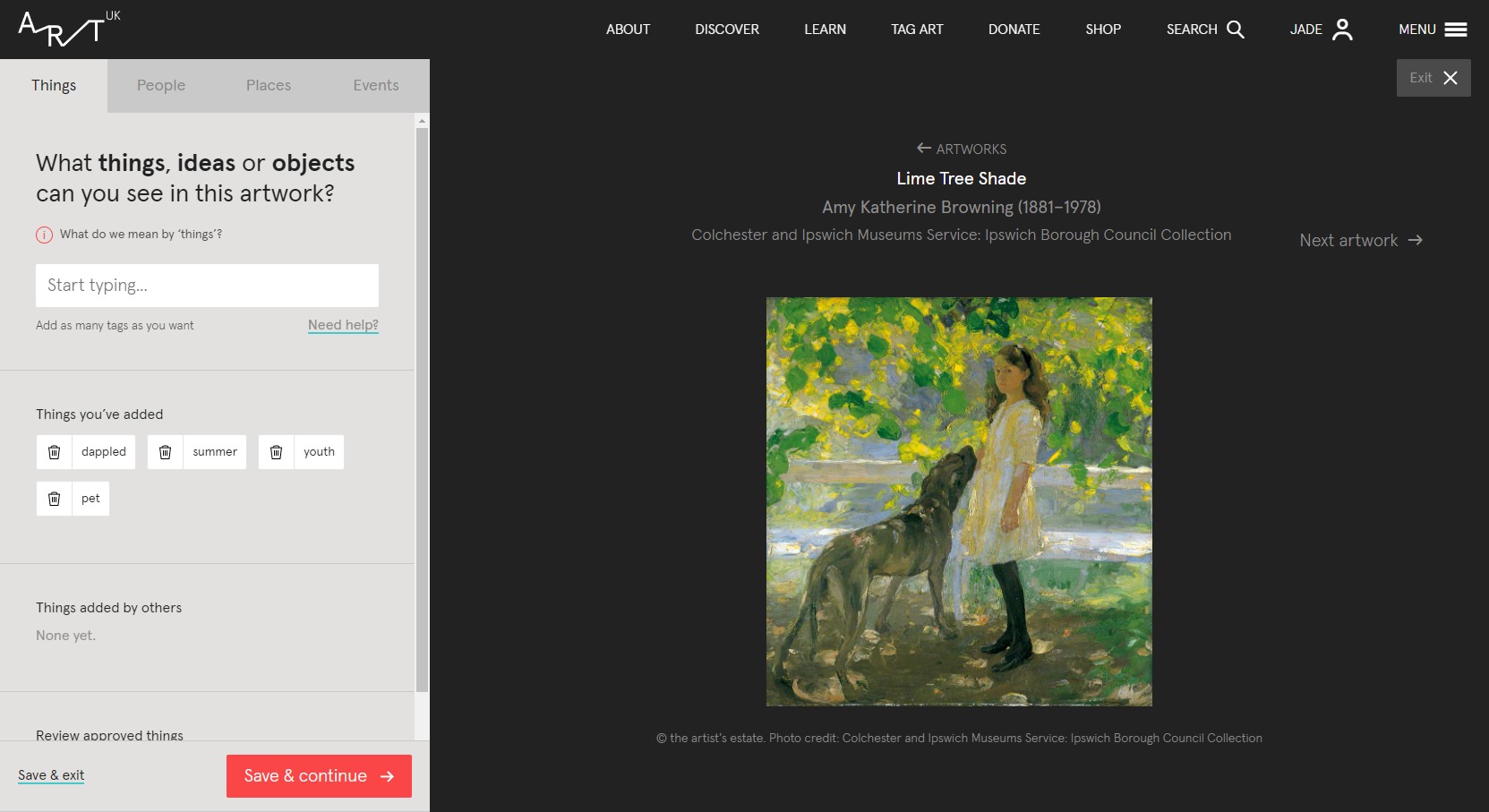 You can find out more – and sign up to become a Tagger – on Art UK. You can also read a story about Tagger's first anniversary.
Make a Curation
Curations allows you to curate your own group of artworks on Art UK. Curations can be made to share your discoveries, tell a story, explain ideas or can simply be created for fun.
As well as being an enjoyable and easy way to bring artworks together in one place on Art UK, by creating a Curation and making it public, you are helping to showcase artworks and artists on the website and make them more accessible for other users. They can be shared on social media by Art UK, by collections and by their creator, which helps to spread the word about Art UK and the collections we support.
You can decide to keep your Curation private though, if you would prefer.
You can find out more about Curations on Art UK.
Art Detective
Art Detective brings together expertise – from art historians, curators, dealers and members of the public – to improve our knowledge and understanding of the UK's public art collection. Discussions are open to all.
This crowdsourced knowledge has contributed to a significant number of discoveries of previously unattributed and wrongly attributed works in collections, and has answered questions about the sitters, artworks or artists. Also, many artists now have biographies on Art UK thanks to public discussions on Art Detective.
Art Detective provides a range of opportunities for getting involved in Art UK, from those who submit information and expertise to discussions, to those who convene or moderate the discussion groups.
You can find out more about Art Detective on Art UK.
Public art volunteer network
The Art UK Sculpture project (2017–2021) saw over 500 volunteers record over 14,500 public sculptures across the UK, from statues and war memorials and to large monuments and landmarks. The legacy of this project continues to see newly unveiled public artworks recorded and our dedicated volunteers contribute to plans for the next direction of public art recording.
We were very honoured in December 2022 to win the Apollo Award for Digital Innovation of the Year for the Art UK Sculpture project. This was an incredible recognition of the achievements and dedication of Art UK's volunteers and staff.
We hope to launch new opportunities for our public art volunteer network later this year, so watch this space!
A huge thank you to each and every person who has contributed their time to Tagger, Curations, Art Detective and public art recording. However big or small, your contribution makes a huge difference and together you achieve something outstanding, unique and unrivalled in cultural heritage.
Tracy Jenkins, Public Art Manager, and Katey Goodwin, Head of Community Engagement