The UK will become the first country in the world to create a free-to-access online photographic showcase of its publicly owned sculpture. The first records began appearing on Art UK in early 2019.
Prior to the project, many of these works were without records, images or online access, and many public monuments are not fully recorded and are at risk.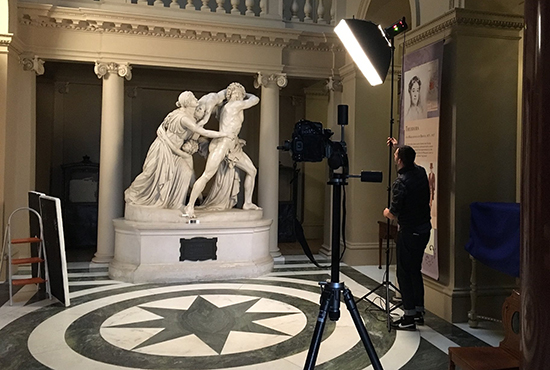 The three-year project focuses on sculpture dating from the last 1,000 years, held in public collections and outdoor locations across the UK. The national sculpture collection is truly global, offering insights into diverse cultures including twelfth-century Nigeria, Victorian Britain and 1960s New York.
The ambitious project is transforming the way people access and learn about their sculpture heritage, and will allow audiences to share knowledge, exchange opinions and visit sculptures, both in-person and online.
Sculpture project coordinators
Julia Abel Smith Essex, Hertfordshire and Bedfordshire
Rachel Bentley West Midlands; North Midlands
Christine Blackburn East of England
Helen Clark South West England
Karen Clarke Southern England and the Channel Islands
Elanor Cowland London North and East
Laura Davidson London Westminster and City
Andrew Deathe Wales
Dickon Hall Northern Ireland
Elizabeth Heath National Collections
Katherine Hughes London South
Iain Irving Eastern Scotland
Helen Keighley Yorkshire
Barbara Pezzini South East England; Oxfordshire; Buckinghamshire and Berkshire
Bronwen Posner London West
Sophia Sheppard Scottish Highlands and Islands
Claire Sleightholm North of England
Ben Stoker East Midlands
Rhona Taylor Edinburgh and Southern Scotland
Adrienne Wallman North West England and the Isle of Man
Sculpture project photographers
Mark Box
Anna Bridson
Jason Candlin
Claire Collins
Rolant Dafis
Mike Davidson
Lucy Dawkins
Carsten Flieger
Dave Green
David Griffin
Barney Hindle
Julie Howden
Pete Huggins
Joe Humphrys
Jason Hynes
Jaron James
Andy Johnson
Jon Kempner
Rebecca Marr
Nick Matthews
Andrew McGregor
John McLean
Josh Murfitt
Mark O'Connor
Gary Ombler
Maciej Pawlikowski
Malcolm Payne
Justin Piperger
Simon Punter
Anne Purkiss
Bryan Rutledge
Ian Skelton
Dani Tagen
Paul Thompson
Derek Trillo
Luke Unsworth
Matt Ward
Gary Williams
Dan Wray