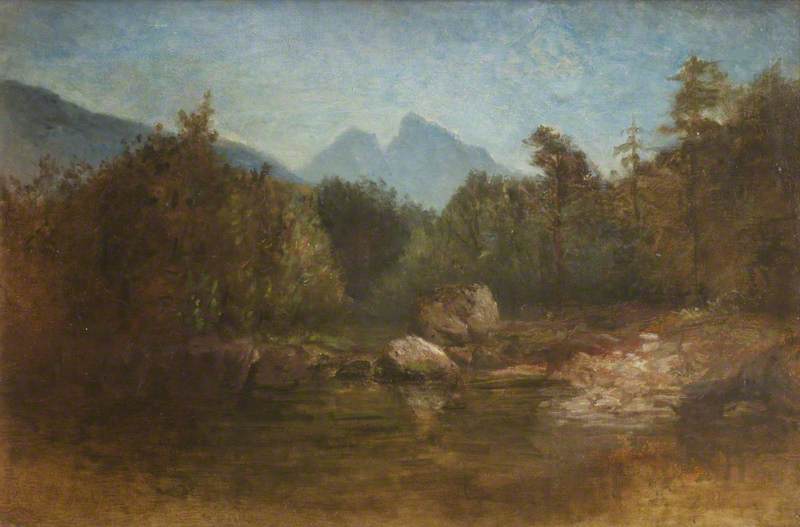 Photo credit: The Brantwood Trust
(b London, 8 Feb. 1819; d Brantwood, nr. Coniston, Cumberland [now Cumbria], 20 Jan. 1900). English writer, artist, social reformer, and philanthropist. He was the most important English art critic of the 19th century, with a remarkable hold over public opinion, and also a talented and prolific draughtsman and watercolourist, mainly of landscape and architectural subjects. His father was a wealthy wine importer who liked paintings and encouraged his son (his only child) in his intellectual interests; his mother too was devoted to him, but in a repressive, puritanical way. He was educated at home and travelled a good deal in Britain and on the Continent with his parents, developing an ardent love of nature (he was deeply interested in botany and geology) as well as a feeling for art.
Read more
From 1837 to 1842 he studied at Oxford University, where he won the Newdigate prize for poetry in 1839 (the following year his studies were interrupted when he had a breakdown, evidently partly caused by a frustrated passion for the daughter of one of his father's business associates). His father gave him a generous allowance, so after graduating he was able to devote himself to writing and lecturing and also could afford to buy paintings, notably works by Turner, who was his greatest artistic hero (Ruskin first met him in 1840 and became a friend and eventually executor of his will). Most of Ruskin's art criticism was written early in his career; after about 1855 he concentrated more on economic and political questions. It is, however, difficult to separate his thought into different strands, as he was so concerned with the relationship between art, morality, and social justice: his lectures as the first Slade professor of fine art at Oxford (1870–7, 1883–4), for example, were as much about sociology as art. Although he later modified his views, the key ideas in his most influential works of art criticism were sincerity and truth to nature. He thought that good art is essentially moral and that bad art is insincere and immoral. When he defended the Pre-Raphaelites against vicious attacks in 1851, it was mainly their 'labour and fidelity' he praised, and when he dismissed the 17th-century Bolognese painters such as the Carracci and Domenichino as 'art-weeds' it was largely because of what he perceived as their lack of genuine feeling: 'There is no entirely sincere or great art in the 17th century.' In architecture he loved the Gothic style and believed that the key to the beauty of medieval buildings was the delight that craftsmen took in their creation. These views were particularly influential on William Morris and the Arts and Crafts movement. In line with his opinions on the dignity and value of manual labour, he regarded factories as degrading places and he tried to improve the conditions in which the working class lived. Many of his social ideas, such as his advocacy of old age pensions, later became commonly accepted. By the end of his life he had disposed of all his large inheritance in philanthropic work and maintained himself on the proceeds of his writings.Ruskin's personal life was deeply unhappy. His marriage of six years was annulled in 1854 on the grounds of non-consummation (his ex-wife married Millais the following year) and in middle and old age he made many young girls the objects of his unhealthy affection. He proposed to one of them, the 18-year-old Rose La Touche, in 1866, but was refused; she died mad in 1875. In 1878 he lost a famous libel case against Whistler, whom he had accused of 'flinging a pot of paint in the public face', and just before it came to court he showed the first signs of the mental illness that made his final years wretched. After 1889, living in isolation in the Lake District, where he was cared for by his cousin, Joan Severn, Ruskin wrote nothing and rarely spoke. His house, Brantwood, overlooking Lake Coniston, is now a memorial to him.Ruskin's literary output was enormous: the standard edition of his complete works occupies 39 volumes (1903–12). His most important books dealing specifically with art are: Modern Painters (5 vols., 1843–60, epilogue 1888), which began as a defence of Turner and expanded into a general survey of art; The Seven Lamps of Architecture (1849); and The Stones of Venice (3 vols., 1851–3). He is accorded a distinguished place amongst English prose writers of the 19th century, and his finest flights of rhetoric, such as his descriptions of the Tintorettos in the Scuola di S. Rocco in Venice, are classics of their kind.
Text source: The Oxford Dictionary of Art and Artists (Oxford University Press)