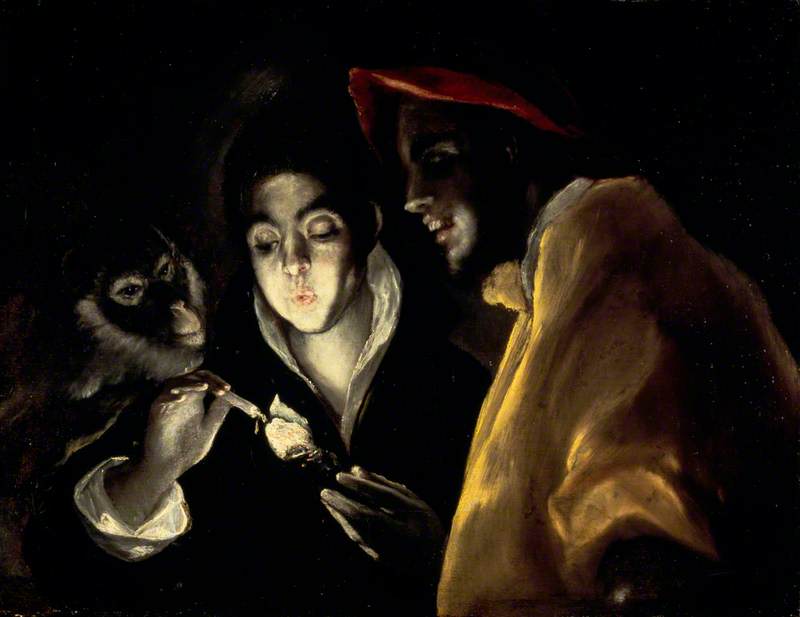 Photo credit: National Galleries of Scotland
(b Candia [now Iraklion], Crete, c.1541; d Toledo, 7 Apr. 1614). Cretan-born painter, sculptor, and architect who settled in Spain and is regarded as the first great genius of the Spanish School. His real name was Domenikos Theotokopoulos and it was thus that he signed his paintings throughout his life, always in Greek characters, and sometimes followed by Kres (Cretan). To avoid the tongue-twisting name, he was known in Spain as Domenico Griego or simply El Griego (the Greek). Evidently it was not until after his lifetime that the curious form 'El Greco' was adopted (curious because 'El' is Spanish and 'Greco' is Italian). Little is known of his early years, and only a few works survive by him in the Byzantine tradition of icon painting, notably the signed Dormition of the Virgin discovered in 1983 (church of the Dormition, Syros).
Read more
In 1567 or 1568 he moved to Venice (Crete was then a Venetian possession), and late in 1570 he is described as 'recently arrived' in Rome. The miniaturist Giulio Clovio, who became a friend of El Greco there, referred to him as a 'disciple' of Titian, but of all Venetian painters Tintoretto influenced him most, with his sense of movement and dramatic lighting (El Greco's turbulent skies are often particularly reminiscent of Tintoretto). It is generally presumed that El Greco remained in Rome until 1576 (when he is first recorded in Spain), but there is little documentation on his time in the city, and it has been suggested that he returned to Venice for a while. Clovio was an influential friend, and through him El Greco gained accommodation in the Palazzo Farnese; however, he received no public commissions in Italy and worked on a fairly small scale. Among his surviving pictures of the period are two paintings of the Purification of the Temple (Minneapolis Inst. of Arts, and NG, Washington), a favourite theme with him, and a portrait of Clovio (Mus. di Capodimonte, Naples). Accomplished though they are, they give little hint of the explosion of genius that occurred after he settled in Spain. He is documented in Madrid in 1576, and by the following year he was in Toledo, where he lived for the rest of his life. His decision to move there was presumably influenced by the young Spanish priest Luis de Castilla, part of his circle in Rome, whose father was dean of Toledo Cathedral and a man of considerable influence. El Greco quickly gained major commissions in his new home, beginning with the high altarpiece of the church of S. Domingo el Antiguo (1577). The central part of the altarpiece, a 4 m (13 ft) high canvas of the Assumption of the Virgin (Art Inst. of Chicago), was easily his biggest work to date, but he carried off the dynamic composition triumphantly. A succession of great altarpieces followed throughout his career, the two most famous being El Espolio (Christ Stripped of His Garments) (1577–9, Toledo Cathedral) and the Burial of the Count of Orgaz (1586–8, S. Tomé, Toledo). These two mighty works convey the awesomeness of great spiritual events with a sense of mystic rapture, and in his late work El Greco went even further in freeing his figures from earthbound restrictions: the Adoration of the Shepherds (1612–14, Prado, Madrid), painted for his own tomb, is a prime example. His style has something in common with Italian Mannerism in its use of elongated figures and non-rational space, but his flame-like forms, electric colours, and ecstatic emotion are intensely personal. Toledo at this time was the spiritual capital of Spain, with more than a hundred religious establishments, so El Greco had little need to look beyond it for commissions; he attempted to win royal favour but failed, as Philip II (see Habsburg) rejected an altarpiece he painted for the Escorial.Although he was primarily a religious painter, El Greco excelled also as a portraitist. His sitters were mainly ecclesiastics (Felix Paravicino, 1609, MFA, Boston) or gentlemen, although one of his most beautiful works is a portrait of a lady (c.1577–80, Pollok House, Glasgow), traditionally identified as a likeness of Jeronima de las Cuevas, his common-law wife. He also painted two views of Toledo (Met. Mus., New York, and Mus. del Greco, Toledo), both late works, and a mythological painting, Laocoön (c.1610, NG, Washington), that is unique in his oeuvre. The unusual choice of subject is perhaps explained by the local tradition that Toledo had been founded by descendants of the Trojans. Similarly unconventional are several nocturnal scenes he painted showing a boy blowing on an ember to light a candle (An Allegory, c.1580–5, NG, Edinburgh). These used to be regarded as excursions into genre, but it is now thought that they are evocations of an ancient Greek painting described in Pliny's Natural History. El Greco also designed complete altar compositions, working as architect and sculptor as well as painter, for instance at the Hospital de la Caridad, Illescas (1603). Pacheco, who visited El Greco in 1611, refers to him as a writer on painting, sculpture, and architecture, and an inventory of his books drawn up after his death indicates he had wide intellectual interests. He had a strong sense of professional pride and expected to be well rewarded for his work; on several occasions he engaged in legal disputes over payments, and the failure of one such lawsuit seems to have caused him financial difficulties near the end of his life. His workshop produced a great many replicas of his paintings, but his work was so personal that his influence was slight, his only followers of note being his son Jorge Manuel Theotokopoulos (c.1578–1631) and Luis Tristán. At the time of his death he was famous and respected, but his reputation soon declined and in 1724 Palomino described his work as 'contemptible and ridiculous, as much for his disjointed drawing as for the unpleasant colour'. By the time the Prado opened in 1819 he was so little regarded that it did not display a single example of his work. Interest in his art revived at the end of the 19th century and his great popular fame has come in the wake of modern art, particularly Expressionism, of which he has been seen as a forerunner. The strangeness of his art has inspired various theories, for example that he was mad or suffered from astigmatism, but his rapturous paintings make complete sense as an expression of the religious fervour of his adopted country.
Text source: The Oxford Dictionary of Art and Artists (Oxford University Press)