In the series 'Seven questions with...' Art UK speaks to some of the most exciting emerging and established artists working today.
Since graduating from the Royal College of Art in 2018, the American artist Emma Fineman has been in demand. Over the past several years, she has exhibited internationally and, in 2021, was a finalist for the Hopper Prize.
Gestural, foreboding and often dreamlike, Fineman's colourful works converge figuration and abstraction, evoking elusive narratives that provide a glimpse into the artist's inner world. Memory and time are key conceptual elements that shape her intuitive practice, which although rooted in her own identity, touches upon society's collective feelings of malaise, especially as we navigate a fast-paced and fleeting world shaped by the digital.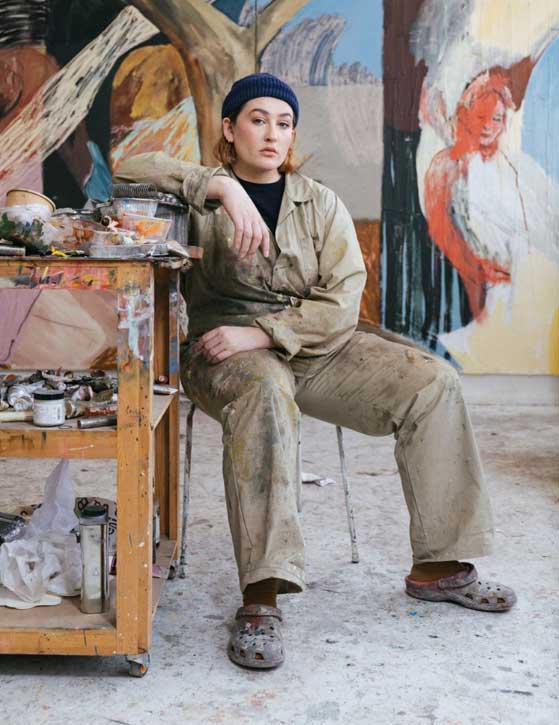 'Encounters' at Huxley-Parlour is the artist's latest solo show, presenting a rich body of work that was created during the pandemic – a moment of stillness and quiet reflection that allowed a new style to emerge in the artist's work.
Lydia Figes, Art UK: Can you tell us about how your latest show 'Encounters' at Huxley Parlour came together?
Emma Fineman: We had been talking about doing a show together over the course of the pandemic. We did a group show back in 2019, and then during the COVID outbreak I made a point of not doing any online exhibitions. I wanted space to think about my work and felt very strongly that my work should be experienced in person.
Because of the pandemic, I had time to develop this body of work over the past two years. I had the opportunity of completing a six-month residency at the Porthmeor Studios in St Ives – it's an incredible, historic space that allowed me the opportunity to process the experience of the pandemic and everything we all went through.
During that time I was thinking a lot about encountering things, whether people or bodily barriers between our interior and exterior lives, and especially how we all consumed the online world so much during the pandemic. In the digital world, we exist in multiple realms of reality, which distorts our experience of time. A short space of time could feel like an eternity: minutes could feel like hours, and weeks felt like months.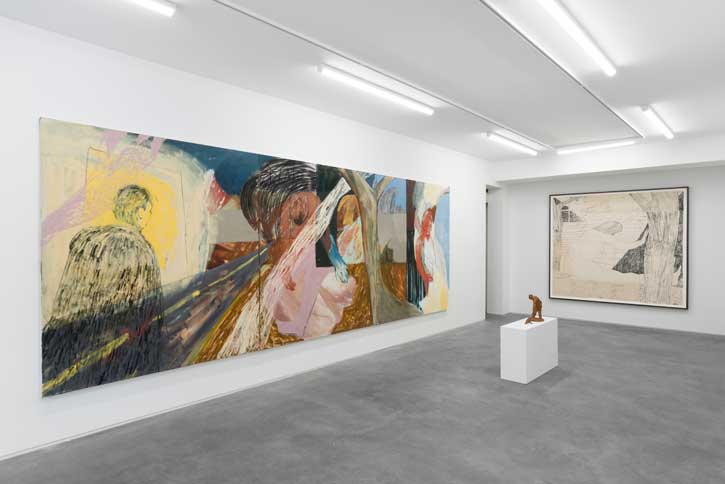 Lydia: Did being quite isolated during lockdown and away from your home country help you in any way creatively?
Emma: We all experienced the pandemic differently based on our socio-economic situations. However it was interesting to have a unifying, collective experience. For the first time I was dealing with a subject matter that everyone could connect to on some level. That was very freeing for me creatively.
My work is often about personal narratives and my own memories and experiences, but having this subject allowed me to open up my work. But yes it came with challenges, I was away from family and friends and not knowing when I would see them again (both my parents are also high risk). The insanity of all of the information surrounding COVID and the anxiety definitely entered my work, which was a way of processing the whole thing. Sharing and communication felt really important to the work.
Lydia: The subject of time plays a huge role in your practice, is this in reaction to the online world?
Emma: Reaction probably isn't the right word. But it's a process: what is the experience we are having in society today in relation to social media and technology? And what effect does that have on our greater psychology? It's been interesting thinking about time in that context.
Social media pushes you to share content and constantly make things visible to the world. We are inundated with information all the time, so being able to process that can feel impossible, especially during COVID. I felt like I was working in a space to work through the information, to entwine and compress those experiences together. The pandemic allowed us to question everything and disconnect from the rat race – many of us did a lot of reflecting and changed our paths. I began thinking about the looping nature of time, and how one day would seep into the next. Questioning how we really feel about all this informs my work.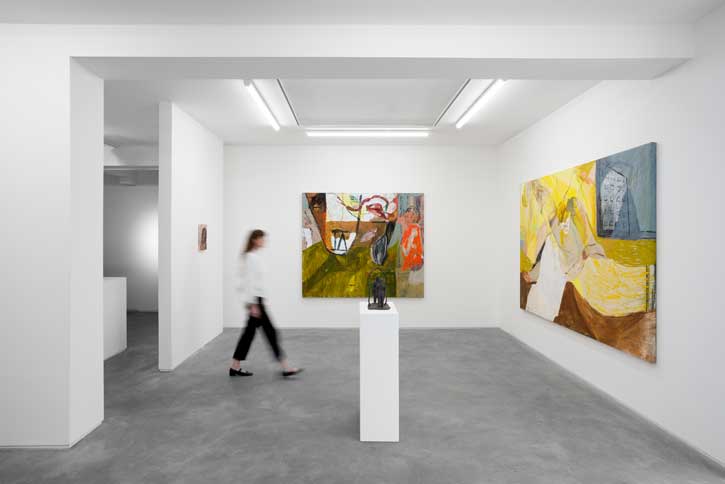 Lydia: Are there particular artists or movements you feel inspired by or reference?
Emma: The way that the Cubists saw things from multiple perspectives is definitely a conceptual influence on my work. I feel that this is important especially now, as we're constantly absorbing new information that often requires more than one perspective. People's ideas are becoming more hardened and therefore more polarised. The ability to question your positioning and perspective on certain subjects is important and something I want to evoke through painting.
Lydia: In relation to perspective, how has it helped you creatively to be an American artist based in the UK? What would you say are the main contrasts between the two places?
Emma: When I first moved here I made a painting 'Questions of Silence' which was submitted to the John Moores Painting Prize. It was essentially a portrait showing a sign saying 'exit' between two roads – it reflected my experience at that time of living in the UK.
At times I feel like a loud American working here. You can feel perceived as an obnoxious character, but at the same time, I've felt so welcomed by the art world and art community in the UK. I feel so embraced by these people and so excited to learn from and engage with that community. There's such an investment and interest in young career artists in the UK.
In the US, it can feel like there is a huge gap between an early career artist and the ones who are established and selling very expensive work. For example, if somebody asks me 'what do you?' and I reply 'I'm an artist', the follow-up question in the US would nearly always be 'How do you afford that?' In the UK, the question is more often 'What medium do you work in?'
There are some amazing programmes in the States too, but it was interesting to move to the UK and feel so engaged in that way. There's more free access to arts and culture in the UK, and with that an amazing society of people who are invested in the arts. And you guys know how to party!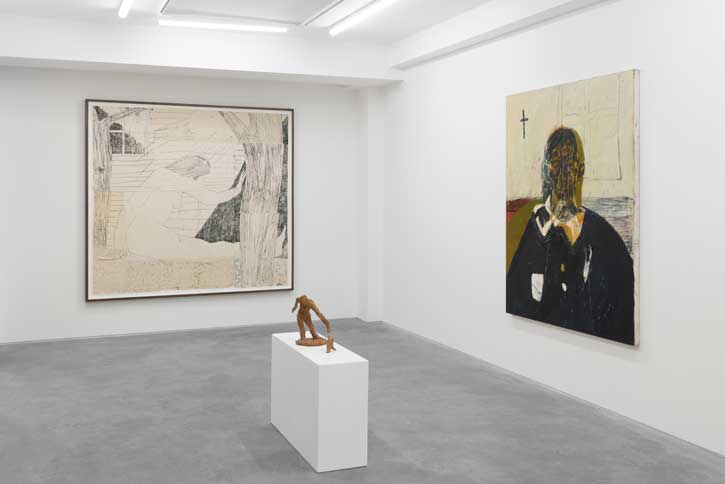 Lydia: Is there a particular work in this show you feel most connected to?
Emma: I feel deeply connected to all of the work in the show because of the fact that I took the time to invest in each work, within whatever time frame it needed. Having more time allowed me to curate this body of work. When I first came out of graduate school I was fortunate to have some enthusiasm for my work, so I would just say 'yes' to everything. But I had a relatively short amount of time to create large bodies of work. It meant I wasn't really able to question what I was doing. With this show, there was a lot of intentionality behind each piece, each work had time to breathe and all have a specific relationship to one another.
Peripheral Visions covers one side of the gallery, and I made that thinking a lot about the architecture of the space. I wanted it to draw the viewer into the space and begin a narrative journey. The large monoprints I felt particularly excited about because I began using the printmaking workshop in St Ives and appreciated that medium while I was there. This solo exhibition also features my bronzes for the first time.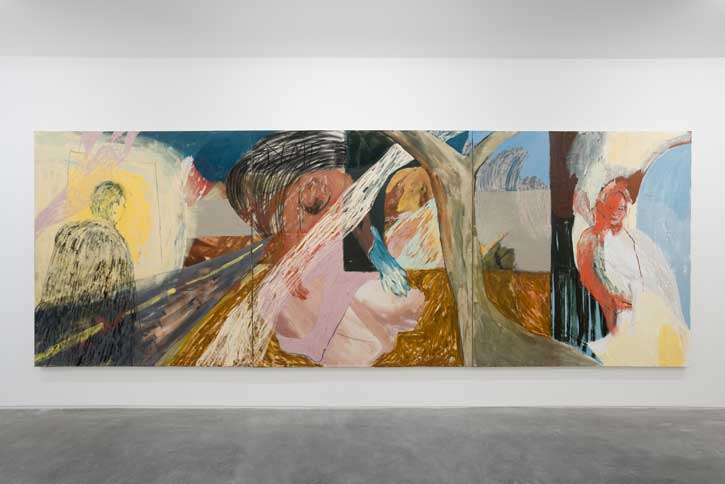 Lydia: Do you have any rituals at home or in the studio that help you to feel more creative?
Emma: I like a slow start to my morning. My cats often wake me up early! As an artist you can often feel like you are working from nothing, or you're not feeling particularly creative that day. But the most important thing is just showing up, even if you're just sitting there or reading, those things can indirectly help. There was a period when getting dressed became a huge part of my ritual – for me it was an exercise in colour and texture. Putting together an outfit allowed me to play and experiment with colour and texture.
Lydia Figes, Content Editor at Art UK
'Encounters' at Huxley-Parlour, London runs until 21st May 2022