We are delighted to be able to share more information about our first-ever conference, which will celebrate the end of our sculpture project.
'Rediscovering our sculpture: an Art UK symposium' will be run online, via Zoom, on Thursday 11th and Friday 12th March 2021. It is free and attendees can join us for the entire two-day conference or choose to attend specific sessions.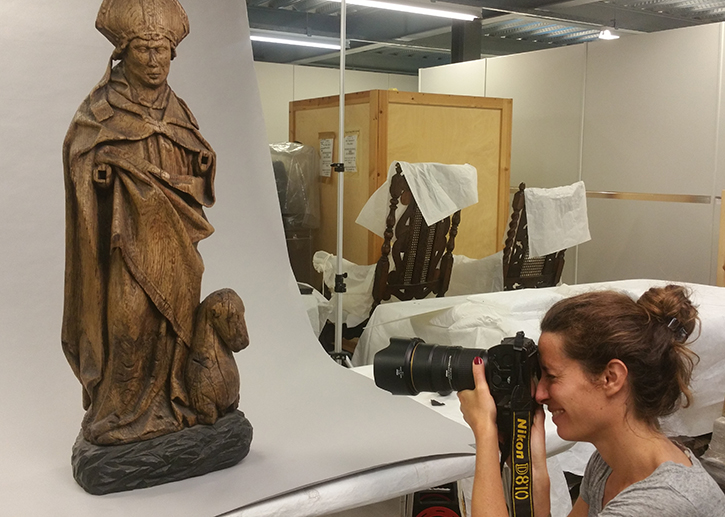 The conference is the culmination of nearly four years' work to digitise thousands of sculptures across the UK, held in collections and seen in our public spaces.
There will be talks from Art UK staff on sculpture digitisation, our learning and engagement programme and new sculpture discoveries through Art Detective.
We will share best practice on photography of sculpture, running community engagement events and delivering activities for schools.
Alongside the papers from Art UK staff, talks from curators, art historians and learning professionals will consider public sculpture, innovative learning programmes, diversity and colonialism, and new discoveries in sculpture and sculptor research.
These include presentations from our project partners VocalEyes, CultureStreet, the Royal Society of Sculptors and the Royal Photographic Society.
The conference will also give us the opportunity to thank the project's funders, as well as the thousands of people across the UK – project staff, photographers, volunteers, artists, collections, teachers and activity participants – who have contributed to the success of the project.
The full programme and keynote speaker will be announced soon, but to be the first to receive more information please register for the conference via Eventbrite. You will be sent details of the programme and how to join the conference via Zoom in due course.
We look forward to you joining us at the conference!
Katey Goodwin, Deputy Director, Art UK