For Art UK's 'Being...' series, we take a look at a day in the life of a professional working in the arts, heritage or museum sector.
What's your role?
As Curatorial Assistant at Guildford Heritage Services, I assist in caring for the art, archaeology and local history collections. I help to choose objects that are shared in exhibitions and social media, and research and write text to highlight interesting stories from our collection. My role is incredibly varied and I carry out a huge array of exciting and unusual tasks.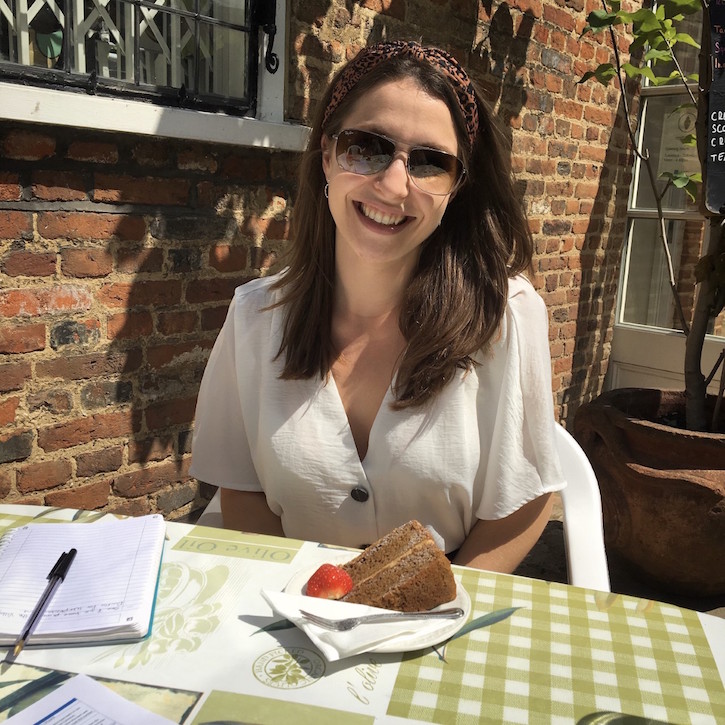 What's your morning routine?
I usually wake up to my other half's alarm going off on about three occasions before mine does! I tend to lay awake until mine goes off and then finally get up! After tidying the kitchen and filling the coffee machine up, I grab some breakfast. Generally, I have porridge or toast with Lotus Biscoff spread (it's amazing) and enjoy a strong filter coffee with a dash of milk, leaving some in the pot for my partner. I then head back upstairs to get washed and dressed. It can take several changes of clothes until I finally put on something I'm happy with that's appropriate for the day's work! When I'm clambering around the store or gallery, trainers and jeans are a must!
What's your journey to work like?
When there's no lockdown, my journey to work is a bit of a nightmare! I live less than 10 miles from work and door to door, my commute should take 15 minutes. However, Surrey traffic means that the journey can take almost an hour in total. I drive to Guildford in my car, arriving at the Park and Ride, where I hop on the bus to town. The bus journey can take a while so I pass the time responding to WhatsApp messages, reading news articles on my phone or staring out the window at the sights and people of the town.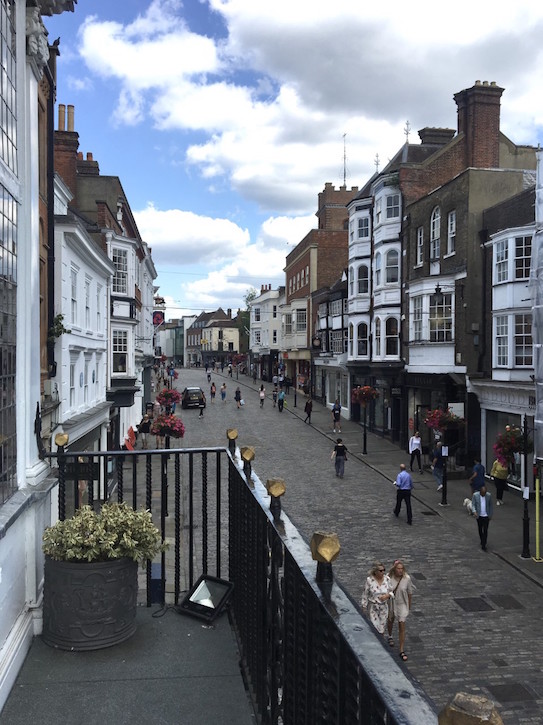 What's a typical morning at work for you?
My mornings are never typical because I don't do the same thing from one day to the next! The Collections team is made up of only the Collections Manager and I, so we have a flexible approach to working as our priorities are always shifting. My job means that I move between sites at Guildford House Gallery, the offsite store, the Museum and occasionally the Guildhall. I get a lot of steps in going up and down the High Street, which is one enormous hill!
Part of my role is to answer enquiries from the public when people contact us to find out more about the history of Guildford, specific buildings or objects in the collection. My favourite enquiries to deal with are about our art collection because I studied History of Art and appreciate the wonderful pictures we take care of.
Guildford holds the biggest known collection of eighteenth-century portraits by the local artist and Royal Academician John Russell, who is the most famous English pastel artist. Working for Guildford Heritage Services has allowed me to undertake a very special project, funded by the Understanding British Portraits group, to research the female Russell portraits in the Guildford collection, expanding our knowledge about them and John Russell.
My interest in the pictures was sparked by an enquiry from art historian and pastel expert, Neil Jeffares, who I have stayed in touch with ever since. So far, the project has taken me to the V&A stores, Clandon Park's picture store, the National Portrait Gallery's Heinz archives, and more! I am planning an exhibition to take place once the project is complete, where the artworks I have researched will be displayed at Guildford House Gallery and interpreted in exciting new ways.
Another part of my role allows me to engage with the artworks in our collection by transporting them to our Gallery and helping to hang them for exhibitions. Ahead of an upcoming exhibition, I visit our store to inspect works and photograph them for our records, before sharing condition information with the Exhibitions and Collections Managers to discuss the content of displays. I help to research artworks and objects before they are exhibited and provide information and text for displays and digital media when needed.
The programme at Guildford Heritage Services is brought to the public by a talented and creative team. I often work very closely with the Access, Learning and Engagement Team to provide information, photographs and historical context to help them create content for events, exhibitions and social media.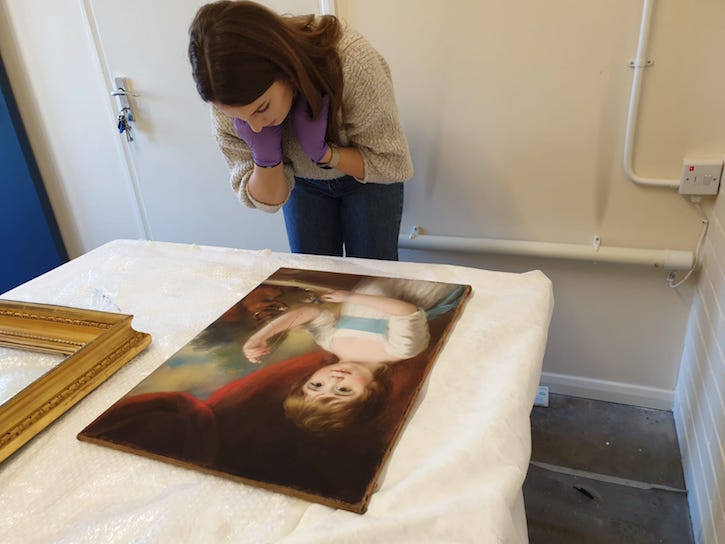 What's for lunch?
I'm always running late in the morning, so I rarely prepare my lunch in advance! I go for a walk at lunch into the town centre where I grab something quick and easy in M&S or head further up the High Street to find Sainsbury's, browsing the shops on my way. Frequently, I meet my colleague, Di (our Engagement Officer), and we head to our favourite coffee shop, Café Nero, where we demolish savoury snacks, cakes and lattes. They do a brilliant mozzarella, basil and tomato panini and I'm partial to a blueberry muffin every now and then.
What's a typical afternoon like?
Every few months I have the rather unusual job of carrying out environmental monitoring and checking pest traps. Fishing out sticky museum traps from underneath old cases can get pretty disgusting and I'm always careful to check where I'm putting my fingers!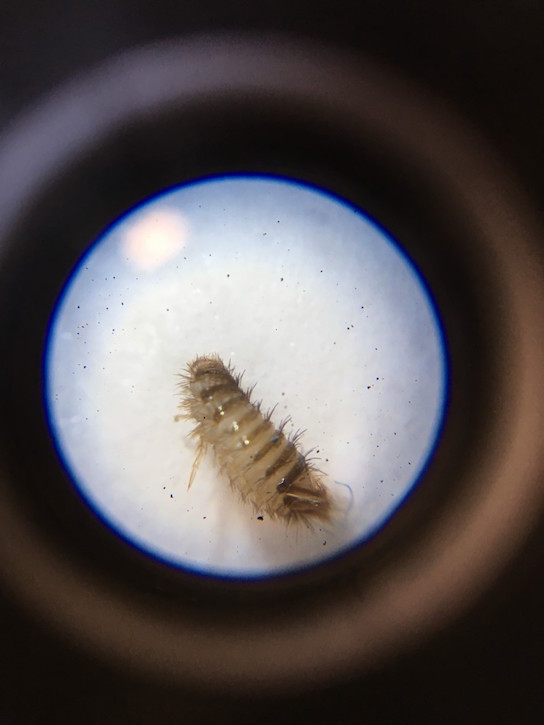 Since I began checking the traps last year, I have found examples of all sorts of funny-looking insects under my microscope, including vodka beetles, fungus beetles, book lice, silverfish and clothes moths. Thankfully most insects don't strike in abundance. The only infestation I have witnessed during my time as Curatorial Assistant consisted of a lot of naughty moths chewing on some old felt on a bookshelf at the museum: our caretaker got rid of that pretty quickly!
What do you do after work?
I unwind after work by going for a run or playing sport. Through lockdown, I've been trying to improve my 5k times and pushing towards running 10k. When social distancing isn't an issue, hockey keeps me fit and busy and gives me something to keep improving on. I usually play at least a couple of times a week and captained my team for almost two years. After exercising, I watch an action/adventure film or an episode of a TV series with my partner. I started watching The Walking Dead just before lockdown and have managed to make it to season eight now – I'm so into it!
Gemma Haigh, Curatorial Assistant at Guildford Heritage Services, Guildford Borough Council
Do you work in the arts, heritage or museum sector? Would you be kind enough to share an example of your working day for our 'Being...' series? Please get in touch with Art UK at pitches@artuk.org as we'd love to hear from you.