In the first of our new interview series, Masterpieces at Home, Scottish sculptor Mary Bourne explores her sculpture Shield, inspired by the landscape at Culloden battlefield in the Scottish Highlands.
Mary then demonstrates a learning activity that involves creating your own paper sculpture inspired by the view from your window. Watch the video and follow the instructions below to create your own at home.
Mary Bourne has previously taken part in our Masterpieces in Schools programme with visits to two Scottish Highland schools with sculptures loaned from Inverness Museum and Art Gallery, as well as a visit to Elgin High School in early March 2020 with her own sculptures, including Shield.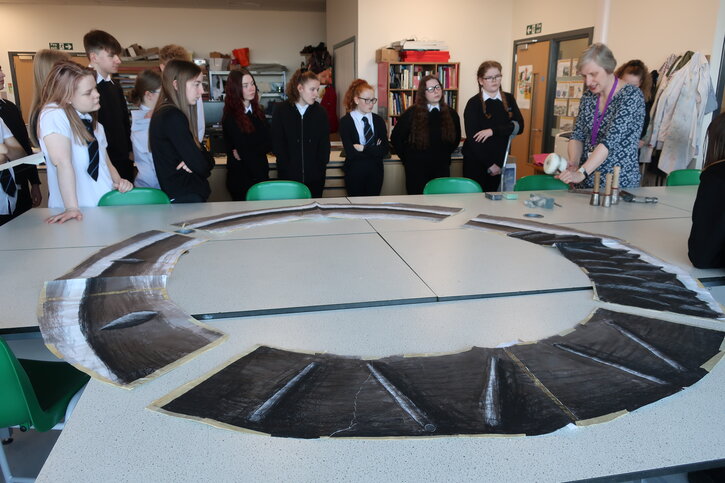 Like the majority of Mary's work, Shield is a made from stone.
In the following video, Mary discusses the different types of stone she works with, as well as the tools she uses to sculpt them.
Mary sculpted Shield following a residency at Culloden Moor, the site of the final confrontation during the Jacobite rising where the Jacobite army was defeated by a British government force on 16th April 1746.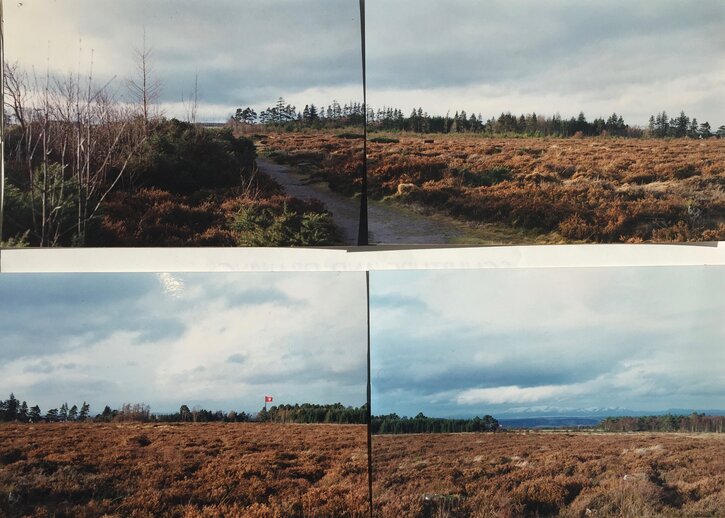 Inspired by two forestry plantations at the site that looked like opposing armies, Mary depicts a 'confrontation' of trees in the work. This symmetrical divide is also inspired by designs on African tribal shields Mary saw on her travels before the Culloden residency, such as this Maasai shield.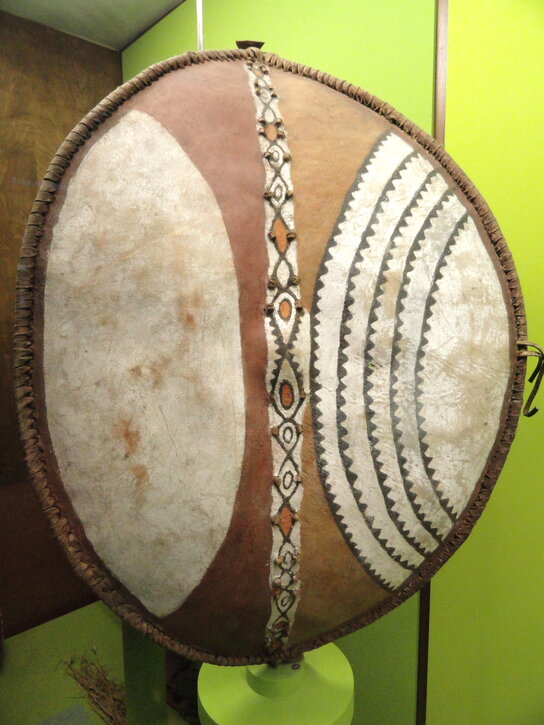 This method of selecting elements from a landscape and translating them into sculpture forms part of Mary's learning activity where she takes inspiration from the view from her window of the Moray countryside, including man-made elements such as electricity pylons.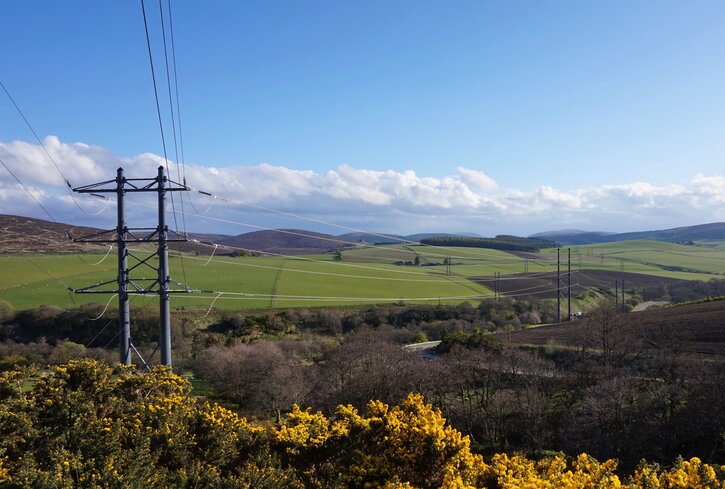 To create your own sculpture inspired by your local surroundings, you'll need:
Preparatory drawing
paper
a paintbrush (of a few of different sizes if possible)
some paint pots (cups or mugs will do)
ink or one colour of paint (black or blue poster paint, for instance)
Sculpture
stiff paper (A4 size will do)
card for a base – you can recycle cereal boxes or other similar materials
a pen or pencil
scissors
sticky tape
The first step is to do some preparatory drawings of the view from your window or an image you've searched online (Google Maps and Street View are a great help!).
Mary uses brush and ink in her demonstration, but you can also use something like one colour of poster paint to get the same monochromatic effect; working only with one colour (the darker the better!) makes it easier to simplify down the shapes you have selected from the view. If you don't have ink or paints, then feel free to sketch with a pen or pencil.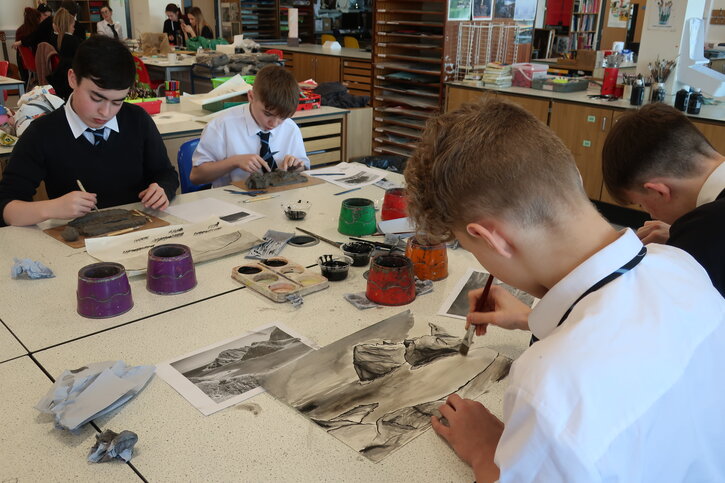 Which features in your view stand out to you? How can you capture this by drawing their basic outlines? If you're using ink or paint, you can use water or kitchen roll like Mary to create different effects on the page until you have something you're happy with.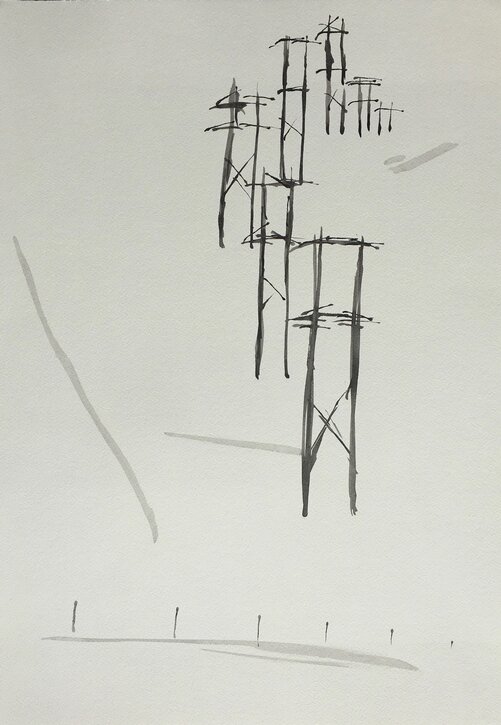 The next stage is to translate the basic outlines of a feature that has caught your eye into its own 3D structure, such as Mary's electricity pylons.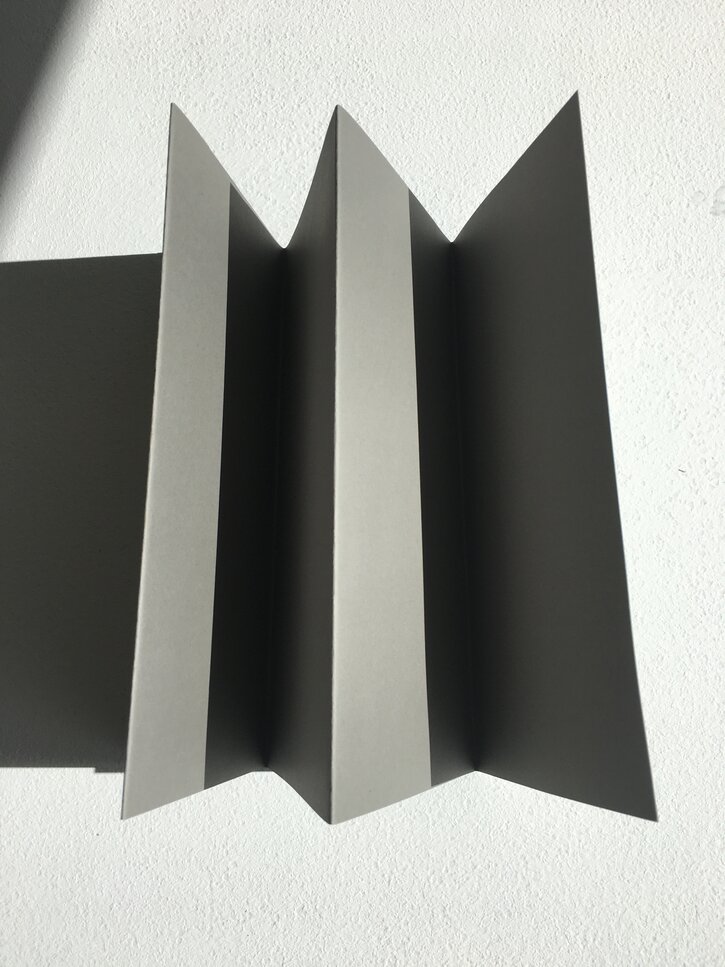 To begin, fold a piece of stiff paper lengthways into even sections concertina style, as in the image above. Fold it closed, and then on one end, draw the outline of a feature taken from your drawings. Ensure that your outline goes right to the edge of the fold in several places – this will mean that each section is connected to the next, which will support the structure.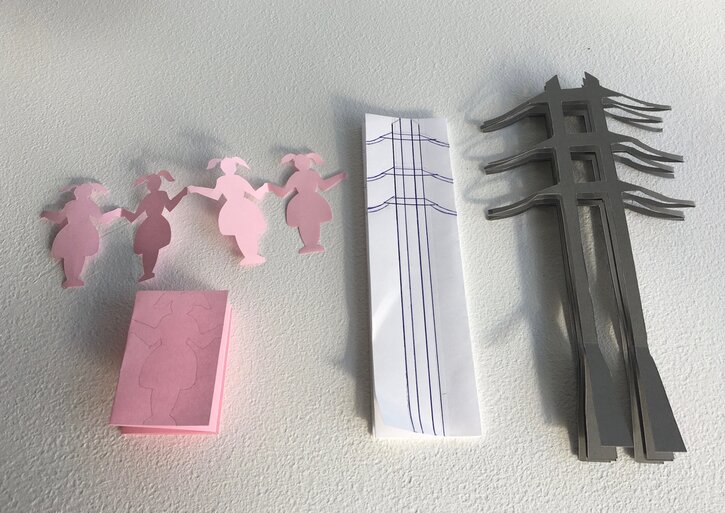 Once you've completed your design, keep it folded and cut the shape out through all of the layers. You should be able to then unfold it to create a connected 'string' of identical shapes. For instance, as well as her pylons, Mary also attempted a ring of trees and a fence.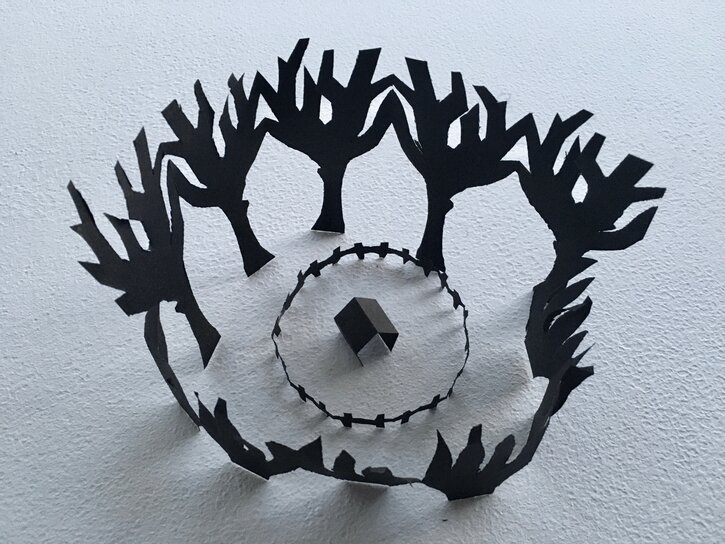 Once it's fully unfolded, create a circle of the shapes and tape the ends together so the whole structure is linked and secure.
Finally, Mary created a house in the centre of her pylon sculpture by folding a small strip of paper in half, and then folding the ends in to meet the central fold. Be inventive with how you create your own home to reflect where you live!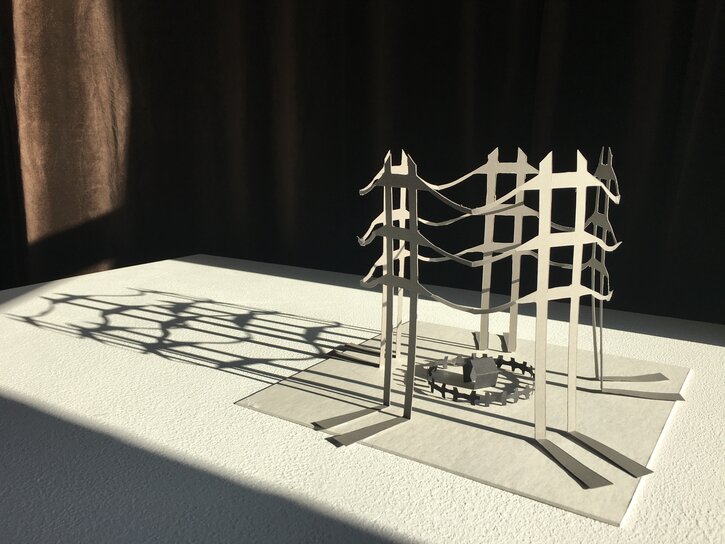 Mary Bourne's Masterpiece in School events were three of over 75 taking place between 2018 and 2020 thanks to the generous support of the National Lottery Heritage Fund, the Stavros Niarchos Foundation, R. K. Harrison and Hiscox.
Share a paper sculpture inspired by your surroundings with us on Twitter or Instagram by tagging @artukdotorg with the hashtag #ArtUKHomeSchool
Shane Strachan, Learning and Engagement Officer (Scotland and Northern England) at Art UK