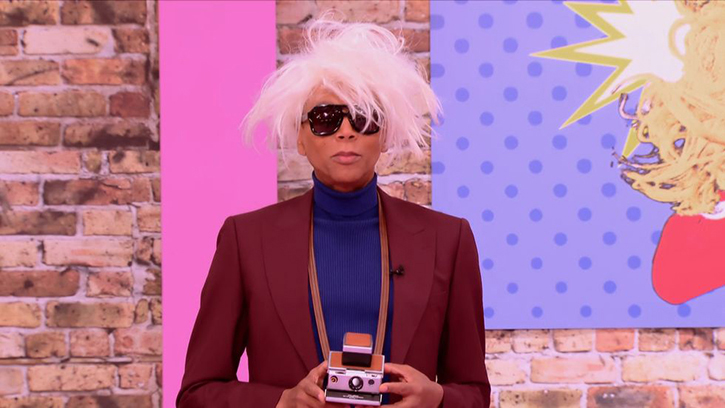 Art Matters is the podcast that brings together pop culture and art history, hosted by Ferren Gipson.
Download and subscribe on iTunes, Stitcher or TuneIn
As you know with this series, I like to explore pop culture topics as they intersect with art, and RuPaul's Drag Race is a wonderful blend of both. The show gathers a pool of contestants to showcase their talents and, as they might say on the show, turn a good look.
Drag is a performance art that's existed in various forms for hundreds of years. It was commonly used in theatre, where male actors would don clothing socially labelled as female to play women's roles. Many know of this from Shakespearean plays, but it also occurred in Ancient Greece and in some traditional Japanese performance arts as well. As it's evolved, drag has become embedded in queer culture and drag queens have been important figures in the fight for LGBTQ+ rights.
With ten seasons under its belt, RuPaul's Drag Race is a television sensation with mass-market appeal. The show does a great job of making drag accessible to everyone, and referencing its history throughout the series. One way the show does this is through the 'ball' episodes. These are a reference to ballroom culture, which has had a huge influence on drag as we know it today. These were events popularised in Harlem, New York where diverse groups would get together to model, dance and compete. I highly recommend watching the documentary Paris is Burning to learn more about them.
Back on the topic of Drag Race, I spoke with Corrie and Natalie from the podcast Art History Babes to dive into the show's relationship with art, starting with the 'Pop Art Ball' episode. '[The episode] really tapped into the connection between fine art within drag and the different aspects of Pop Art and pop culture,' says Corrie. 'Obviously, Drag Race is a pop culture phenomenon – it's a spectacle, but definitely an artistic expression and, in itself, I think harkens back to Andy Warhol and that whole era and culture.'
The Warhol effect
In the mini-challenge of the episode, the queens are asked to quickly get into drag to take photos for a Warhol-style portrait. RuPaul hilariously photographs them in turn and the images are later edited to have high contrast and vibrant colours overlayed. It's such a recognisable way of tapping into the Pop Art movement. Now it's common to find Warhol effects and filters on photo apps, making his style of work ubiquitous and accessible to anyone.
Thinking about his collective style of working or even his paint-by-numbers series, I can't help but think that Warhol would be happy to see how his style has developed. 'His whole thing was mass production,' says Corrie. 'Even so many years later [works in his style are] still being so mass produced – and in ways that he probably couldn't even imagine.'
The primary challenge of the Pop Art episode was the ball, which asked queens to pull three looks together for a runway performance. One of the looks required them to design their own branded soup can – a play on Warhol's Campbell's soup series. As they walked out, the stage was decorated with boxes in the style of Warhol's Brillo boxes bearing RuPaul's logo.
Corrie found the show's twist on the iconic image interesting, saying, 'The idea behind Andy Warhol's soup cans is about ubiquity and is about mass production and is about an image of a soup can meaning something to everyone, and these soup cans were individual expressions. They were individual, personal twists on soup, but the original soup can was more of a collective kind of expression.'
Artistic queens
In addition to the Pop Art episode, it's worth looking at the incredible creativity that goes into the looks and performances. Queens like Aquaria from season 10 could be considered the new generation of Club Kids – an artistic scene in New York's 1980s and early 1990s that saw a group of dance club regulars dress in flamboyant costumes to push aesthetic and gender boundaries. The group is associated with figures like Amanda Lepore and performance artist Leigh Bowery, who modelled for Lucian Freud.
Sasha Velour is another example of an avant-garde queen whose style Corrie refers to as 'high art'. Sasha views drag as a form of historical and political expression and, as a Fulbright Scholar with an MFA in Cartoon Studies, it's no wonder that she takes such an academic and artistic approach to her work.
The flipside of this relationship is the history of artists doing drag. Warhol did self portraits in drag, and Marcel Duchamp had a drag alter-ego. 'Duchamp had his drag persona, Rrose Sélavy, and was photographed by Man Ray as Rrose Sélavy. And Duchamp was also an influence of Andy Warhol, so there's kind of a connection there,' says Corrie.
We see drag from male and female artists, alike. Cindy Sherman's conceptual portraits, for example, would certainly qualify. Doing drag isn't just about exploring gender – it's a transformative process of becoming someone. In Paris is Burning, we see examples of drag where people become rich women, professionals, or even servicemen in the military. As RuPaul always says, 'we're all born naked and the rest is drag'.
'Drag Race, in general, definitely plays with the idea of identity in art,' says Corrie. 'By also being able to pull in this art-historical material and interesting visual material, I think it creates a very layered expression of something people can relate to.'
Be sure to listen to the full episode above to hear the full discussion. My guests, Corrie and Natalie, are two out of the four hosts of the Art History Babes podcast – I encourage you to give their show a listen to hear fun discussions on art history over a glass of wine. I'm the guest for their latest episode discussing Lady Gaga and art.
Explore more
The artists who confronted gender norms
Frida Kahlo: embracing her masculinity
Art Matters podcast: mermaids and mythical creatures in art and the queer community
Listen to our other Art Matters podcast episodes
.