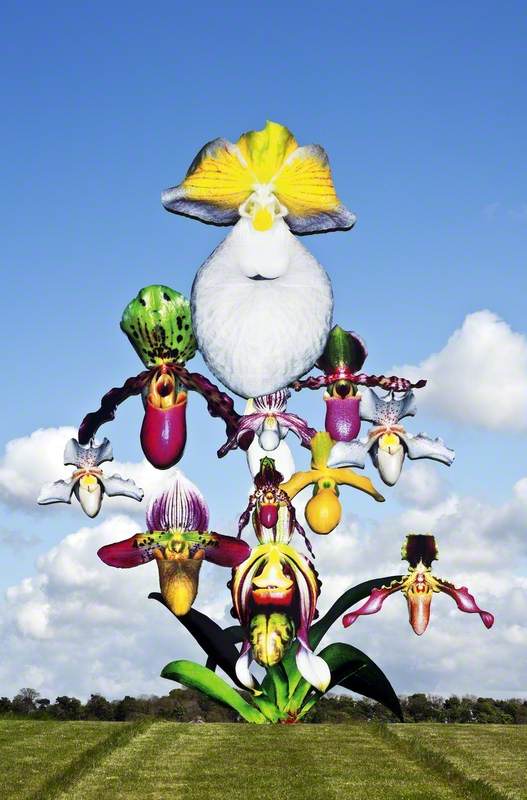 © the artist. Photo credit: Allan Pollok-Morris, Keith Hunter. Courtesy of Jupiter Artland
Artist, born and lived in London, who graduated from Cambridge University and was assistant to the sculptor Barry Flanagan. Group exhibitions included Hands, at Grob Gallery, 1991; London, at Karsten Schubert Gallery, 1992; and in 1993 Young British Artists II, at Saatchi Gallery, which holds his work. What constitutes an individual or the life force? were the type of subjects which preoccupied Quinn, as in his Saatchi showing, where the 1991 sculpture Self constituted a head made from nine pints of the artist's blood. Solo exhibitions included Bread Sculpture, Galerie Marquardt, Paris, and Middendorf Gallery, Washington, both 1990; Out of Time, Grob Gallery, 1991; a major one at South London Gallery, 1998; and drawings, paintings and sculpture at Tate Liverpool, 2002.
Read more
Quinn was selected for the Sydney Biennale in 1992 and the Cairo Biennale, 2001. In that year, Quinn won the the RA's Charles Wollaston Award for the most distinguished work in the Summer Exhibition. He was also commissioned by the National Portrait Gallery to produce a portrait of Sir John Sulston, a leading contributor to the Human Genome Project; Quinn took a sample of Sulston's DNA and made an exact representation of its subject. He had a first solo exhibition in Ireland at the Museum of Modern Art, Kilmainham, in 2004. Entitled Flesh, it comprised 14 bronze casts of the meat of various animals displayed on plinths like classical statues. Also in 2004, there was a show at Atkinson Gallery, Millfield, Street, and there was another at White Cube in 2005. In that year, Quinn's 12-tonne, white marble sculpture Alison Lapper Pregnant was placed on the fourth plinth in Trafalgar Square for long-term display. Quinn's work is in the collections of the Tate Gallery; Pompidou Centre, Paris; and Museum of Modern Art, New York.
Text source: 'Artists in Britain Since 1945' by David Buckman (Art Dictionaries Ltd, part of Sansom & Company)