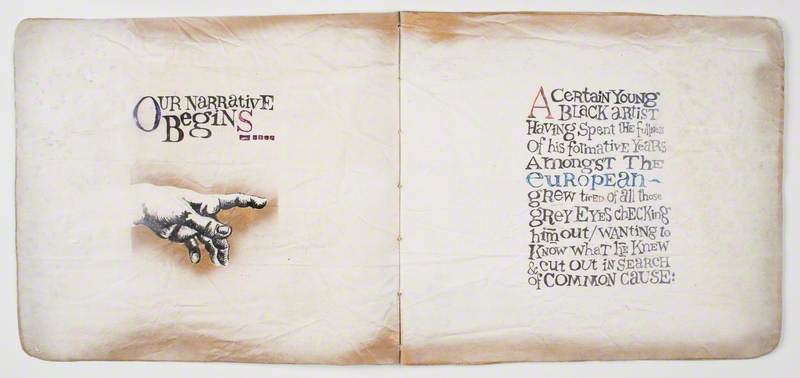 © the artist. Photo credit: Bradford Museums and Galleries
Painter, draughtsman and artist in slides, photomontage and text, born in Birmingham. Studied art at Lanchester Polytechnic, Coventry, 1979, and Trent Polytechnic, Nottingham, 1980–3, followed by an environmental media course at Royal College of Art, 1984–6. At Coventry he met the artist Eddie Chambers, with whom he organised a show with a Black Art theme at Wolverhampton Art Gallery in in 1982, with the first Black Art Convention at the same venue in that year; and several other events. Piper was committed to the role of art as a way of putting over ideas, his Black Assassin Saints being an example of blacks as victims. Participated in a number of radical black art group shows; was included in The Other Story, Hayward Gallery and tour, 1989–90; had a major solo exhibition at Royal College of Art, 1997; and one at City Museum and Art Gallery, Worcester, in 2000.
Read more
Manchester and Sheffield City Art Galleries hold examples.
Text source: 'Artists in Britain Since 1945' by David Buckman (Art Dictionaries Ltd, part of Sansom & Company)