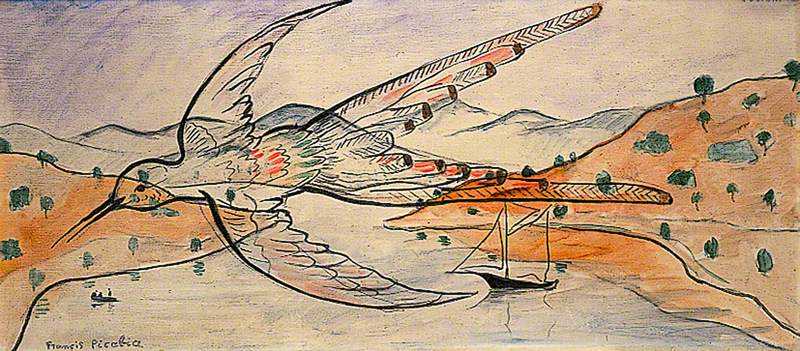 © ADAGP, Paris and DACS, London 2022. Photo credit: Norfolk Museums Service
(b Paris, 22 Jan. 1879; d Paris, 30 Nov. 1953). French painter, designer, writer, and editor. His talent as an artist was modest, but his restless and energetic personality gave him a significant role successively in the Cubist, Dadaist, and Surrealist movements, and through his publications he helped to disseminate avant-garde ideas. A private income enabled him to carry on his activities without having to worry about earning a living, as well as to indulge his love of fast cars, fast women, and wild living in general. Early in his career he was a successful painter of Impressionist landscapes. In 1908–9 he experimented with Neo-Impressionism, and then with Fauvism and Cubism. In 1911 he met Marcel Duchamp, who was to be the most important influence on his career, and with him became an exponent of Orphism.
Read more
By 1912 he was painting pure abstracts. In 1913 he visited New York as spokesman for the Cubist pictures in the Armory Show, and he returned to the USA in 1915–16, when he, Duchamp, and Man Ray were involved in the first stirrings of Dada. After moving to Barcelona (where he lived 1916–17), he launched a magazine entitled 391 (1917–24). In 1917 he spent six months in New York, then lived in Zurich (1918–19) before returning to Paris, where he helped to launch the Dada movement. However, in 1921 he denounced Dada for being no longer 'new', and became involved with André Breton and the nascent Surrealist movement. In 1924 he attacked this, too, but some of his later works are in a Surrealist idiom. From 1925 to 1945 he lived mainly on the Côte d'Azur, experimenting with various styles. In 1945 he settled permanently in Paris and in his final years returned to abstract painting. Apart from his contributions to avant-garde magazines, Picabia published various pamphlets and wrote poetry. He also conceived the fantasy ballet Relâche (1924), with music by Erik Satie, together with the film Entr'acte (directed by René Clair), which was used to fill the intermission between the ballet's two acts. Among Picabia's paintings, the most highly regarded today are those in his 'machinist' style, in which mechanistic and biomorphic forms are combined in dynamic compositions. The most famous is I See Again in Memory My Dear Udnie (1914, MoMA, New York).
Text source: The Oxford Dictionary of Art and Artists (Oxford University Press)