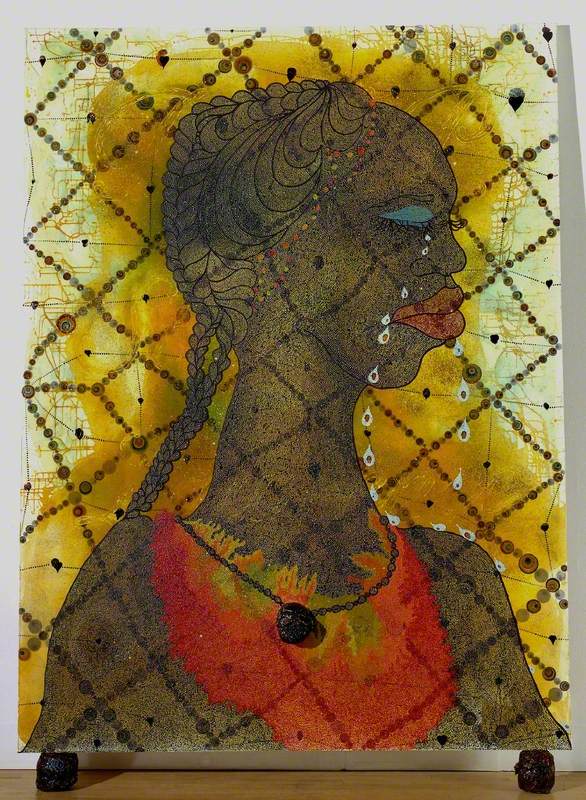 © Chris Ofili. Photo credit: Tate
British painter of Nigerian descent, born in Manchester. He studied at Chelsea College of Art and Design and the *Royal College of Art. While at the latter, Ofili won a travelling scholarship to Zimbabwe. There he discovered the material which was to be his trademark, elephant dung. This was a way of linking his art to his African heritage but it was also, at first, used as a clever marketing ploy. Stickers marked 'elephant shit' were placed on London street furniture and two 'shit sales' were held (more performance pieces than actual functioning market stalls), one in Berlin and one in Brixton market. Ofili's brilliantly coloured paintings also employ glitter and map pins (the ones with bright plastic balls on the end) to produce patterns and spell out names.
Read more
The dung, in ball form covered with resin, is both attached to the canvas and used to raise the paintings, which are not hung but rested against the wall, from the floor. The technical complexity of some of his paintings means that from a distance they can appear like a purely abstract pattern. For instance it is only on close inspection of Afrodizzia (1996) that one sees the collage of black faces with painted‐on 'Afro' hairstyles. Ofili has commented on his work: 'It's what people really want from black artists. We're the voodoo king, the voodoo queen, the witch doctor, the drug dealer, the magicien de la terre.' Much of the debate around Ofili's work is about whether it has a critical element or simply panders to an appetite for the stereotype. For Richard Powell, his painting only underscores 'how ineffectual and even counterproductive are many racial conventions in today's world'. Ofili was awarded the *Turner Prize in 1998. See also Saatchi; Sensation.
Text source: A Dictionary of Modern and Contemporary Art (Oxford University Press)