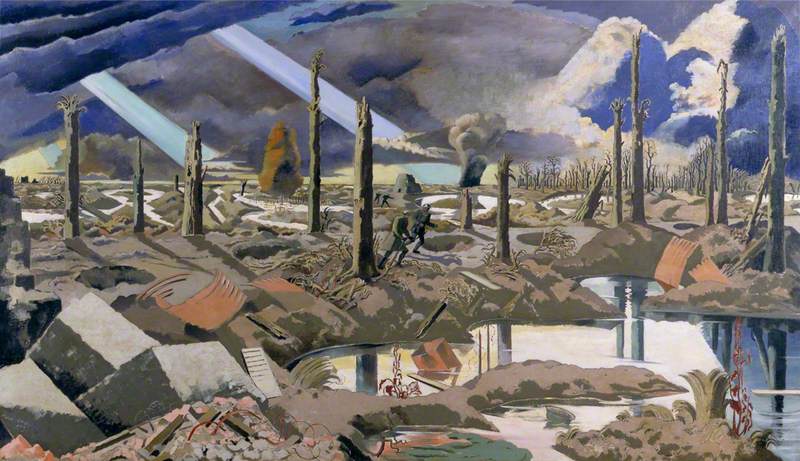 Photo credit: IWM (Imperial War Museums)
(b London, 11 May 1889; d Bournemouth, Hampshire, 11 July 1946). English painter, book illustrator, writer, photographer, and designer. Nash was one of the most individual British artists of his period, taking a distinguished place in the English tradition of deep attachment to the countryside whilst at the same time responding imaginatively to European modernism. He saw himself as a successor of William Blake and Turner. After training at the Slade School he served in the First World War, was wounded, and worked as an Official War Artist, his work including some powerful views of the pitted and shattered landscape of No Man's Land that rank among the most memorable images of the conflict (We Are Making a New World, 1918, Imperial War Mus., London).
Read more
Although his later career was varied and distinguished, many critics feel that his First World War paintings mark the summit of his achievement. In the 1920s and particularly in the 1930s he was influenced by Surrealism (above all by de Chirico, an exhibition of whose work he saw in London in 1928) and often concentrated on mysterious aspects of the landscape (Monster Field, 1939, Durban AG). For much of this time he lived in rural areas (Kent, Sussex, Dorset), basing his work on scenes he knew well but imaginatively transforming them. However, he continued to be involved in the London art world, and in 1933 he was the prime mover in the formation of Unit One; he also helped to organize and exhibited in the International Surrealist Exhibition in London in 1936. In the Second World War he was again an Official War Artist. He was already very sick with the asthmatic condition that killed him, but his war work included an acknowledged masterpiece, Totes Meer (Dead Sea) (1940–1, Tate, London), which portrays shot-down aircraft with their wings looking like undulating waves. Nash was regarded as one of the finest book illustrators of his time; he also designed scenery, fabrics, and posters, and was a photographer and writer, his books including a guide to Dorset (1936). His brother John (1893–1977) was also a painter and illustrator, excelling in meticulous flower drawings for botanical publications. Like Paul he was an Official War Artist in both world wars.
Text source: The Oxford Dictionary of Art and Artists (Oxford University Press)