Introduction
Lobster Telephone (1938) is a sculpture in the Scottish National Gallery of Modern Art in Edinburgh. It was created by artist Salvador Dalí and poet Edward James, and is made from a plaster lobster and a functioning Bakelite telephone. It is one of several versions of Lobster Telephone made by Dalí and James. (Edward James used some of them as telephones in his house!) As well as white versions such as this one, polychrome versions of the sculpture were also made, with black telephones and orange lobsters.
About Salvador Dalí
Salvador Dalí is perhaps the best-known artist associated with the Surrealist movement, largely because of his showmanship and talent for self-publicity. Born in Spain, he moved to Paris in 1926 and joined the Surrealists in 1929, after dabbling with Cubism and various other styles. His artistic output of the late 1920s and 1930s exemplified Surrealist interests and ideas – especially their fascination with dreams.
Read: Salvador Dalí biography on Art UK
About Edward James
Edward James was an English poet and art collector. He supported many Surrealist artists in their careers including René Magritte, Max Ernst and Leonora Carrington as well as Dalí.
Watch: Surreal Encounters: Collecting the Marvellous for more information about Edward James
Activity: first impressions
Look at this photograph of Lobster Telephone with your students.
Discuss the sculpture as a class.
What do you think of the sculpture?
What two objects can you see?
When do you think the sculpture was made? Could it be contemporary?
What art movement do you think it might be associated with?
It may help in gathering first impressions, to task your students with thinking of five words in response to the sculpture. They could write these down and then share them with the rest of the group. (The words should be honest, immediate responses and could include responses such as 'weird' or 'rubbish'!)
Activity: watch and discuss
Watch this video with your class. It shows a group of students from The Royal High School in Edinburgh discussing and finding out about Lobster Telephone.
What did we discover?
Discuss with your students what they have learnt about the sculpture from the video. These prompts might help:
who made it? What do you know about Salvador Dalí?
when was it made?
what is it made from?
what art movement were the artists associated with? What do you know about Surrealism?
does finding out more about the sculpture change what you think of it?
Activity: Salvador Dalí fact-file
Task your students with creating a Salvador Dalí fact-file. This activity would work well as an individual research or homework project. The fact-file should include brief facts about Dalí such as:
key dates in his career
his relationship with the Surrealist movement
the type of art he made and examples of his artworks
it could also include fun or unlikely facts about Dalí
Research links for students:
Salvador Dalí Foundation: timeline
Watch: Salvador Dalí in 60 seconds
What do you think? Ideas and objects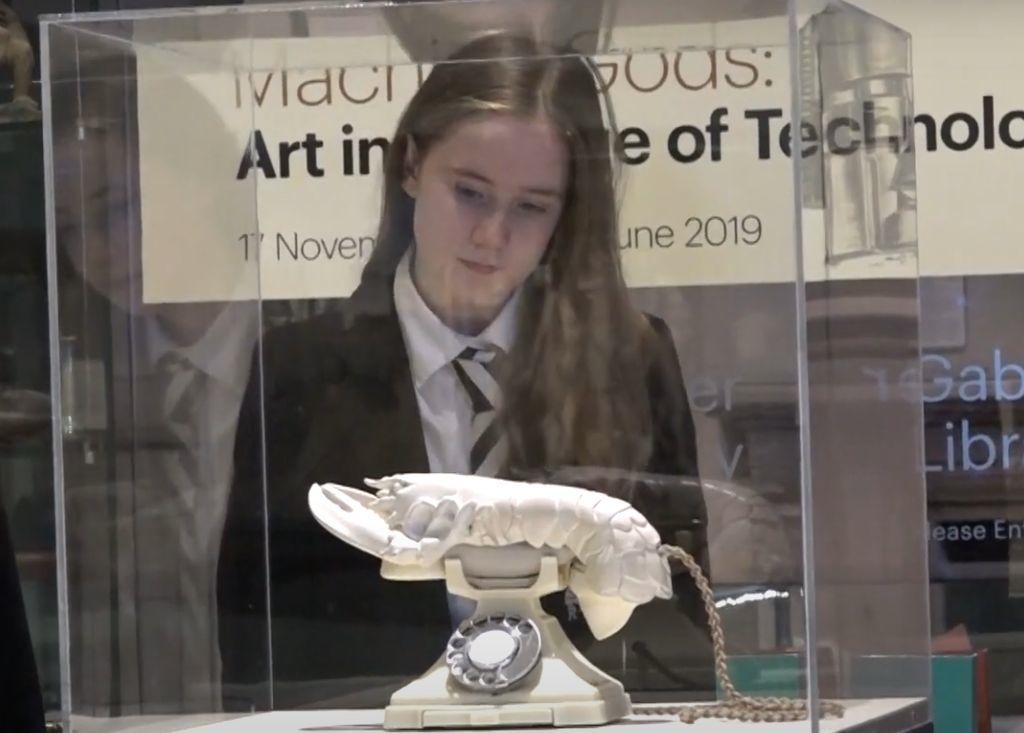 The students who visited the Scottish National Gallery of Modern Art raised some interesting points about Lobster Telephone.
'I think the most important thing is that he thought of the idea, and the object and the animal to put on the phone.'
In the video, the curator explained that although Salvador Dalí and Edward James are listed as the artists behind the sculpture, they did not actually make it. The sculpture was Dalí's idea – he had exhibited a live lobster on a telephone at a Surrealist exhibition in Paris in 1936. Edward James (with Dalí's permission) had the plaster lobster made by local tradesmen to fit onto an existing, functioning telephone.
When existing, manufactured objects or objects from nature are used in artworks these are often referred to as found objects.
Discuss with your students:
does it matter that Salvador Dalí and Edward James didn't actually make the sculpture?
what is more important the idea or the object?
Questions guidance and development ideas
In discussing this you could perhaps use the analogy of fashion, where a designer designs clothes and puts their name to them, but doesn't actually make the clothing.
You could also look at the approach of contemporary artists, such as Damien Hirst and Jeff Koons, who often commission craftsmen or fabricators to make their work.
Conceptual Art emphasises the idea over the object. In this Art UK video, students discuss ideas vs. objects in relation to a sculpture by Martin Creed: Sculpture in focus: Work No. 88 by Martin Creed
What do you think? Lobster Telephone then and now
The students in the video wondered whether Lobster Telephone would have been more shocking in the 1930s –when it was first exhibited – than it is now.
'It would have been quite outrageous for the time because you wouldn't have had this sort of thing around.'
'I think it's still a bit shocking because even though the phone is a bit old fashioned now, its strange to see a lobster on top of any phone!'
Ask your students what they think.
Do you think the sculpture looks shocking?
Do you think it would have been shocking to people in the 1930s? Why?
What sort of sculptures do you think people saw in art galleries in the 1930s?
Do you think, in the twenty-first century, we are more used to the idea of the surreal than people might have been in the 1930s?
Can you think of any contemporary artworks that might have shocked people when they were first exhibited?
Questions guidance:
Was it shocking in the 1930s?
In the 1930s many of the sculptures on display in museums are likely to have been more traditional classically inspired sculptures. But artists including Barbara Hepworth and Henry Moore were experimenting with abstraction, and their sculptures would have looked radical to art gallery visitors. Their sculptures were generally made using traditional sculpture techniques such as carving and casting, and traditional materials such as bronze and stone.
Ask your students if they think Lobster Telephone, with its functioning telephone and jokey subject matter, would have looked more out-of-place in a gallery than these abstract sculptures?
Contemporary shockers!
Contemporary artworks that caused controversy when they were first exhibited, include Tracey Emin's My Bed (1998) and Damien Hirst's Mother and Child Divided (1993 & 2007).
Ask your students how they would react if they saw this Damien Hirst sculpture in a gallery.
Surrealism and popular culture
Surrealism has had a huge influence on popular culture, so the imagery included in Lobster Telephone is probably more familiar to us now. You could discuss with your students the use of surreal imagery in contemporary advertisements, video games, comic book films and pop videos.
Activity: write a review of Lobster Telephone
Task your students with writing a review of Lobster Telephone, imagining that they are a journalist or art critic in the 1930s seeing the sculpture for the first time. (This should be seen as a creative writing activity – students can imaginatively respond to the task and it doesn't necessarily have to be historically accurate!)
How do you react when you see the sculpture? (Do you laugh? Are you angry? Are you shocked or confused?...)
What other sculptures are in the gallery? (Students could imagine what other sculptures might be on display, and compare them with Lobster Telephone. These could be more traditional sculptures, other Surrealist sculptures or abstract sculptures.)
How are other visitors reacting?
Explore other sculptures made in the 1930s for comparison