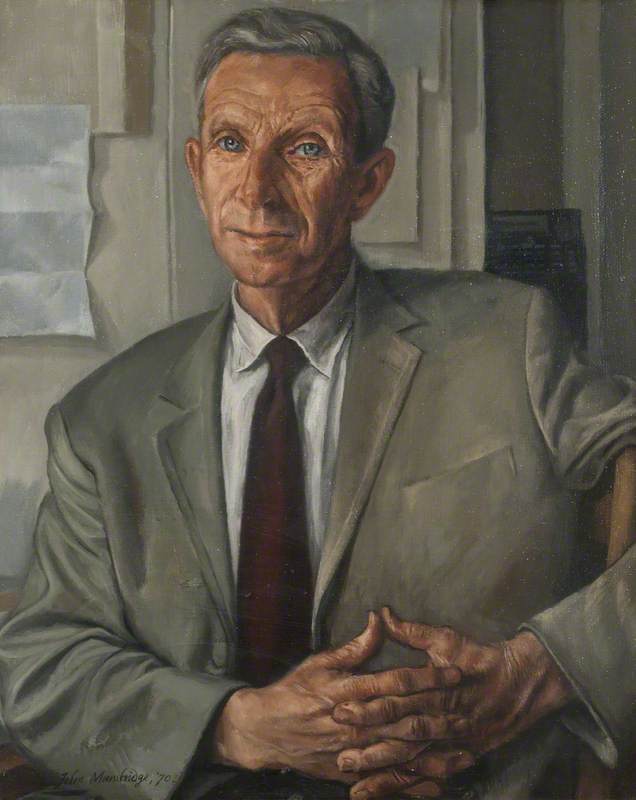 © the artist's estate. Photo credit: Goldsmiths, University of London
Artist, inspirational teacher and author, educated at Manchester Grammar School and the Slade School of Fine Art under Henry Tonks. His father was Albert Mansbridge, founder of the Workers' Educational Association, and many pioneers of adult education, such as Bishop Charles Gore, William Temple (later Archbishop of Canterbury) and Professor R H Tawney, influenced John's childhood. In 1929 he joined the staff of Goldsmiths' College School of Art, after World War II being senior lecturer in painting there until his retirement in 1966. He also lectured in the history of art and architecture for London University extra-mural department. In 1969 Mansbridge published his well-received Graphic History of Architecture, resulting from 10 years' research.
Read more
His panels of classical historical events decorated ships of the Blue Funnel Line. Mansbridge was a noted portrait painter, exhibiting at RA, RP, RBA and NEAC. He made portraits of the first Labour cabinet of 1924; Battle of Britain fighter pilots; and society figures, Anglican prelates, politicians and writers. Mansbridge's pictures are owned by the Imperial War Museum and National Portrait Gallery, whose holding includes his depictions of his father, Tawney and the writer Sir John Squire.
Text source: 'Artists in Britain Since 1945' by David Buckman (Art Dictionaries Ltd, part of Sansom & Company)