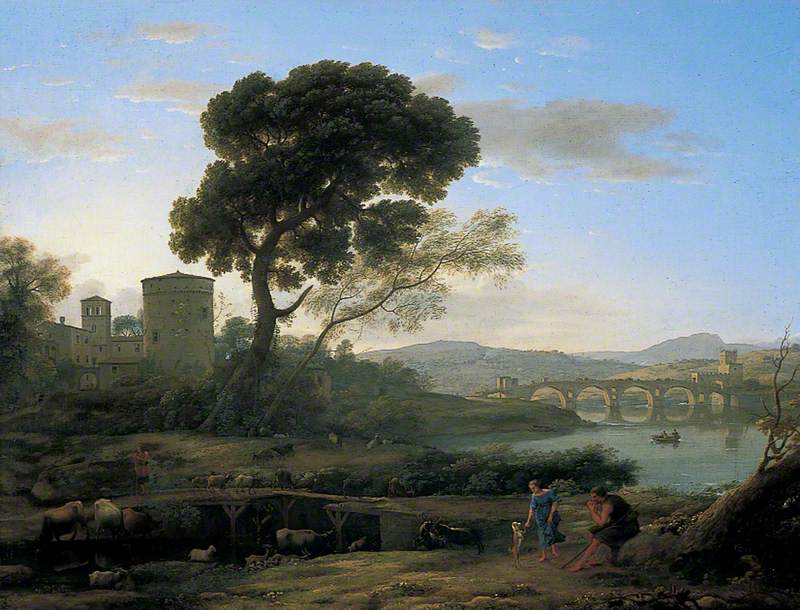 Photo credit: Birmingham Museums Trust
(b Chamagne, Lorraine, ?1604/5; d Rome, 23 Nov. 1682). French painter, draughtsman, and occasional etcher, active for almost all his career in Rome; he is often called Le Lorrain (in France), or Claude Lorrain(e) (in the English-speaking world), after his place of birth, but he is usually referred to simply as Claude, a familiarity reflecting his enormous fame as the most celebrated of all exponents of ideal landscape. At an early age (probably shortly before 1620) he moved to Rome, where he is said to have initially worked as a pastry cook (a favourite trade of Lorrainers). He then entered the household of Agostino Tassi, progressing from domestic servant to studio assistant, and he also spent two years studying in Naples with the obscure German-born landscapist Goffredo Wals (c.
Read more
1595–c.1640); he was deeply impressed by the beauty of the Gulf of Naples, memories of which recur in his paintings throughout his career. The chronology of this early period of Claude's life is vague, and it is not certain whether his association with Tassi began before or after his time with Wals; he is first firmly documented in Rome in 1623. In 1625 he returned to Lorraine, and collaborated with the court painter Claude Deruet (1588–1660) on church frescos (destroyed) in Nancy, but by 1627 he was back in Rome, where except for local journeys he remained for the rest of his life. His earliest surviving dated painting is of 1629 (Pastoral Landscape, Philadelphia Mus. of Art), although one or two undated pictures may precede it. In 1633 he became a member of the Accademia di S. Luca, and by this time he was already establishing himself as one of the leading landscape painters in Rome. Indeed his work soon attracted imitators, and according to his biographer Baldinucci, it was to guard against forgeries that he began keeping a record of his paintings in his Liber Veritatis (Book of Truth). Claude began this album of drawings (which is now in the British Museum) in about 1635; it contains 195 sheets detailing virtually every picture he painted from that time until his death (he seems to have valued it increasingly as a work of art in itself and it is uncertain how adequately it fulfilled its purpose as a protection against fraud). Each sheet has a drawn copy of the painting on the front and information about the patron on the back, and because of this, Claude's output is exceptionally well documented. By the end of the 1630s his clients included Pope Urban VIII (Maffeo Barberini) and Philip IV of Spain (see Habsburg), and he was unrivalled as the foremost landscape painter in Italy. He charged high prices for his paintings, but he was a dedicated craftsman who worked at his own pace, so he generally produced only a few pictures a year and he became comfortably prosperous rather than wealthy. He lived very modestly, holding various minor offices in the Accademia di S. Luca but taking no part in public affairs: his friend Sandrart describes him as a 'good-hearted and pious' man who 'searched for no other pleasure beside his profession'. The effects of age and illness (he suffered from gout or arthritis) caused his output to decrease (the Liber Veritatis indicates that he completed only one picture in 1671, for example), but the quality of his work did not decline at all; indeed he produced some of his greatest paintings in the final decade of his life.At the beginning of his career Claude belonged essentially to the northern European tradition of landscape painting, exemplified by Bril and Elsheimer, as well as by his teacher Wals, with its emphasis on lively, picturesque charm. Soon, however, Claude blended this with the Italian tradition of classical or ideal landscape that had been initiated by Annibale Carracci: he retained the northern sense of richness and variety, but his compositions became much grander (although not so austere as those of Annibale or Poussin). His early pictures are usually fairly modest in size and several of them are on copper (a material that Bril, Elsheimer, and Wals often used), but as he matured and prospered, he tended to work on a larger scale—appropriate for the palatial homes of his distinguished patrons. Similarly, the figures in his early works tend to be anonymous and dressed in contemporary costume, but from about 1640 they are usually taken from religious or mythological stories (although unlike his friend Poussin he never tried to recreate these stories accurately). To the northern and Italian traditions Claude added something entirely his own—an extraordinary sensitivity to light that does so much to unify his pictures and create their particular moods. This sensitivity was based on loving observation of nature: Sandrart records that he would sometimes spend all day in the countryside around Rome watching the effects of light, and he made hundreds of drawings—works of great breadth and freedom—recording his impressions (many of them are in the British Museum). During the 1640s and 1650s, when Claude's work reached a peak of classical balance, the mood of his paintings was typically one of serenity, with the cool light of morning or the warm glow of evening suggesting harmony and contentment; in his grand views of seaports—a type of picture that he made his own—he often specifically shows sunrise or sunset (Seaport with the Embarkation of the Queen of Sheba, 1648, NG, London). In his later years, his style became more deeply personal: his compositions are more open and less solidly constructed, forms (whether of the human figure, trees, or architecture) are strangely elongated and ethereal, colours have a magical silvery quality, and the mood is often solemn and mysterious. All these characteristics are seen in his last painting, done in the year of his death, the dreamlike Ascanius and the Stag (1682, Ashmolean Mus., Oxford). Until well into the 19th century Claude's reputation as the greatest of all landscape painters was virtually unassailable. He was particularly revered in England, where the aristocracy not only collected his work avidly but even tried to make the parkland of their country estates resemble his pictures, with artfully placed clumps of trees, classical 'temples', and so on. He had a great impact on Wilson and Turner, and in 1836 Constable wrote that 'He has been deemed the most perfect landscape painter the world ever saw, and he fully merits the distinction.' However, it was also in England that the first serious critical attack was made on Claude, in 1846 by Ruskin, who considered his work artificial and lacking in invention. By 1900 his reputation had greatly declined, and it did not revive to its former heights until after the Second World War.
Text source: The Oxford Dictionary of Art and Artists (Oxford University Press)