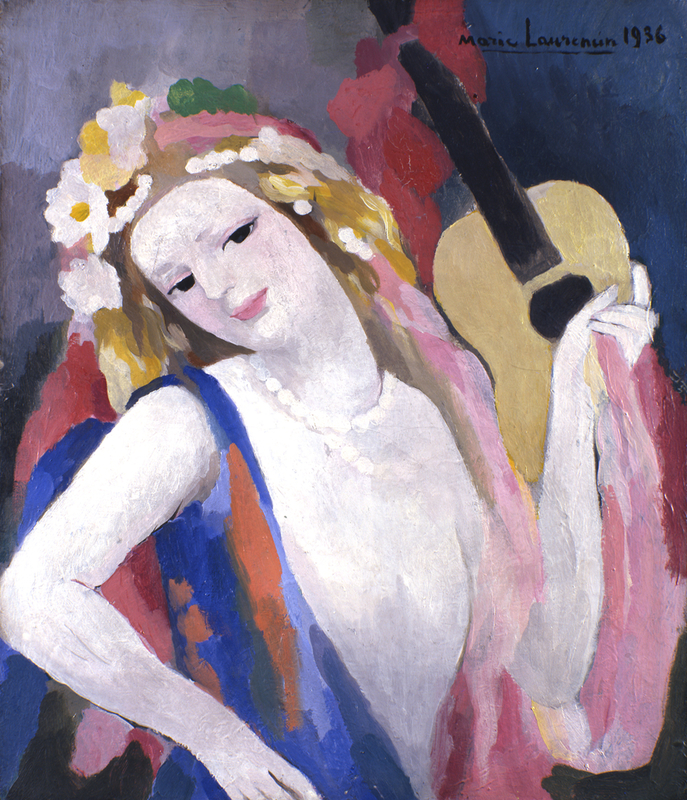 © ADAGP, Paris and DACS, London 2022. Photo credit: Aberdeen Art Gallery & Museums
French painter, illustrator, and stage designer, born in Paris. Apart from evening classes in drawing, she was self-taught as an artist. In 1907 she was introduced by the picture dealer Clovis Sagot to *Apollinaire, *Picasso and their circle (she painted a group portrait of several of her famous friends in 1908: The Guests, Baltimore Museum of Art). For several years she lived with Apollinaire, and she exhibited with the *Cubists. Her work, however, was entirely peripheral to the Cubist movement. She specialized in portraits of oval-faced, almond-eyed young girls painted in pastel colours, and although she borrowed a few tricks of stylization from her Cubist friends, her style remained essentially unaffected by them. Her work was lyrically charming and rather repetitive.
Read more
From 1914 to 1920 she lived in Spain and Germany, then returned to Paris. Apart from paintings, her work included book illustrations and set and costume designs for the ballet and theatre. There is a museum dedicated to her work in Nagano Prefecture, Japan.
Text source: A Dictionary of Modern and Contemporary Art (Oxford University Press)