You may not have heard of the French artist Marie Laurencin (1883–1956). Yet, until 2019, there was a whole museum dedicated to her work in Tokyo, Japan – a rare example of a museum devoted to a single female painter.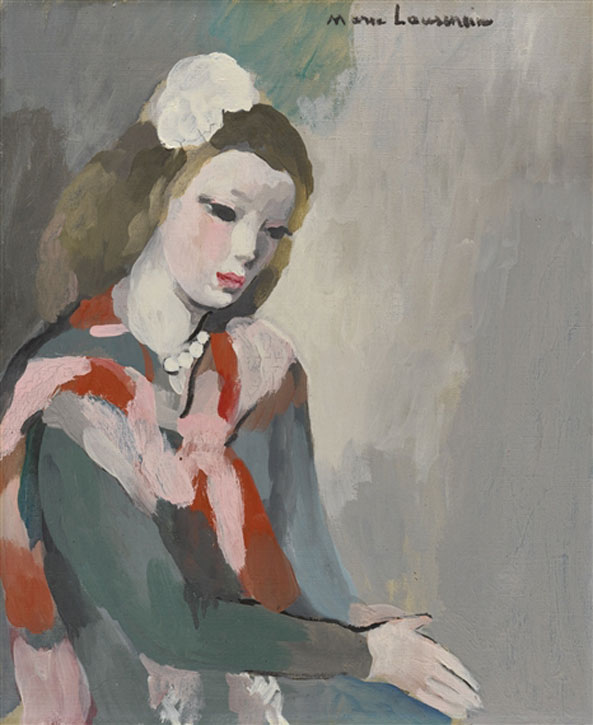 Between the 1900s and 1930s, Laurencin was a highly regarded avant-garde painter working in Paris. So much so that in 1923 she attracted the attention of legendary fashion designer Coco Chanel, who commissioned the artist to paint her portrait.
Over six decades since her death, Laurencin's unique vision and feminine aesthetic are highlighted once again in her first solo presentation in London since 1947 at Nahmad Projects.
Born in Paris in 1883, Laurencin was an illegitimate child raised by a Creole mother, whom she painted in 1906.
This sombre style of painting (reminiscent perhaps of Whistler's portrait of his mother) would later be abandoned and replaced by Laurencin's subtle and delicate approach, using lighter, pastel colours.
After completing her formal training in porcelain at the École de Sèvres, Laurencin attended the Acadèmie Humbert to shift her attentions towards oil painting. There, in 1904, she met fellow students Francis Picabia and Georges Braque. They were to become key figures in the Cubist movement and introduced her to the movement's figurehead, Pablo Picasso.
Quickly becoming popular in avant-garde circles, Laurencin was admired for her unconventional attractiveness and personality – she embodied the independent spirit of a 'New Woman'. Picasso allegedly disliked her eccentricity, once claiming that she made noises like 'some mythical animal'.
In 1904, Laurencin was also introduced to Natalie Clifford Barney, an American lesbian writer who held an influential literary salon in Paris' creative Left Bank. Barney was known for supporting the careers of women, later establishing L'Académie des Femmes in response to the all-male Académie française.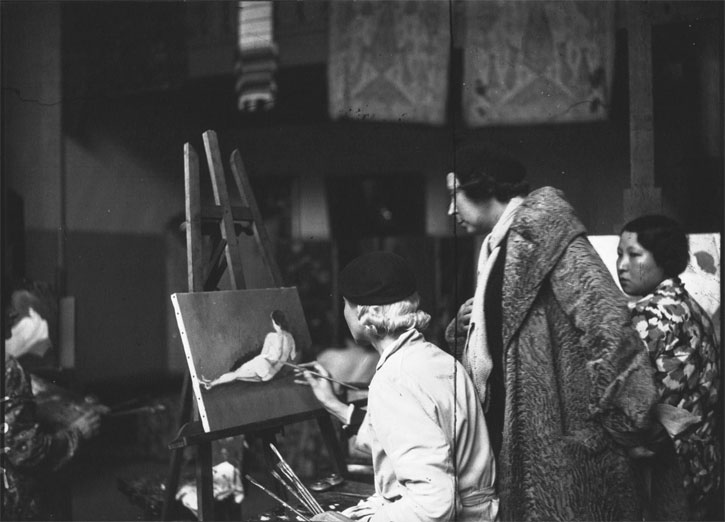 Due to moving in such socially progressive, intellectual circles, Laurencin flourished as an artist in the early years of the twentieth century, though she received both praise and scorn by her contemporaries. In 1912, André Salmon aptly wrote in her defence that Laurencin's paintings are 'too subtle to be simple.'
Not only could Laurencin experiment with her artistic approach in this bohemian setting, but she could also openly have sexual and romantic relationships with both men and women.
The artist's preference for women was clearly reflected in her paintings. She showed less interest in men, and thus rarely depicted them, nor the still life subjects depicted by male artists. She once said, 'why should I paint dead fish, onions and beer glasses? Girls are so much prettier.'
Laurencin's sensual female subjects were often depicted semi-clothed. Her trademark was the depiction of enlarged pupils and blackened eyes, giving her subjects the impression of being other-worldly creatures.
However, in 1907, Laurencin was introduced to the Polish-Belarusian writer Guillaume Apollinaire through Picasso. Beginning a tumultuous love affair that continued until 1913, Apollinaire was strongly influenced by Laurencin's ideas and distinctive vision. During their relationship, Apollinaire entered a fertile period of creativity, in both his poetry and art criticism.
Apollinaire once described her as being: 'like a little sun – a feminine version of myself.'
In 1908, he wrote:
'The greatest error of most women artists is that they try to surpass men, losing in the process their taste and charm. Laurencin is very different. She is aware of the deep differences that separate men from women – essential, ideal differences. Mademoiselle Laurencin's personality is vibrant and joyful. Purity is her very element.'
Apollinaire's career as a writer ultimately eclipsed the celebrity of Laurencin. She was remembered as his 'muse' or former girlfriend, rather than an artist with vision in her own right.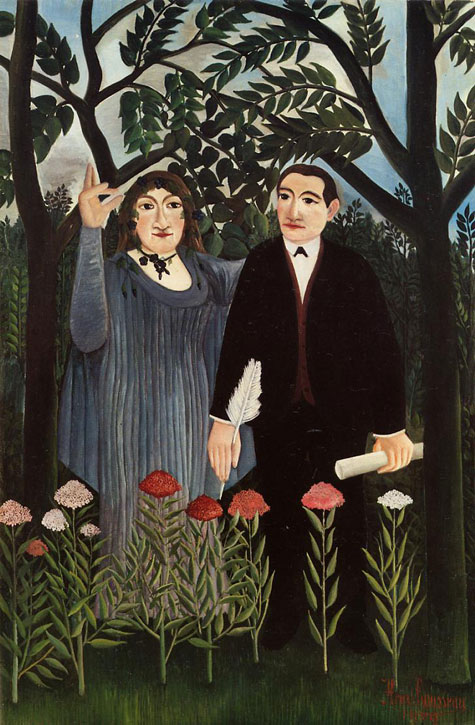 Henri Rousseau's painting of 1909 encapsulates the way Laurencin was perceived as a muse. In The Muse Inspiring the Poet she can be seen standing on the right-hand side of Apollinaire. The gesticulation of her left hand indicates she has had a spark of creativity or a brilliant thought which Apollinaire will proceed to write down with his quill and paper.
Laurencin continued to rise to prominence as a central figure of the Parisian avant-garde, albeit one who had to strategically navigate a male-dominated art world. She was regularly invited to participate in meetings and exhibitions held by the Cubists, Section d'Or (Golden Section), as well as the Fauvists.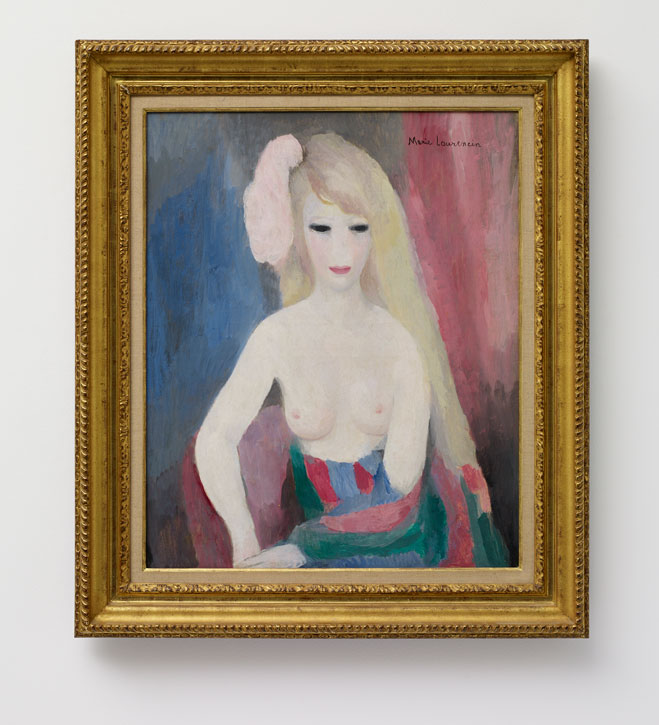 Through her connection with the Fauvist group, Henri Matisse once remarked: 'she, at least, is no mere Fauvette.'
Indeed, Laurencin's idiosyncratic use of colour – pastel hues of purples, blues and greens – pays homage to the Fauvists' radical application of unnatural colour. She notoriously detested the colour red and once remarked in an interview in 1938: 'I hated the reds particularly. I have never dared to use them.'
In the same interview, Laurencin reflected on her formative years in Paris:
'I studied at the Academy and learned a lot there. I also owe much to Picasso, to Braque, to Matisse and Derain. They would not be particularly pleased to hear me say so. But what of it? As Carmen sings: "Si tu ne m'aimes pas, je t'aime!" [If you don't love me, I love you!]'
In 1911, Laurencin sold her first work to the influential writer and collector Gertrude Stein. Two years later, she ended her relationship with Apollinaire and married a German artist, Otto von Waetjen. During the war she fled to Spain, returning to Paris in 1920.
The same year, she divorced her husband and remained unmarried for the rest of her life, a decision that gave her total autonomy and freedom to pursue her art.
In the 1920s and 1930s, Laurencin continued to create work and she exhibited internationally. Her artistry expanded beyond painting and she embarked on set design, through which she was offered an opportunity to create designs for Sergei Diaghilev's Ballet Russes. In 1921, Diaghilev commissioned her to paint the backdrop curtain for his staging of Poulenc's Les biches.
In this context, Laurencin was introduced to Coco Chanel, who was designing costumes for Le Train Bleu. Although the two women hit if off, Chanel was reportedly displeased with her final portrait and refused to pay Laurencin. Perhaps this was because Laurencin's preference for soft and delicate femininity stood in contrast to Chanel's penchant for monochrome, clean lines and menswear.
Coco Chanel by Marie Laurencin pic.twitter.com/x6S5Ho7Bz3

— Xu Xanov (@xuxanov) January 10, 2015
Like Chanel, Laurencin had very particular tastes. She once proclaimed: 'I hate thin, light-haired women without eyebrows. Long ago I decided that I would only paint brunettes. I have always loved colours. Even when I was little, I used to love skills, pearls and ribbons. I would have liked to have many children so that I could paint them and dress them up with ribbons.'
In the 1930s and 1940s, Laurencin continued to paint, but she also began teaching. This was possibly so as to earn some money when the economy was in decline from the Great Depression and the war.
In 1956, she passed away, bequeathing her estate to Suzanne Moureau, her maid and possible partner. In 1983, the museum dedicated to her in Japan opened and held more than 600 of her paintings. In 2011, she provided the inspiration for Karl Lagerfeld's Spring/Summer Haute Couture collection for Chanel.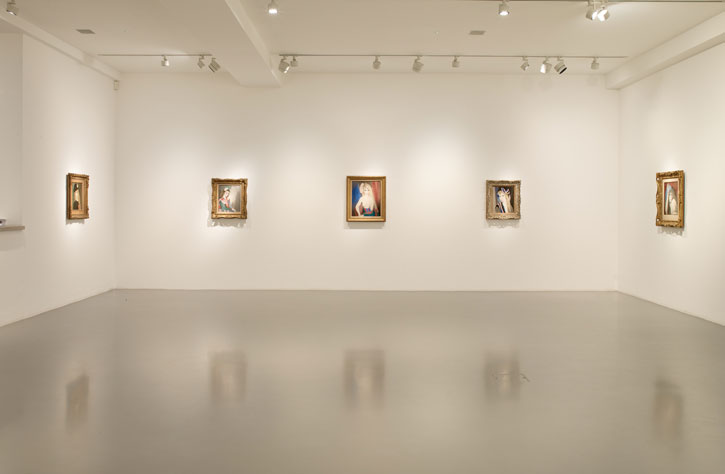 Laurencin embraced her femininity, carving out her own unique voice and aesthetic which allowed her to diverge aesthetically from her male peers. Ironically, her style is perhaps better appreciated by contemporary audiences who admire her distinctive femininity.
Whether she strategically or subconsciously desired to distance herself from the work of her male peers is uncertain, though she once said:
'If I feel so far removed from painters it is because they are men, and in my view men are difficult to solve... But if the genius of men intimidates me, I feel perfectly at ease with everything that is feminine.'
Lydia Figes, Content Editor at Art UK
An exhibition of Marie Laurencin works is on display at Nahmad Projects, 2 Cork Street, London W1S 3LB from 7th February to 9th April 2020
Further reading
Renee Sandell, 'Marie Laurencin: Cubist Muse of More?', Woman's Art Journal, Vol.1, No.1 (Spring-Summer, 1980), pp.23–27
Francis Steegmuller, Apollinaire: Poet Among the Painters (New York: Farrer, Straus & Co., 1963), p.158