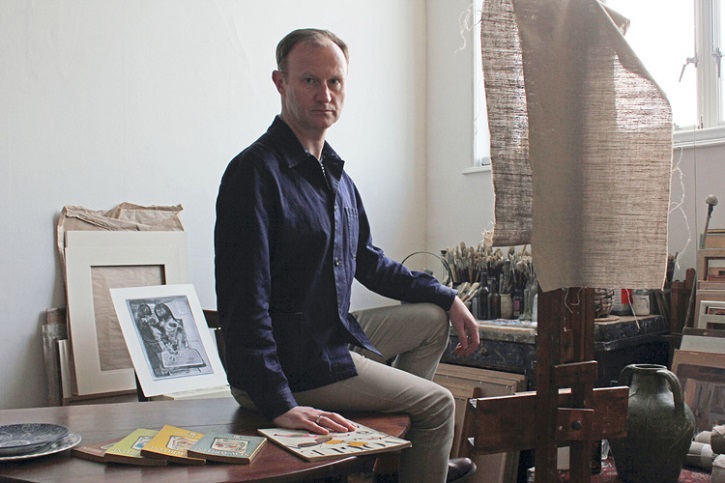 To mark his new BBC Four programme on John Minton, actor and writer Mark Gatiss picks his favourite works by the underrated British artist.
The one that got it all started for me. Seeing the achingly melancholy picture across the room in the National Portrait Gallery made me want to know what lay behind the troubled expression and dolorous eyes. I still love the sketchiness of the clothes and the muted palette.
A brilliant, playful painting this, I think. The Observer art critic Neville Wallis peers at a canvas of William Etty's Judith and Holofernes, seated on the same Windsor chair which Minton seemed to use for all his models. On the wall are images by Lautrec, Holbein, Palmer and Chagall – acknowledging and celebrating their influence.
Minton escaped austerity Britain for three blissful weeks in Corsica with the poet Alan Ross – acting on a commission from John Lehmann to 'come back with a book'. The result, the wonderful Time Was Away is a joyous celebration of life, energy and the curious island itself. This picture burns with sunshine and colour.
A strange and unsettling picture. You could easily imagine it being used on a first edition of The Midwich Cuckoos. As with many of Minton's paintings, there is a sense of vague threat. The sickly, stormy sky, the distorted landscape (probably Cornwall) and the children themselves make up a powerful psychological study.
I love Minton's Thames-side pictures. They show a London that, though still ravaged by the recent war, is stumbling back into life. The palette is muted but still vital – rusty as blood.
Minton produced hundreds of line drawings and his skill with a pen is matchless. I love the illustrative simplicity of this image, which could easily come from a children's book. Yet the off-kilter composition and the strange expression on the face seem to take its somewhere else entirely.
It's hard to pick a favourite from Minton's prolific canvasses of handsome men but this one has added poignancy as it shows his last lover, the Australian scenic designer Kevin Maybury. The almost vertical floorboards are a persistent presence in the late pictures (perhaps inspired by Cezanne's Plaster Cupid) and I love the tools of Maybury's trade dotted about and his vibrant red socks. Maybury found Minton dead in his flat at Apollo Place, Chelsea. Staying with friends the night after, he was heard in his room sobbing 'Oh, Johnny, Johnny, Johnny…'
Mark Gatiss, actor, writer and producer
Mark Gatiss on John Minton: The Lost Man of British Art was broadcast at 9pm on Monday 13th August 2018 on BBC Four, and was available on BBC iPlayer afterwards.
.