As the finish line of the heats starts to draw into view we find ourselves across the water in Northern Ireland in this week's episode of Landmark where Paddy Bloomer, Ellie Niblock and Stephen Wilson are our three artists going into battle to get closer to the chance of winning the prize commission of a permanent work for Coventry, City of Culture 2021.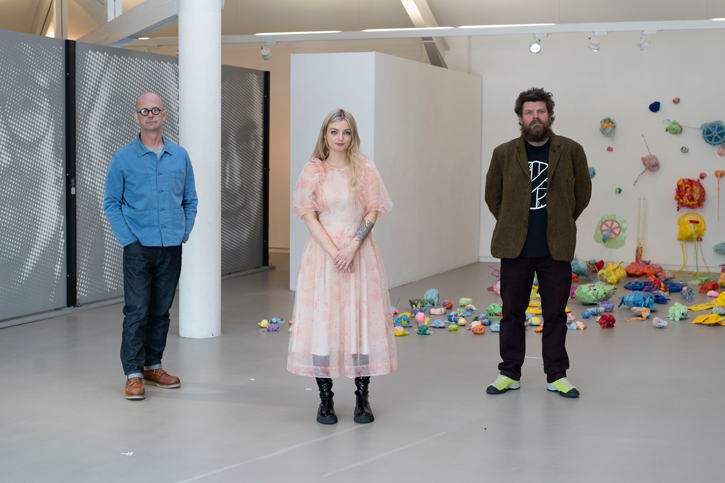 This week's artists couldn't be more diverse in their styles and tastes so it's clearly going to be a tough one for our expert judges, Clare Lilley and Hetain Patel, joined this week by Game of Thrones and stage actor Michelle Fairley.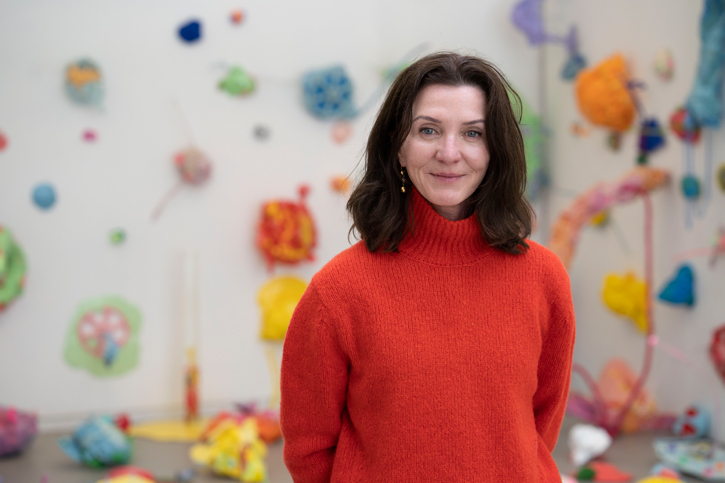 Home to the Giant's Causeway, rugged coastline, drumlins, mountains and lakes, Northern Ireland is a veritable physical geographer's dream, but strangely not one of our artists in this episode seems to be interested in the dramatic natural landscape but are drawn more to the stories of the country. Maybe this says more about Ireland's love of storytelling.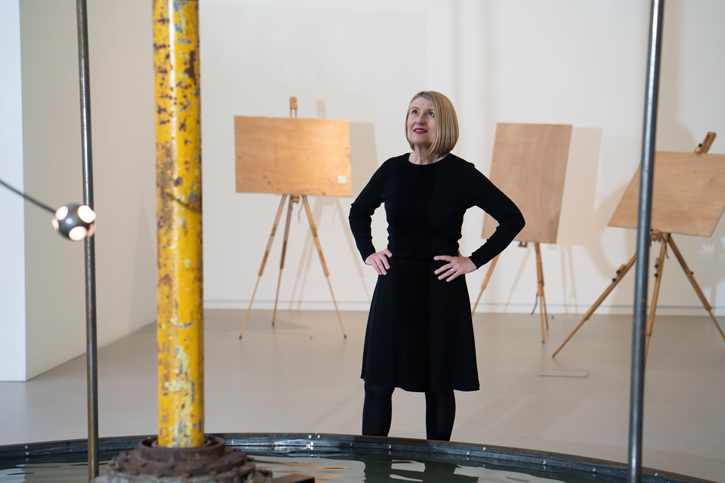 As you would expect, Clare has high demands of the artists and is looking for big ideas with real sculptural value and presence. Clare has worked with so many incredible artists in her career that the bar for her is naturally very high. If you want to see what she is made of, you can either get up to Yorkshire Sculpture Park, or hop along to Regent's Park in London where Clare's curated Frieze Sculpture exhibition is on display and open to the public until 31st October 2021.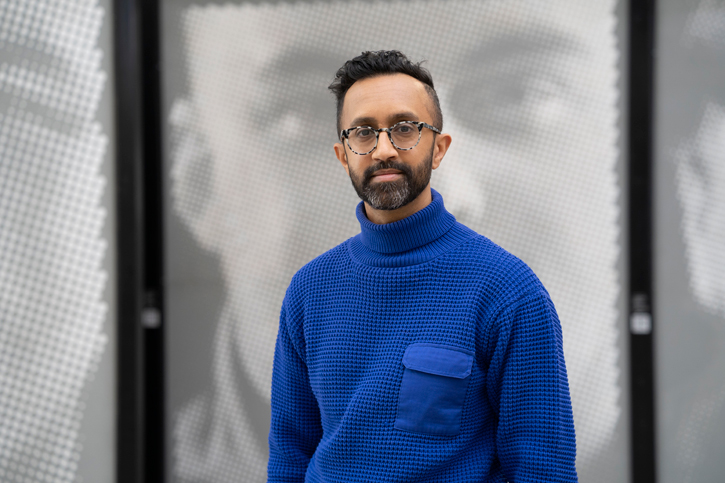 Hetain wants bold ideas that communicate clearly and articulately, so that the audience is always at the front of his mind when assessing the value of a work, especially in terms of whether it directly engages the viewer in some way – even if they don't actually like it.
Ellie Niblock, 27 years of age and from Belfast, bursts onto our screens like a bubble of pink bubblegum, looking exactly as you'd expect a recent graduate of Central Saint Martins to look.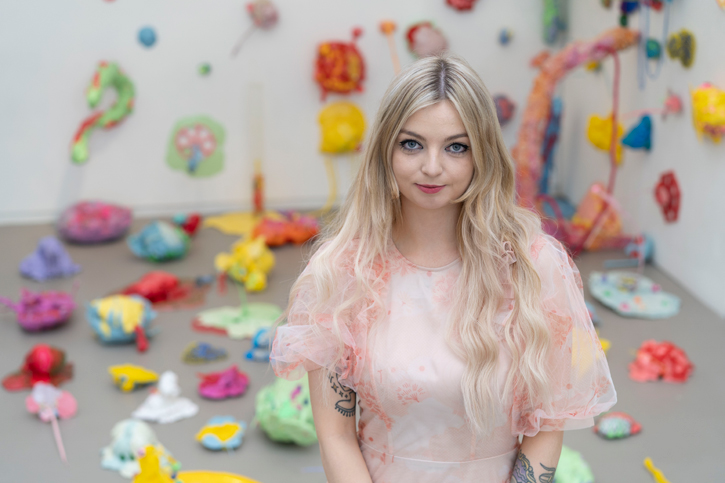 Ellie is a multi-disciplinary artist working primarily with sculpture and digital technologies, with which she plays around notions of fantasy and reality – such that when looking at her work, Hetain feels that he could be in some imagined alien future or at the bottom of an ocean. Her colour palette feels so contemporary and of the moment, bringing to mind the work of Scottish artists Rachel Maclean and Karla Black (clearly a Celtic thing going here), Japanese Harajuku girls, comic-book and manga characters.
It comes as no surprise to learn that her first degree was in textile art, design and fashion from the University of Ulster, nor that she has an artistic family with a mother who is a textile artist and a jazz improv musician for a father. As we are now beginning to realise with this programme, parents often get roped in to help and this episode is no exception as we see Ellie's mum put to work.
Sticking with the comic-book theme, our second artist, 43-year-old Paddy Bloomer who studied fine and applied art at the University of Ulster, looms onto our screens looking a bit like Desperate Dan without the hat, or the pie.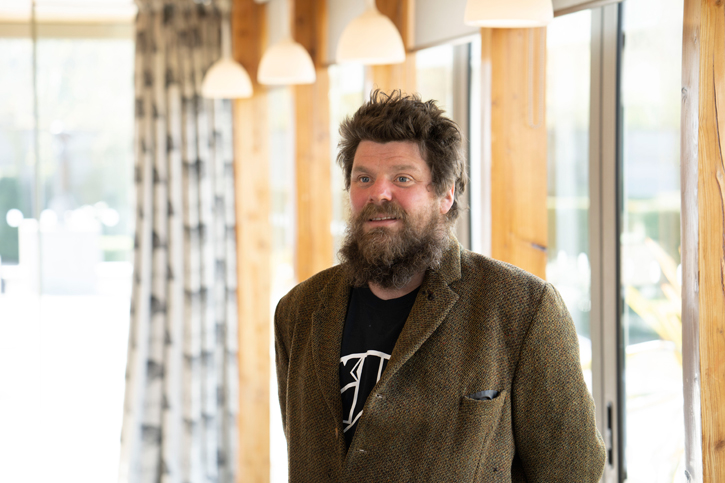 There is a wild freedom to the way in which Paddy approaches making art that is both terrifying and electrifying and it is exactly that unpredictability that he is after. There is also something of the steampunk about Paddy as he upcycles (or downcycles as he calls it) materials and brings together metallic elements in a clunky way that feels both of the past and of the future.
Working with the detritus of technology, Paddy (who calls himself an artist-inventor-explorer-plumber) likes to make machines that don't actually work, as he puts it, and in the piece that he creates for Landmark, he gets pretty close to achieving that aim.
Finally we meet our third competitor, and only photographer in the series, Stephen Wilson.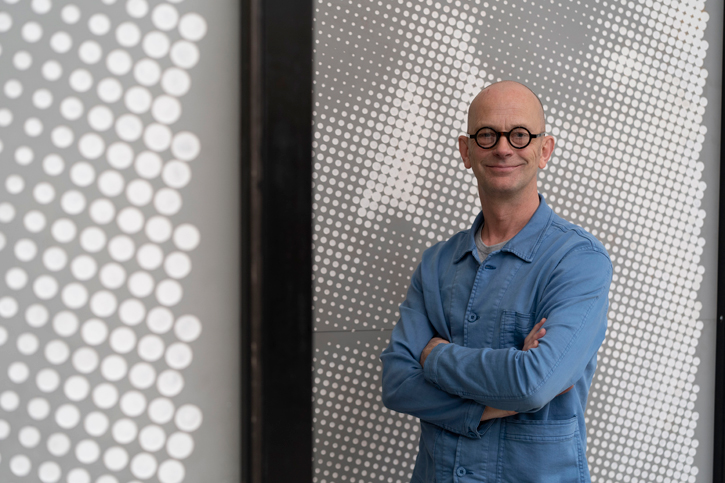 Over the years Stephen's camera has provided him with permission to access people and their stories, giving voice to history and politics, which is where his passion clearly lies. However, it seems that in translating photographic work into the public realm, Stephen will have a bigger challenge on his hands than the other two artists.
While Ellie's use of colour might appear to be whimsical, the theme of her work is clearly not. In commemorating the history of shipbuilding both in her own family and in the city of Belfast in general, Ellie intends to create 174 sculptures in reference to the 174 ships built in the dockyards between 1868 and 1969.
Those of you who have visited the city will be only too familiar with the sculptural, looming presence that the two yellow cranes of Harland & Wolff, Goliath and Samson, have in the city – effectively kinetic public artworks in themselves.
Not only will Ellie be facing the challenge of making 174 sculptures in less than two weeks, but she will also be using assistants for the first time... a charming distraction given that they end up looking like a new all-girl band, embracing Ellie's uniform of the bubblegum-pink jumpsuit.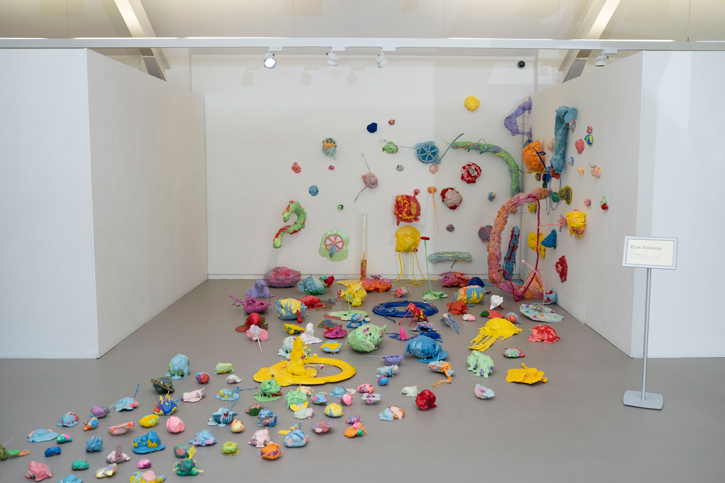 Her use of the DIY material expanding foam is something that we see many contemporary sculptors working with as it allows them to create organic forms with the sort of freedom that earlier artists might have found in clay or plaster.
As we fall into Paddy's chaotic world out in Lisburn we find him 'foraging' for materials (or treasure as he calls it) – spoons, hoses, drainpipes and a pendulum coming together to form a pretty lethal, water-powered, kinetic sculpture.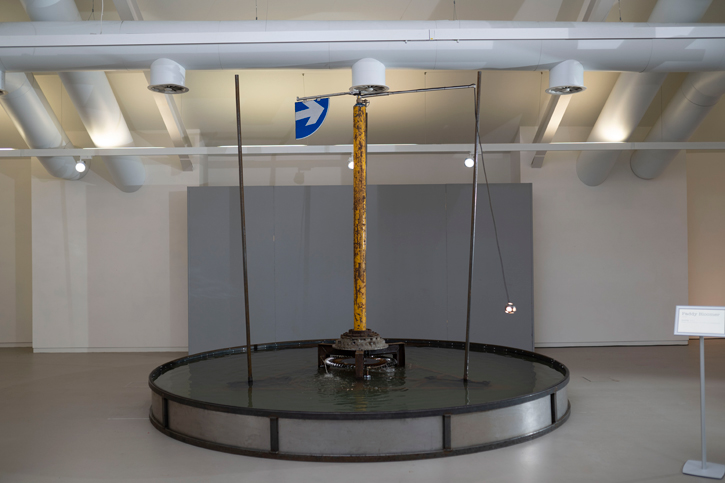 The trial and error involved in developing the prototype, getting the water pressure or the angle of the spoons right, providing the required space around the work in order to avoid death or injury, is a joy to watch. Who doesn't love a bit of artist's struggle?
Stephen has struggles of his own as he is scaling up his photography in a way that he hasn't done before, creating 2-metre-wide and 2.4-metre-high portraits stencilled onto wood panels. Having conceived of and defined the form of the work, Stephen has to rely on others to make it – routing, painting, sanding – and we soon hit timetable challenges.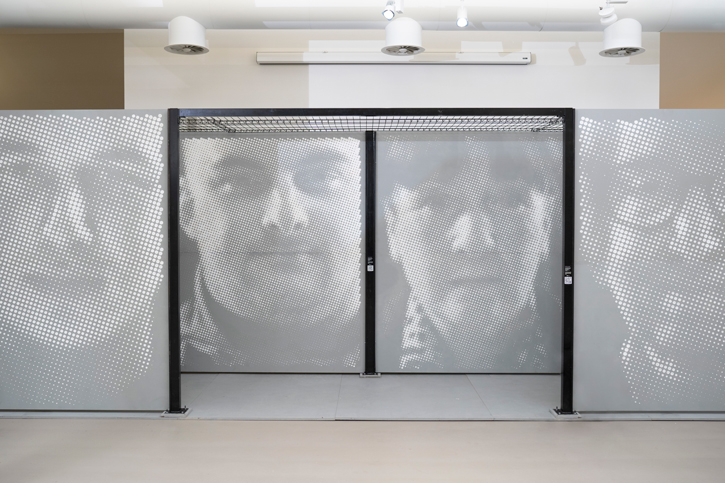 As if that wasn't enough jeopardy, Stephen has chosen this moment to incorporate augmented reality into his work for the very first time. But it is the process of making the film recordings of people's experiences of The Troubles in Belfast that is most moving – and where Stephen's competitive spirit gets pushed to one side as empathy and compassion win out.
When we finally see all three works, and all three artists gathered together in the gallery space of the F. E. McWilliam Gallery & Studio in Armagh, it is as if three disparate worlds have been drawn together in a cross between a Brothers Grimm twisted fairy tale and a dystopian pantomime, with presenter Gemma Cairney's cardigan strangely matching the palette of Ellie's work ('it's behind you!').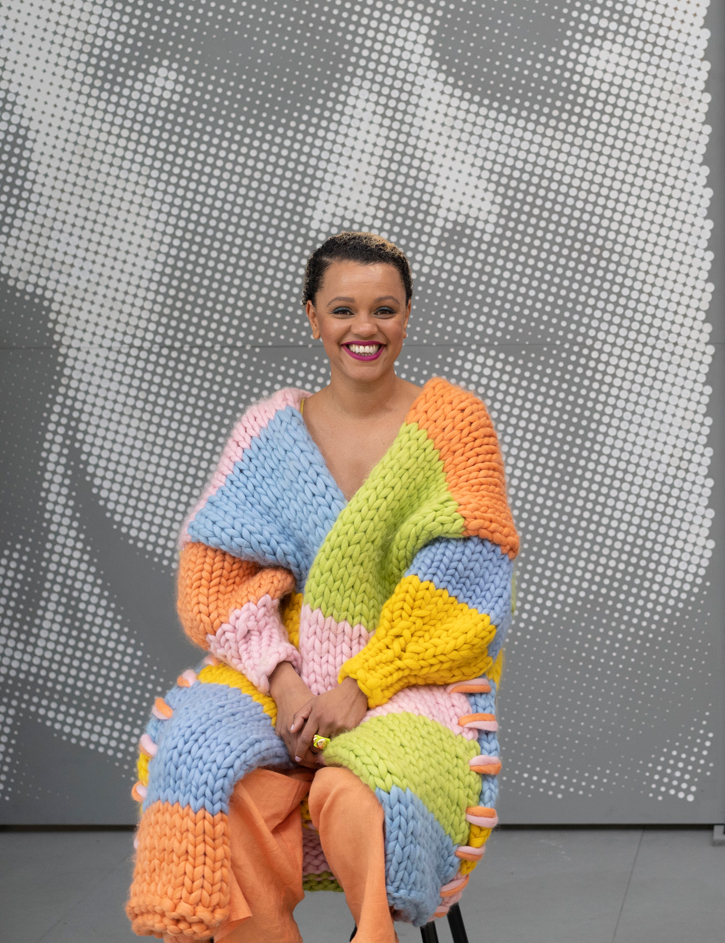 But it's all about the numbers – Ellie's 174 sculptures, Paddy's 71 spoons and 1 fork, and the 12 individuals that feature in Stephen's 15-metre-long Peace Wall. Maybe it is the very disparateness of the works that encourages the strong responses from the viewing public – the real-life stories of Stephen's portraits, Ellie's digital daydream, Paddy's health and safety nightmare – but either way it is good to hear the level of engagement and differing views and interpretations that people can bring to a work, just as Hetain said a successful work of art should.
As Clare points out at the top of this episode, the past 18 months have been difficult times for our visual artists and Landmark presents an important opportunity, potentially life-changing for some and certainly for whichever one wins this Northern Ireland heat. Ultimately however, as you will see when you watch this episode, it is the reassuring voice of mum that counts.
Kathleen Soriano, independent curator, art historian and broadcaster
All three of this episode's works are conveniently on display together at the F. E. McWilliam Gallery & Studio in Armagh.
Landmark airs weekly from Monday 6th September at 8pm on Sky Arts (Freeview Channel 11) and streaming service NOW