'Deep Horizons' is the fifth collaborative exhibition that the Roberts Institute of Art has undertaken since closing their London gallery space and becoming a responsive, flexible organisation rooted in partnership working to share the David and Indrė Roberts Collection.
Middlesbrough Institute of Modern Art (MIMA), which is so intrinsic to its community and context, was an ideal partner in furthering these aims. Deep knowledge of MIMA's audiences and local area, along with an incredible collection and knowledgeable curatorial team, complemented the Roberts Institute of Art's approach to partnership working.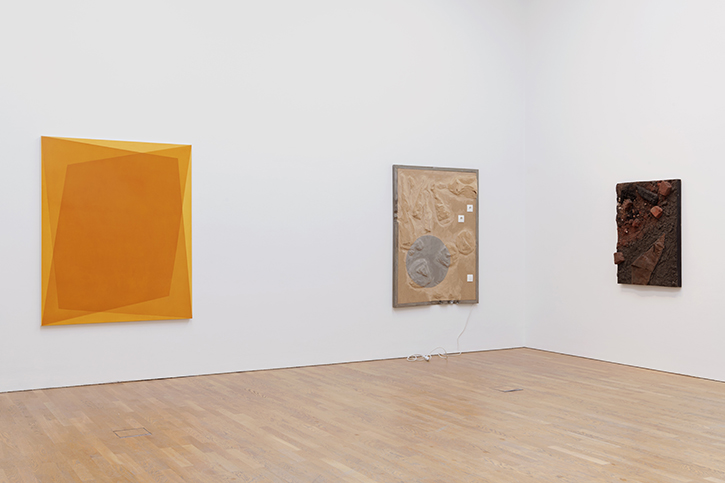 The exhibition's theme of 'excavation' emerged through a discussion about the local area's history of mining and its transformative effect (in 1801, Middlesbrough was just a farm with 25 people living on it). However, not wanting to be overly literal, the two organisations thought about excavation through a number of lenses: how one mines dreams and the mind for a better understanding of the world; the way that time is often seen as stratified; history as a multi-layered network; how archives and museums are excavated in attempts to uncover new knowledge and perspectives.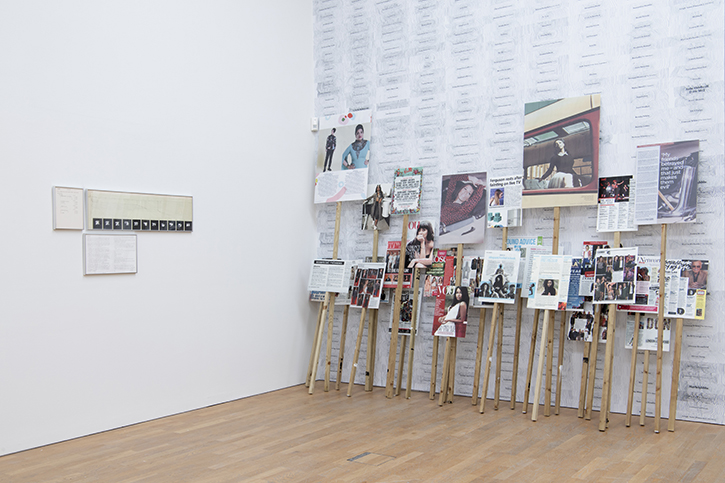 The organisations reflected on how institutional voices are too often the loudest when curating, selecting, displaying and interpreting collections. Both organisations were keen to challenge this by offering audiences multiple interpretations of one theme. Seven Curatorial Collaborators were invited to work with the Roberts Institute of Art and MIMA to interpret artworks. First, the curators had discussions with each collaborator about their experiences, fields of knowledge and interests, and their thoughts on the theme of excavation. Second, the organisations held a series of conversations with each collaborator drawing on their insights on specific artworks.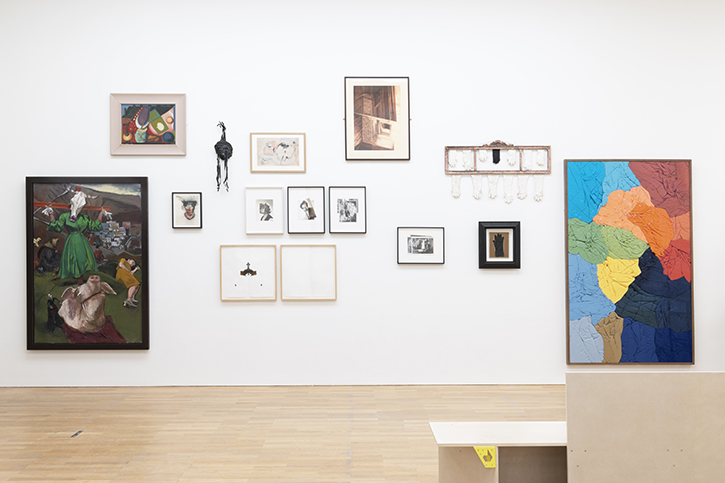 The seven Curatorial Collaborators come from a variety of backgrounds, places and experiences. They were chosen because of a connection to the theme of excavation.
Sir Tony Robinson is a broadcaster and actor and was the presenter of Time Team, a popular UK television programme about archaeology broadcast from 1994 to 2004.
Visual artist Liliane Lijn first became interested in archaeology when studying at the Sorbonne, Paris in 1958 before becoming a well-known and celebrated artist with a career spanning seven decades.
Dr Julietta Singh is a writer and researcher with a focus on ecology through the lens of decolonialism, feminism, inheritance, race, gender and sexuality. Her 2018 book No Archive Will Restore You reflects on the body as an archive of experience.
Ethno-botanist Dr Greg Kenicer has written several popular books on the connections and interactions between humans and plants.
Fiona Crisp and Professor Chamkaur Ghag have been collaborating since 2009 at the UK's deepest mine, Boulby Mine, located near MIMA on the North Yorkshire coast. Professor Ghag is a leader in the field of physics and astronomy and seeks to understand the mysterious nature of dark matter. Crisp is a respected artist who has spent years making photographs in the mine.
Also connected with the area is the former Tees Bay pilot and local historian Geoff Taylor, whose intimate knowledge of the industrial and environmental aspects of Middlesbrough enriched the exhibition.
A relatively new addition to the collection is Lonnie Holley's Working in the House. The work is a wall-based sculpture in the form of a chipped, coral-coloured picture frame with two rows of gloves hanging neatly from it. The title is suggestive of labour and graft while also intimating the exploitation of those employed in workhouses. The title also alludes to the unseen domestic labour that is often foisted upon women. Holley has often spoken of his early memories of helping his mother and grandmother to restore and repair things found on the street for onward sale. Holley continues this tradition in much of his work using found objects, such as old bits of wood, wire, wooden shoe moulds or sheet music. There is a sense of aliveness in the materials, despite their age, and he usually chooses natural materials whose softness, whether through natural ageing or colouring, have a deep sense of time.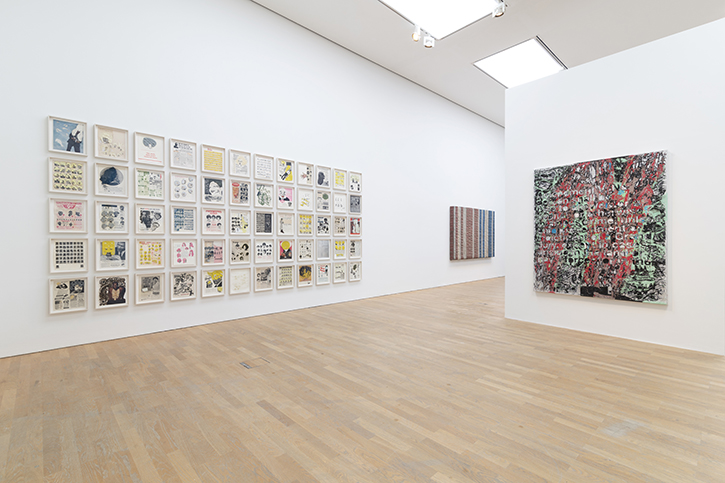 Ellen Gallagher's DeLuxe consists of 60 printed advertisements from magazines Ebony, Our World and Sepia, from the 1930s to 1970s. The adverts, aimed at African American consumers, tend to promote beauty products for both men and women, with a particular focus on hair. Gallagher has worked onto and into the imagery using a wide variety of eclectic materials and techniques such as etching, aquatint, screen printing, tattoo-machine engraving, laser cutting, plasticine, paper collage, pencil, oil, polymer, pomade, velvet, glitter, crystals, gold leaf, toy eyeballs and even imitation ice cubes. She uses this archive of Black aesthetics, and products including skin whiteners or hair straightening merchandise, to highlight the racialised presumptions of who and what black people and communities are and are allowed to be.
Raphael Hefti's Subtraction As Addition is a large sheet of double-glazed, LUXAR-coated glass. The sculpture was created using a chemical coating typically applied in the production of museum-quality glass to create an exact balance of transparency, UV protection and non-reflectiveness. Here, Raphael Hefti over-applies the coating to push the limits of the process and to create a reflective, refractive surface that is both transparent and opaque. The work demonstrates the toxic chemical processes involved in creating this glass. It also hints at the responsibilities museums have for displaying artefacts and artworks, and the carbon footprint attached to this.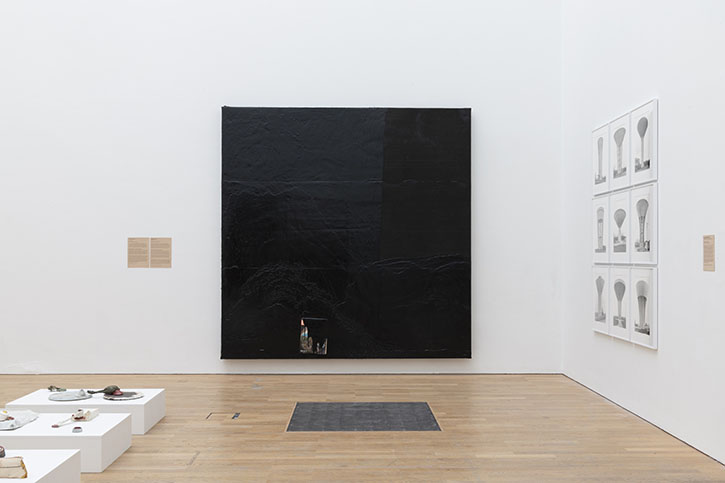 A key work reflecting on the subjects of archiving, time and inheritance is Theaster Gates' A Roof for the Middle Class. The work ties many of Gates' interests together, including architecture, race, collectivity and archiving. The dense black surface is made from tar, created in collaboration with his father, who worked as a roofer. Concealed by the tar is 'The Black Middle Class' issue of Ebony magazine from 1973, which analysed aspirations of social mobility for Black communities in America. The collaboration between Gates and his father has a deep-rooted sense of legacy: the tar kettle is both a personal object but also a signifier of the labour and struggle that continues to exist within Black communities.
Another work that considers time, although in quite different terms, is Work No. 180 largo, larghetto (...) by Martin Creed. The work consists of eight metronomes, each ticking back and forth at mismatched tempos; the cacophony of sound is disturbing at first, but, as one's hearing adjusts, it becomes background noise. The multiple tempos hint at the complex nature of time: each one of the eight tempos here (although really there is an infinite number) represents one timeline or one reality. Each one can be interpreted as being in its own sphere of existence, offering the dizzying thought that reality is actually infinite, and we live in only one version – or all versions simultaneously.
The final work I will discuss here, although these pieces represent a fraction of the 60 in the exhibition, is by Paula Rego. Throughout her career, Rego excavated storytelling to analyse her existence and open conversations about childhood, feminism and family relations. Scarecrow and the Pig is based on the tale of a pig that rescues a scarecrow from a fire only to be slaughtered by a farmer. Through vivid drawing and painting, Paula Rego made allegories of twentieth-century political histories. Like many of her rich and imaginative pieces, this pastel drawing explores human relationships through animal characters. Rego's works often relate to stories, from Peter Pan to Portuguese folklore, or from Aesop's Fables to modern feminist texts.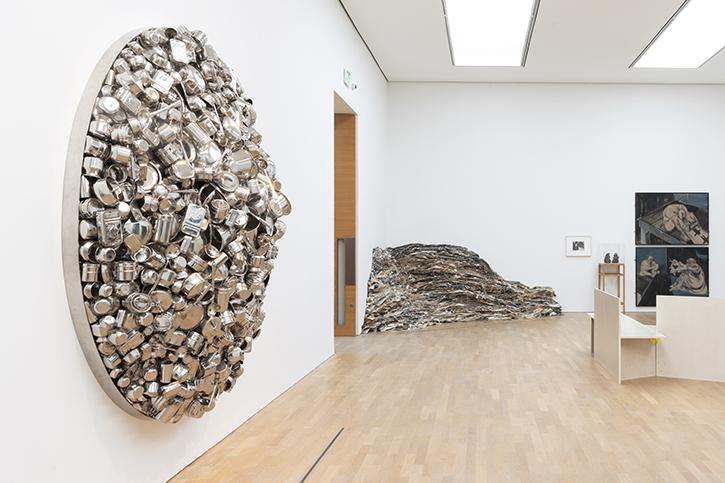 The collaborative ethos that both MIMA and the Roberts Institute of Art share is woven into this project. The exhibition's development process, whilst complex in nature, reflects both MIMA and the Roberts Institute of Art's intentions to include new voices and disrupt how we look at and think about the art in our collections. The openness of the Curatorial Collaborators to interpret the artworks – often in surprising ways – was also fundamental to the exhibition. The importance of this cannot be understated: the polyphony of voices throughout the exhibition reinforces the idea that multitudinous readings of art are possible and must be fostered.
Ned McConnell, Curator, the Roberts Institute of Art
'Deep Horizons' is showing at the Middlesbrough Institute of Modern Art until 18th June 2023