Conceivably the most prolific African-American female artist, Clementine Hunter (pronounced Clementeen) was born Clémence Reuben in late 1888 to Marie Antoinette Adams a descendent of Virginia slaves and Irish-Native American-French Janvier Reuben. The oldest yet smallest of seven children, Hunter was born into a family of Creole field hands under the harsh working conditions of Hidden Hill Plantation. Although slavery had been abolished 23 years prior, many Blacks and freed Blacks continued to work under the bitter circumstances of plantation life.
At the age of four or five Hunter and her family soon left the cotton fields and pecan groves, notably depicted in several of her works, and resettled in the nearby town of Cloutierville, Louisiana. She got her first yet brief formal education at a local Catholic school run by French nuns. Her time in the Catholic school was short-lived therefore she never got the chance to learn how to read or how to write.
At the age of 14 and speaking only Creole French, Clèmence Reuben, who had now chosen to be known as Clementine Reuben, moved with her family North of Cloutierville to Melrose Plantation in the famed Cane River Valley (now the Cane River National Heritage Area) to work for John Hampton and Carmelita Garrett Henry, also known as 'Miss Cammie.'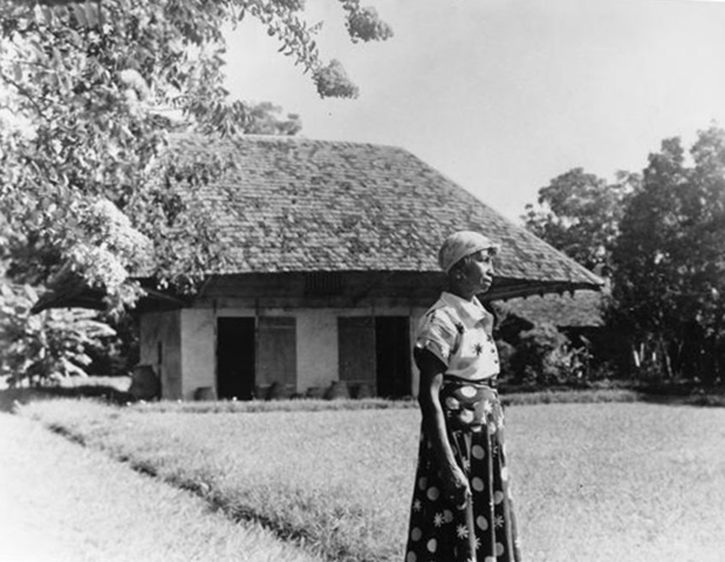 Clementine Hunter gave birth to a total of seven children, her first two with Charles Dupre a.k.a. 'Cuckoo Charlie' from Melrose, Louisiana. There is no known documentation of their marriage, yet she has stated that she was 'just keepin' company.' Dupre passed away in 1914 and she went on to marry Emmanuel Hunter with whom she had five children, two of which were stillborn. It was not until this marriage that she learned to speak what she called 'American.' As a field hand working at Melrose, Hunter was known to keep her children in the field with her as she worked all the way up until 1928 when she began to work inside of the main house.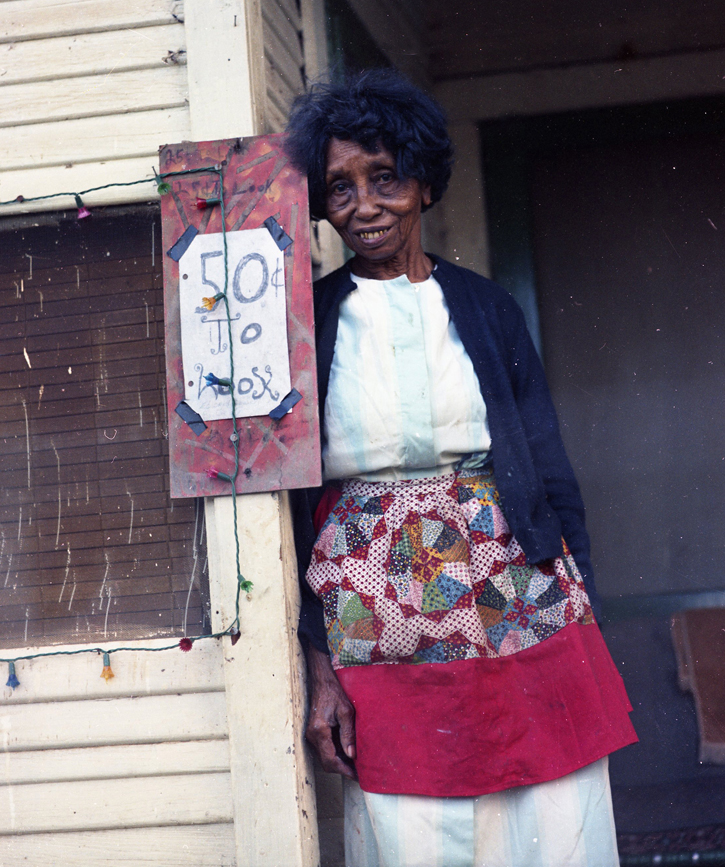 During her time working in the 'big house,' Hunter began to create elaborate quilts alongside hand-making garments for Ms Cammie and Mr Hampton's children as well as garments for the children's dolls. Her talents extended beyond her crafting skills as she was also known for her culinary skills, making Melrose Plantation one of the most sought after houses to dine in the region. Clementine Hunter's unique talents were certainly recognized by Ms Cammie who had recently set up an artists residence on the plantation grounds. Hunter would soon cross paths with the most impactful advocate of her work, a Frenchman by the name of Francois Mignon, who had moved down to Melrose from New York to serve as Ms Cammie's assistant on the plantation.
It was not until 1940 that Clementine Hunter came across old, discarded paints that a guest artist had left behind and created her first painting on a window shade. The piece detailed a baptism taking place in the Cane River, a recurring scene seen across Hunter's dynamic depictions of the rural South. In the wake of that baptismal rendering on the window shade, Hunter began to paint or what she called 'marking a painting' on anything that she could get those gifted hands on; cardboard boxes, jugs, bottles, gourds, and so on.
It was at the New Orleans Arts and Crafts show of 1949 that she was finally able to display her work and that her work also began to garner recognition as well as a small following. Six years later in 1955 she became the first African-American to have a solo show at Delgado Museum (now known as New Orleans Museum of Art). Hunter's momentous show had taken place prior to the 1960s Civil Rights Movement in the United States and Hunter was not legally allowed to see the exhibition of her work. Had it not been for a dear friend who smuggled Hunter into the museum after hours, she would not have seen her show at all.
Painting until the month before her death in 1988, Clementine Hunter left behind a legacy of 4,000 paintings and renderings created over the course of only 40 years; continuously allowing us brief access into the world as seen through her eyes.
Ashleigh Barice, writer

Further reading

Shiver, A., & Hunter, C. (2013). Clementine Hunter: her life and art. Baton Rouge: Louisiana State University Press
Wilson, James L. Clementine Hunter, American folk artist. Gretna: Pelican Pub. Co., 1990