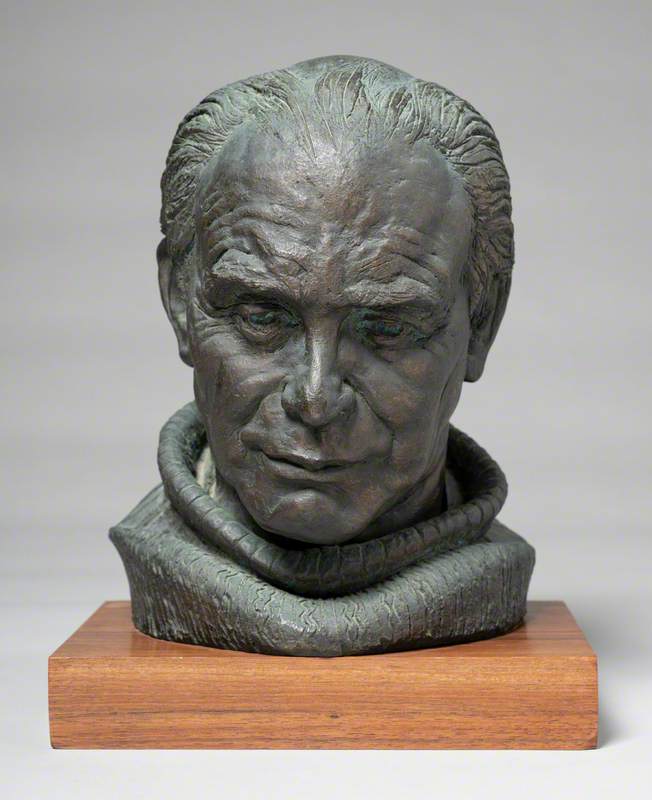 © the artist's estate. Photo credit: Royal Institution of Cornwall
Sculptor, painter, printmaker and teacher, full name Rhoda Barbara Tribe, born in Edgecliff, New South Wales, Australia, married to the artist John Singleman. Studied at East Sydney Technical College under George Rayner Hoff, 1928–33, winning a three-year scholarship to the Royal Academy Schools, moving to London in 1935; at City and Guilds School of Art with Edgar Frith, 1936–7; then with Regent Street Polytechnic School of Art under the sculptor Harold Brownsword. After working in London in World War II she moved with her husband to Cornwall, settling at Sheffield, Penzance. From 1948 taught at Penzance School of Art for 40 years. Tribe was made a member of SPS in 1954, winning its highest award, the Jean Masson Davidson Silver Medal, in 1998; a fellow of RBS in 1957; and RWA, 1998.
Read more
She regularly travelled to the Far East and Australia and was prolific, being noted for her portraits. Showed at RA, UA, LG, St Ives and Newlyn Societies of Artists, Paris Salon and elsewhere and had several retrospectives, including City Museum and Art Gallery in Stoke-on-Trent, 1979; a sequel there, and another at Guildford House, Guildford, both 1981; and in 1991 a retrospective at Mall Galleries, work by "Australia's most important living sculptress" plus a collection of complementary Aboriginal paintings. Stoke-on-Trent and Royal Air Force Museum in Hendon hold examples. Tribe's Jarrah Maid is illustrated in Eric Newton's monograph British Sculpture 1944–1946, published in 1947. In 1999, was represented in This Vital Flesh: The Sculptures of Rayner Hoff and his School at the Gallery of New South Wales, Sydney.
Text source: 'Artists in Britain Since 1945' by David Buckman (Art Dictionaries Ltd, part of Sansom & Company)