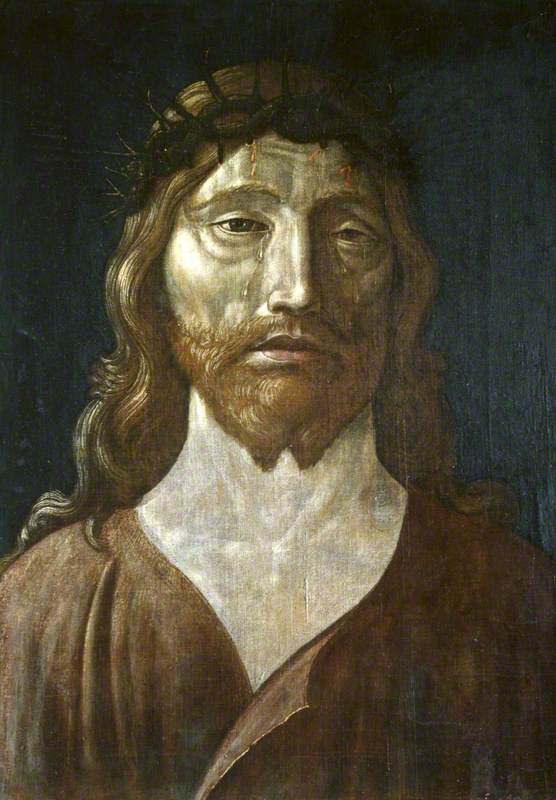 Photo credit: The Courtauld
(b ?Isola di Carturo, Piazzolo, nr. Padua, c.1431; d Mantua, 13 Sept. 1506). Italian painter and printmaker, the leading artist in northern Italy throughout most of his career. He was the pupil and adopted son of Squarcione in Padua, growing up in a humanist atmosphere that was to colour his whole approach to art. Squarcione exploited his pupils for his own ends and in 1448, when he was only about 17, Mantegna gave an early indication of his formidable strength of character by taking him to court and forcing him to recognize his independence. He was remarkably precocious, and the distinctive style he created at the beginning of his career changed little in essentials over the next half-century (although it gradually mellowed somewhat). It was a style characterized by sharp clarity of drawing, colouring, and lighting, a passion for archaeology that fed on the abundance of classical remains in northern Italy, and a mastery of perspective and foreshortening unequalled in the 15th century.
Read more
These qualities were evident in his first major commission (1448), the decoration of the Ovetari Chapel of the Eremitani Church in Padua with frescos on the lives of St Christopher and St James (almost completely destroyed by bombing in the Second World War), and they can also be seen in the celebrated Agony in the Garden (c.1460–5, NG, London). For all his learning, however, Mantegna was never dry. His work, indeed, often shows wit and fancifulness, and he was a delightful painter of animals—witness the rabbits in the Agony in the Garden.In 1460 Mantegna moved to Mantua as court painter to Ludovico Gonzaga, and he remained in Gonzaga service for the rest of his life (his only substantial period away from Mantua was when he visited Rome in 1488–90 to work for Pope Innocent VIII; the frescos he painted in the Vatican were destroyed in the 18th century). He had a difficult temperament and was often a frustratingly slow worker, but he was held in the highest esteem by Ludovico Gonzaga, by his son and successor Federico, by Federico's son and successor Francesco, and also by Francesco's wife, Isabella d' Este. At this time Mantua was becoming one of the leading centres of humanist culture in Europe, and Mantegna glorified the Gonzaga family and court in his most famous work—the fresco decoration (1465–74) of the Camera degli Sposi (Bridal Chamber) in the Ducal Palace. Group portraits of the Gonzaga family, arranged in various courtly scenes, line the walls and above them are bust medallions of the Caesars, indicating that the reigning house was worthy to continue the traditions of the Roman empire. The most remarkable feature of the room, however, is the illusionistic painting of the architecture (particularly of the ceiling), which appears to extend the real space of the room. This was the first time since antiquity that such a scheme had been carried out and Mantegna's work became the foundation for much subsequent painting in this vein (see quadratura; sotto in sù). Mantegna's other great undertaking for the Gonzaga was a series of nine paintings of the Triumphs of Caesar (c.1480–1500, Royal Coll., Hampton Court, London); it is often said that they were done for Francesco, but in fact it is not known which member of the family commissioned them. These large and fragile canvases have suffered dreadfully at the hands of 'restorers' in former centuries, but they were successfully cleaned in the 1960s and 1970s, and although they are battered and faded they still give a superb picture of Mantegna's magnificent powers of invention and design, ranking alongside Raphael's tapestry cartoons as one of the greatest ensembles of Renaissance art outside Italy.Besides such major commissions for the Gonzaga, Mantegna painted many smaller works, including altarpieces, devotional pictures, portraits, and allegories. The allegories include two pictures for Isabella d'Este's Studiolo, both of them now in the Louvre, Paris: Parnassus (1495–7) and Pallas Expelling the Vices from the Garden of Virtue (1499–1502). Mantegna also produced engravings of outstanding quality (they are the finest of their time in Italy) and was one of the first artists to use such prints to disseminate his compositions (initially he probably cut the plates himself but later relied on specialist assistants). His most ambitious engraving is Battle of the Sea Gods (c.1485), a very large composition made up of two sheets. In addition he designed his own house in Mantua, and it is generally thought that he modelled the bronze bust of himself in his memorial chapel in the church of S. Andrea (a cast of the bust is in the National Gallery, London). By the time of his death he was widely venerated and his reputation has remained high. His influence was profound, not only on Italian artists such as his brother-in-law Giovanni Bellini, but also, for example, on Dürer, one of the many northern artists who found his version of the antique particularly easy to assimilate. Dürer planned to visit him during his second stay in Italy, 1505–7, but Mantegna's death intervened.
Text source: The Oxford Dictionary of Art and Artists (Oxford University Press)