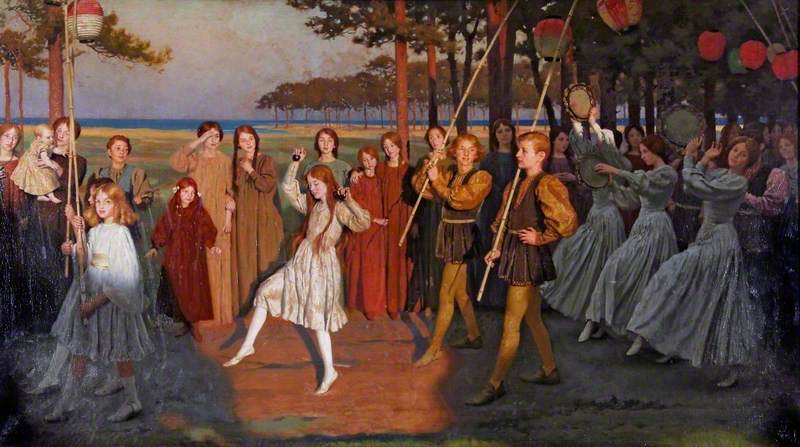 Photo credit: The Tuke Collection, Royal Cornwall Polytechnic Society
Painter, born in Kettering, Northamptonshire. Studied at Heatherley's and the Slade School, 1879 and with Jean-Paul Laurens in Paris, 1880–83. He visited Newlyn, Cornwall, in 1881 where he was to later marry the painter, Caroline Yates, settling there in 1887. He was influenced by Bastien-Lepage and favoured narrative subjects. They visited Australia in 1883, and on return to Britain, Gotch helped in the foundation of the Royal British Colonial Society of Artists, becoming the President of that body from 1913–28.
Read more
The Gotches moved to Newlyn in 1887, although Gotch was familiar with the area from as long ago as 1871, and he became one of the colony of artists there. Though Gotch produced many pictures in the Newlyn School manner, and also helped in the foundation of the New English Art Club in 1888, his style completely altered following a visit to Italy in 1891–92. He was also elected NSA in 1895 and was Chairman of that body from 1924–31.

Thereafter he produced pictures of children, in a highly decorative and often Symbolist fashion. It is these pictures by which he is best known today.

Gotch exhibited at the Royal Academy from 1880 through to the year of his demise. He was elected RBA in 1885 and RI in 1912 and was also a member of the RWA and was an early member of the Imperial Arts League about this time.

His work is in the collection of the Tate Gallery, Walker Art Gallery, Liverpool, the Mappin Art Gallery, Sheffield, Alfred East Art Gallery, Northampton Museum and Art Gallery, Preston Art Gallery, Bristol City Museum and Art Gallery, Sydney Art Gallery, Australia, the National Gallery of Melbourne, Victoria, the National Gallery of South Africa, Cape Town, the King George VI Art Gallery, Port Elizabeth, South Africa and in Cornwall at the Falmouth Art Gallery, Royal Cornwall Museum, Truro and Penlee House Museum, Penzance.
Text source: Liss Llewellyn