Watch and discuss: community art
This film was made by local young people at the Pennywell All Care Centre in Edinburgh. As well as Clausen's The People's Museum of Memory and Myth, the film also focuses on an interactive artwork by Lindsay Perth made from hand-blown glass. Both artworks involved community engagement in their creation with very different outcomes.
Watch the video with your students and then ask them the following questions:
what are the two different artworks made from?
how did the artists involve the local community in their creation?
which artwork do they prefer and why?
focusing on Clausen's work, how many objects on display in the boxes can they remember after watching the film just once?
Watch the film again with your students, but this time they can note down as many of the objects on display in Clausen's work as they can spot. You can freeze-frame the film to make this easier, but there are more than 50 objects, so they are unlikely to get them all. After the second viewing, encourage your students to group what they have noted down into categories.
Discuss their answers while showing them one or both of the digitised images of the work available on Art UK. They may have categorised the objects in their own way but some obvious examples are: toys, sport, gadgets, household objects, and signs.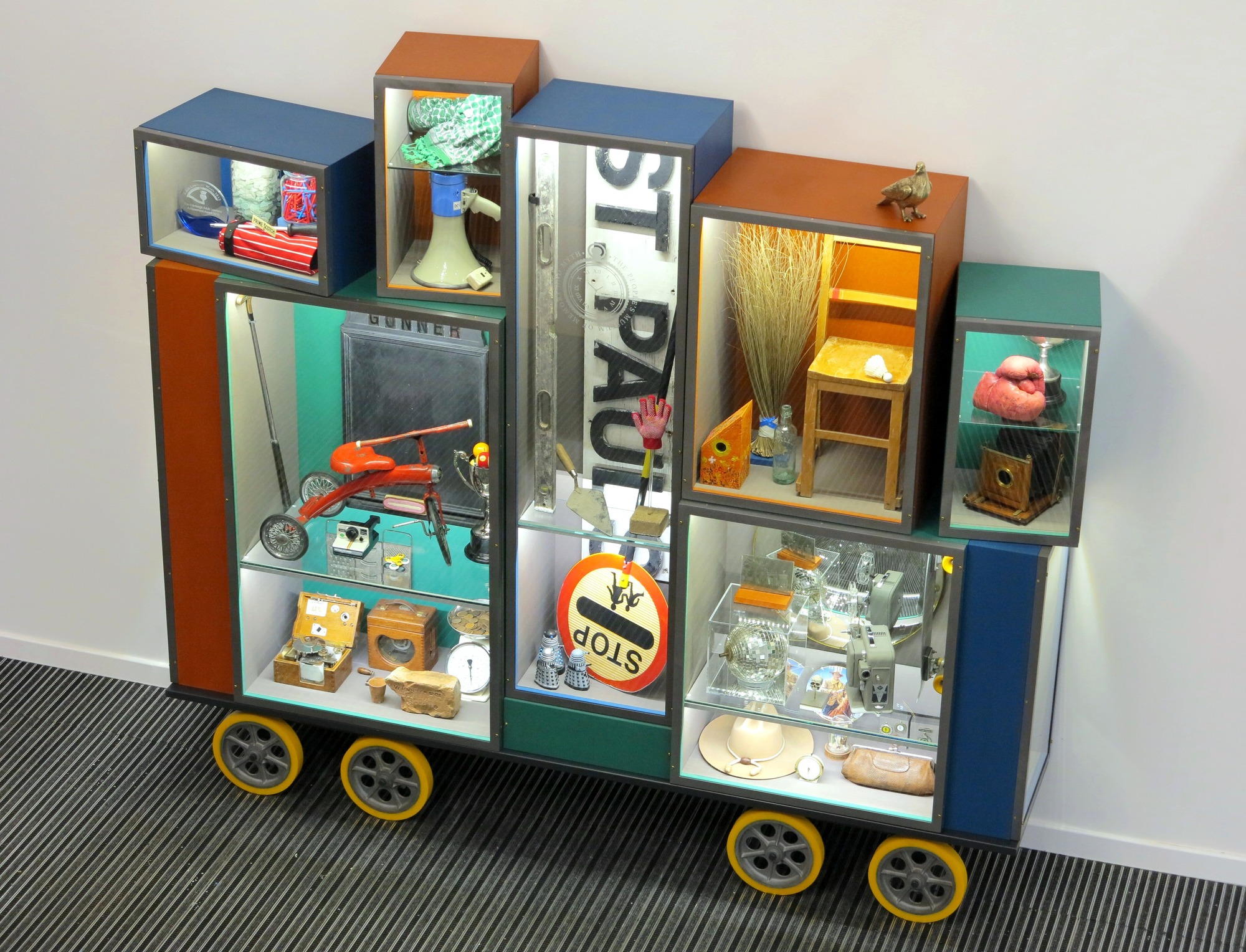 Discuss: other examples of community art
Explore these other examples of community art with your class. Discuss how they think each artwork may have involved a community in their creation. Discover more about the creation of each work in the description below the image.
Whole-class activity: represent your community
Task students with each choosing one object or symbol that represents the local community where their school is based and then to draw or paint it in class. Below their drawing, ask them to write a sentence or two explaining their choice.
Once everyone has finished, get students to place their work together in a large open space. As a group, task them with collaboratively arranging their artworks based on similar themes or groupings. Once they're happy with their curatorial decisions, consider displaying their work on a wall space in a way that reflects the choices they have made.
If you'd prefer a different theme than community for this task, you might want to instead focus on:
their childhood so far
local myths and stories
a particular place local to them
their school's building and history