Jann Haworth
Jann Haworth is an American artist who has lived and worked in Britain and America. One of only a small number of women creating Pop Art in the 1960s and 1970s, she became a leading artist in the British Pop Art movement.
Jann Howarth studied at the Slade School of Art in London during the 1960s. While she was studying, comments from her teachers made it clear to her that women studying art were being judged by the way they looked, not by their art, and that their work was not being taken seriously. This sexist attitude annoyed her, and made her determined to be better than the male students.
She shifted towards working with textiles, using the sewing skills she had learnt as a child from her mother. She said that textiles 'was a female language to which the male students didn't have access.' This use of cloth, thread, latex and sequins led to her becoming a pioneer of soft sculpture.
Watch and discuss: Calendula's Cloak
Students from Gomersal Primary School wanted to find out more about female artists, and made this film about Jann Haworth's sculpture Calendula's Cloak.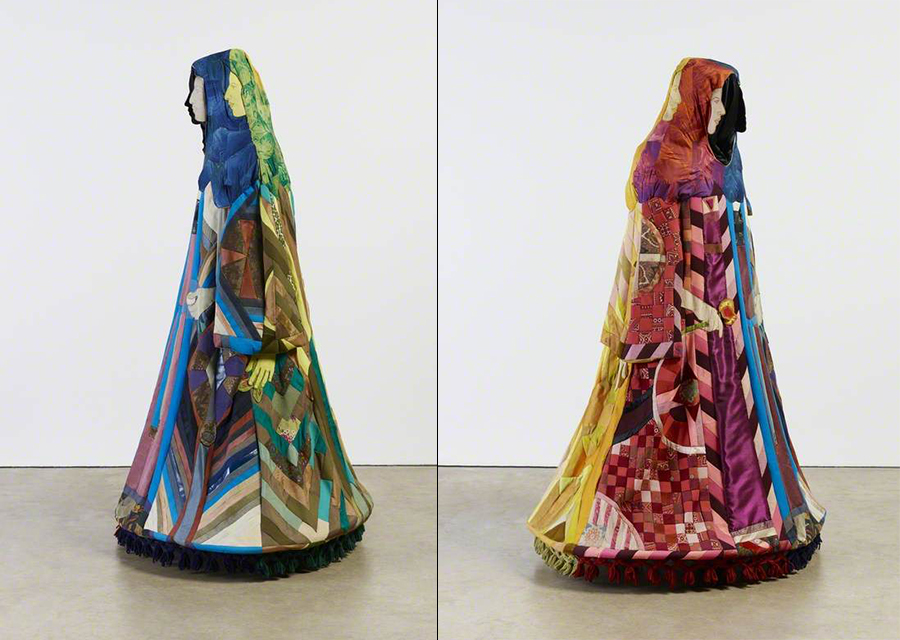 What is Calendula's Cloak made of?
Why is it called Calendula's Cloak?
Why do you think Jann Haworth included ideas from her mother in the artwork?
How many faces does the artwork have? Why?
How has Jann Howarth represented the four seasons in the artwork?
Do you think Calendula's Cloak also represents anything else?
Students asked Jann Haworth questions about her work.
What questions would you ask?

Discuss: women and sewing
Sewing has historically been seen as a task for women and girls, often a hobby for rich women, and a job for less wealthy women.
Looking at the images that come up when you search for 'sewing' on Art UK can bring up some interesting talking points. Here are some questions you might like to discuss.
Are there more artworks that show men sewing or women sewing?
Why might that be?
Where are the women sewing? Where are the men sewing?
Who are they with?
What are they making?
Do you think sewing was only for women in the past? Do you think sewing is only for women now?
If you search for 'tailor' on Art UK, you will see more images of men sewing. Does that change your point of view?

Artists working with textiles
Textiles with stories
Two more women artists who work with fabric are Solveigh Goett and Ruth Spaak. They both create collage artworks that combine bright colours and interesting textures, like Calendula's Cloak. However, their artworks reuse old textiles.
Ruth Spaak likes to reuse fabrics in unexpected ways. She hunts around car boot sales to find materials to work with and is fascinated by the stories behind things other people have owned. She takes the things she finds apart and combines them to create complex sculptures.
Solveigh Goett is interested in the memories that can be triggered by the textiles around us, things like baby blankets, pyjamas, school uniform, and curtains. Although these are ordinary, everyday things everyone knows, they can become very special to us, and become part of who we are. Solveigh Goett thinks about this as she makes her sculptures from textiles she has collected.
Look a little closer at the work of these artists.
What materials in the works do you recognise (for example, thread or buttons)?
What colours, patterns, and shapes do you see?
Are you wearing any of these materials, colours or patterns today?
Do they remind you of anything you have or had at home?
Can you imagine what these sculptures would feel like if you could touch them?
Do you have any clothes or other fabric things that you have kept for a special reason?
Yinka Shonibare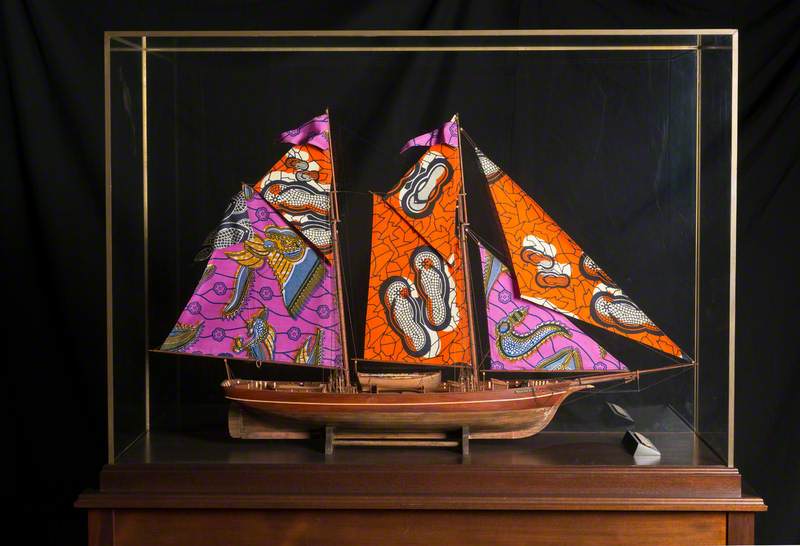 Yinka Shonibare uses bright, colourful textiles in his sculptures. The African fabrics he uses connect his artwork to ideas about Britain's multicultural society, and the long history between Britain and Africa.
In this video Yinka Shonibare talks about colour in his artwork:
Do you have anything made of textiles at home or at school that reminds you of another place or time?
Why might artists like Yinka Shonibare, Solveigh Goett, Jann Haworth and Ruth Spaak use bright colours in their work?
Brendan Jamison
Brendan Jamison is another male artist who uses textiles in his work. He has made a series of sculptures in which he goes against stereotypes attached to objects viewed as tough, heavy and masculine by softening them in a coating of bright colourful wool. Brendan made a film about one of these sculptures, Yellow Helicopter.
Why did Brendan choose a helicopter?
Why does he use wool?
Why yellow?

More textiles in art
Discuss: textiles, art and gender
Why do some artists like to work with textiles?
Why might people think of textiles as being feminine?
Does this mean that only women artists can or should work with textiles? Or that women artists should only work with textiles?
Does the artist's gender always matter?
There are a lot of famous men artists, but not as many famous women artists or non-binary artists. Why is it important that people like the students from Gomersal Primary School find out about artists who have been overlooked in the past?
Create a recycled textile artwork
Take inspiration from Jann Howarth, Ruth Spaak and Solveigh Goett and create your own collaged textile artwork.