Introduction
This is one of two lesson plan resources for secondary age students that focus on modern African paintings in The Argyll Collection in Scotland. They can be used individually or together within a lesson plan, offering students the opportunity to explore the contrasting approaches to painting mood and atmosphere.
Explore the resource 'Painting mood and atmosphere: Louis Mbughuni'
About The Argyll Collection
The Argyll Collection was developed between 1960 and 1988 as a learning resource for the young people of Argyll and Bute. It was established by writer Naomi Mitchison (at that time a Councillor for Argyll and Bute) and Jim Tyre, art advisor to the Council.
'My plan had two edges: one was purely artistic. But the other was to build up a Scottish confidence, a sense of nationhood, something a civilized person could be proud of.' – Naomi Mitchison, Times Educational Supplement 1966
The focus of the collection is contemporary Scottish art, but it also includes artworks from Africa and Asia, collected by Mitchison on her extensive travels. She wanted students in Argyll to be able to connect with other cultures, and often selected artworks that linked these cultures with Scottish cultures – such as scenes of fishing or agriculture.
Find out more about The Argyll Collection
Browse paintings in The Argyll Collection
Read the Art UK story: Modern African art, from Dar es Salaam to Dunoon
First impressions: what do you think?
Ask your students to look at this painting and describe their first impressions.
Use these nudge questions to help to get the discussion going:
what does the painting show?
what is the mood or atmosphere of the painting? What does it make you feel? (It might help to ask your students to think of words to describe the painting.)
if you could listen to paintings as well as look at them, what do you think this painting would sound like?
Painting thoughts
The painting shows a bustling scene with lots of people – at a party or in a bar or café. The people are sitting in groups at tables and chatting and dancing (at the back) so there is probably music. There is a lot going on and the atmosphere is lively.
This YouTube playlist of African music from the 1970s provides a possible soundtrack to the painting
Look closer: Untitled by Henry Tayali (1943–1987)
Find out about Henry Tayali and look at the painting in more depth with your students.
Who is Henry Tayali?
Henry Tayali was born in 1943 in what was then Northern Rhodesia (it became Zambia after independence). He was a talented artist from a young age and held his first exhibition when he was 15.
He trained at the renowned Makerere College in Uganda, and then Düsseldorf Art College and became one of Zambia's most revered artists. A national contemporary art gallery in Zambia is named after him.
Look at this photograph of Henry Tayali in his studio with your students. Behind him, some paintings are stacked against the wall.
Ask your students what this photograph tells us about Henry Tayali and his paintings.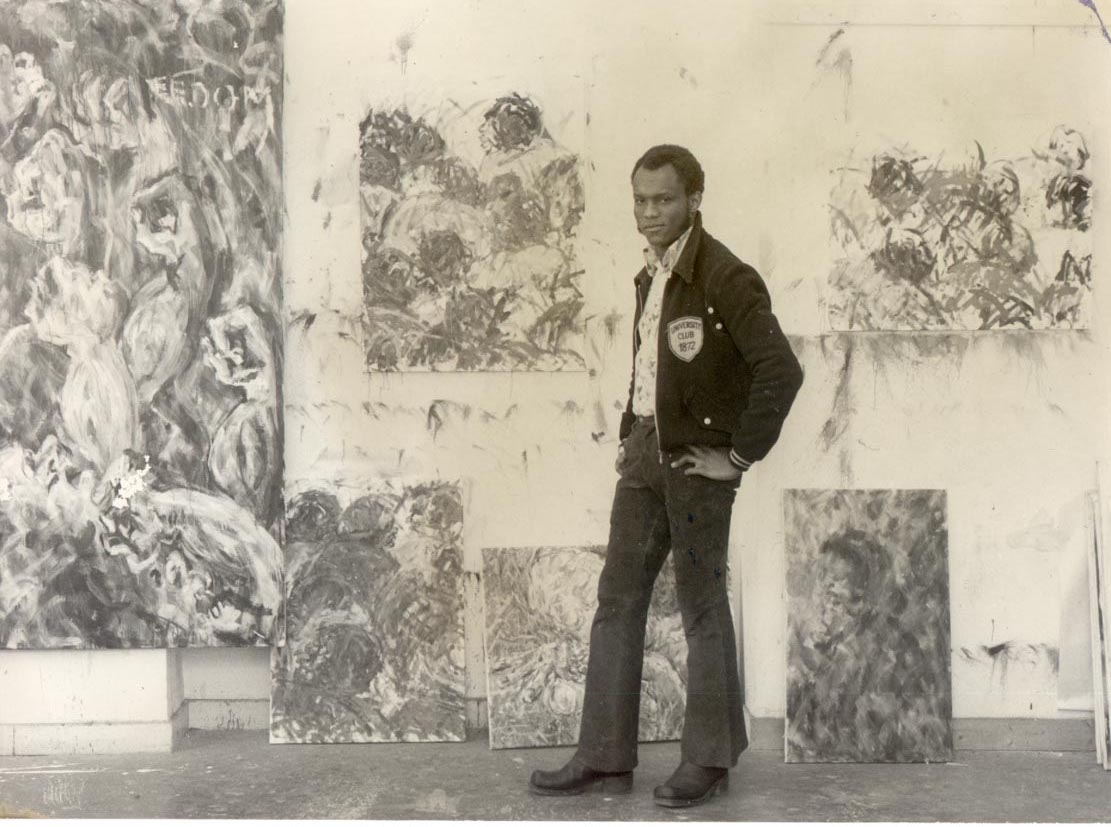 Behind the artist, lots of paintings are stacked. They are painted with expressive, gestural abstract marks. If you look closely you will see that one of the paintings shows clenched fists and the word 'freedom'.
Zambia and independence
When Henry Tayali was born, Northern Rhodesia was part of the British Empire. Black African people in the country did not have the same rights as the very small number of white Europeans who lived there.
Tayali played a pivotal role in the cultural and artistic development of Zambia, as a lecturer in African Art at the Institute of African Studies in Lusaka and as President of the International Association of Artists.
Zambia is a landlocked country and does not have a coastline. It has lots of natural resources, including wildlife, forestry, freshwater, and arable land. It is also rich in minerals – especially copper.
The mining of copper on a large scale changed Zambia from a country with lots of small villages, to one with big bustling cities. The population is concentrated mainly around Zambia's capital Lusaka in the south of the country, and in the cities in the north where copper is mined.
What inspired Henry Tayali?
Henry Tayali lived in Lusaka and documented the lives and hardships of the people living in the city.
His paintings and prints often evoke busy urban spaces, particularly bars and cafés where people relax after work. He felt it was important to reflect the identity of the Zambian people and culture in his paintings.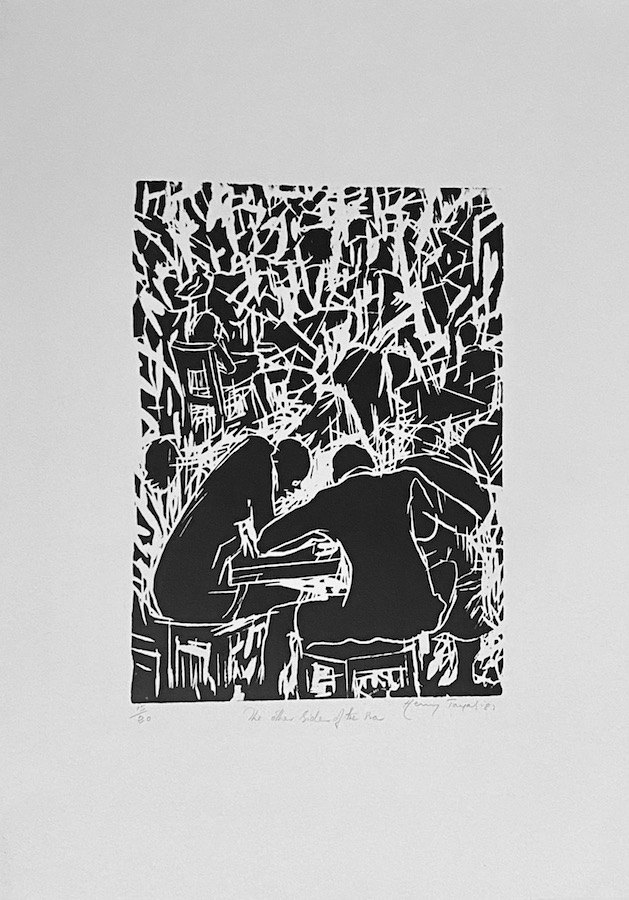 Group activity: how has Henry Tayali created the bustling, lively atmosphere of his painting?
Although the painting shows a real place and real people, Tayali has abstracted the scene using composition, colour, and gestural brushstrokes to capture not only what the bar looks like but also what it feels and sounds like.