Lorna Graves
Lorna Graves (1947–2006) was a prolific artist who worked across drawing, painting, printmaking and sculpture during her lifetime. She made a number of animal sculptures in clay inspired by ancient cultures and the landscape of Cumbria where she lived for most of her life. While modern in style, they are reminiscent of ancient art that could have been unearthed from a burial mound.
Watch and discuss: Lorna Graves' Animal (mended)
In the following film, students from James Rennie School in Carlisle visit Tullie House Museum & Art Gallery where many of Graves' sculptures are held.
Watch the film with your students and discuss:
what animal do you think Animal (mended) is?
what is the sculpture made from?
how did Lorna Graves create the shape of the sculpture?
does it matter that the sculpture has been broken and mended?
where would you put the sculpture in your home? Why?
Finally, discuss the things that are precious to your students, which they could capture in an artwork. Is it a pet, a family member, a hobby, a special object or something different?
Discuss: Box of Stones
Box of Stones is a series of 12 simple shapes made from clay. They have been fired using the Japanese Raku technique. This involves placing the clay – while it is still very hot – in leaves, twigs and wood shavings that catch fire, producing smoke and ash which embeds itself on the surface of the sculpture. The 12 small sculptures are presented in a black box, like a time capsule of relics from the past.
Explore all 25 images of Box of Stones on Art UK with your students and discuss what they think each of the sculptures depicts.
Activity: create a sculpture in relief
In this activity, students will create a simple sculpture that depicts something that is precious to them. This is inspired by a workshop that took place at James Rennie School, led by artist Shona Kinloch.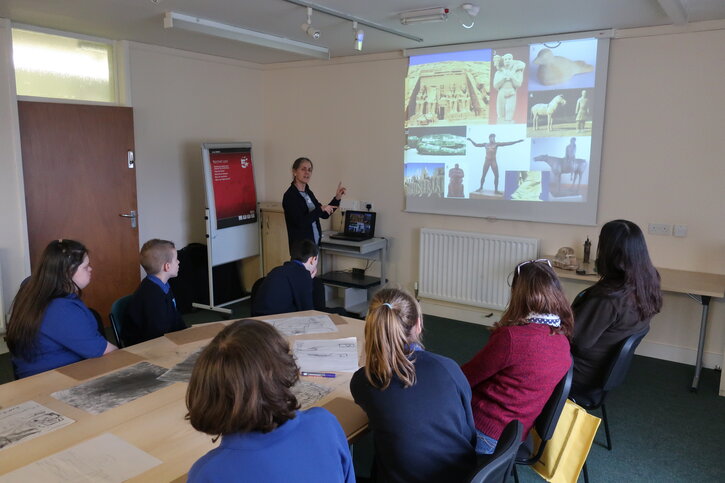 As well as exploring examples of Graves' sculpture, you may wish to look at examples of ancient drawings and sculpture, and their simple use of line and shape. During her workshop, Shona Kinloch showed the students ancient artworks, including Greek sculpture and Egyptian hieroglyphics, which have inspired some of her own work. As well as exploring ancient art in the links in our 'Find out more' section, you could also explore these examples of older sculptures in relief on Art UK: