Artists and clients
A commission is a request made by a client to an artist to create a work of art. The client will often give the artist a brief setting out what they want from the artwork. Usually the artist is paid for their work, so anyone can commission an artwork, as long as they have the money. The commissioning of artwork has a long history: often it was a means for the rich to display their wealth, and for rulers to communicate and maintain their power and status. Today, clients can be private individuals, corporations, charities or public bodies, such as local councils.
The artworks below are all examples of commissions. Ask your students to discuss their ideas about why the artworks were commissioned. Some information can be found by clicking through to the artworks' pages, and there are links in the 'find out more' section below should they wish to research these stories further.
Brief
In 2019, the British TV channel ITV ran ITV Creates, a project commissioning artists to interpret the ITV logo as a three-dimensional artwork, to be filmed for an ident. Idents are short films that carry the channel's logo, shown before programmes by TV channels to identify themselves.
A curator organised the ITV Creates project after being given a budget by ITV to find artists and arrange for works to be created and filmed. ITV's aim was to create new branding to emphasise the importance of creativity in the identity of UK broadcasting, and to encourage ITV viewers to take a fresh look at the channel.
The brief asked the artist to create artwork that:
is three dimensional
reflects what ITV means to them
is inspired by communication, television, technology, entertainment or togetherness
will entertain or surprise the viewers
Proposal
The ITV Creates curator approached artists she felt would be suitable, often found via social media. ITV commissioned several artists, and each was given the same brief. They were asked to respond by creating a proposal: sketches and writing that give an impression of the work they would make, before the work was agreed by ITV. The proposal is an important part of the process – the client needs to understand clearly what they will get for their money, the ideas behind it, how it will look, the size, colour and techniques used.
Jo Taylor is a ceramic sculptor who was commissioned as part of ITV Creates. The curator had seen and liked her previous work.

Jo Taylor's first proposal was for artworks to hang on the wall, but ITV asked for changes: they wanted a freestanding sculpture that they could film in the round. This is to be expected: the commission process normally involves a few discussions and changes before settling on the final proposal, as the client is effectively a customer.

Here is Jo's final proposal:
'Concept: I grew up with ITV; Mum has been watching Corrie for 50+ years, I prefer dramas. For me ITV is synonymous with the ad break: time to make a cuppa, and this small, often shared, domestic detail anchors the drama onscreen and offers a brief moment's pause before the action continues.

For this commission I will create a freestanding sculpture in the three colours of the current logo, revealing the ITV logo from one aspect only, so that when it is viewed in 360 degrees, it appears then disappears as it rotates. The dot of the "i" will show a tiny thrown cup, to represent the ad break punctuating the drama with a domestic detail. The chaotic additions represent drama with ITV at its heart, anchored by the tiny cup to represent the ad break.
Construction: Using a mixture of wheel-thrown and hand-built pieces of clay, a unique freestanding sculpture will be created. Coloured stains will be mixed into the clay to be as close as possible to the ITV logo colours. Kiln dimensions limit size; height will be around 35cm.'
Here are Jo's sketches: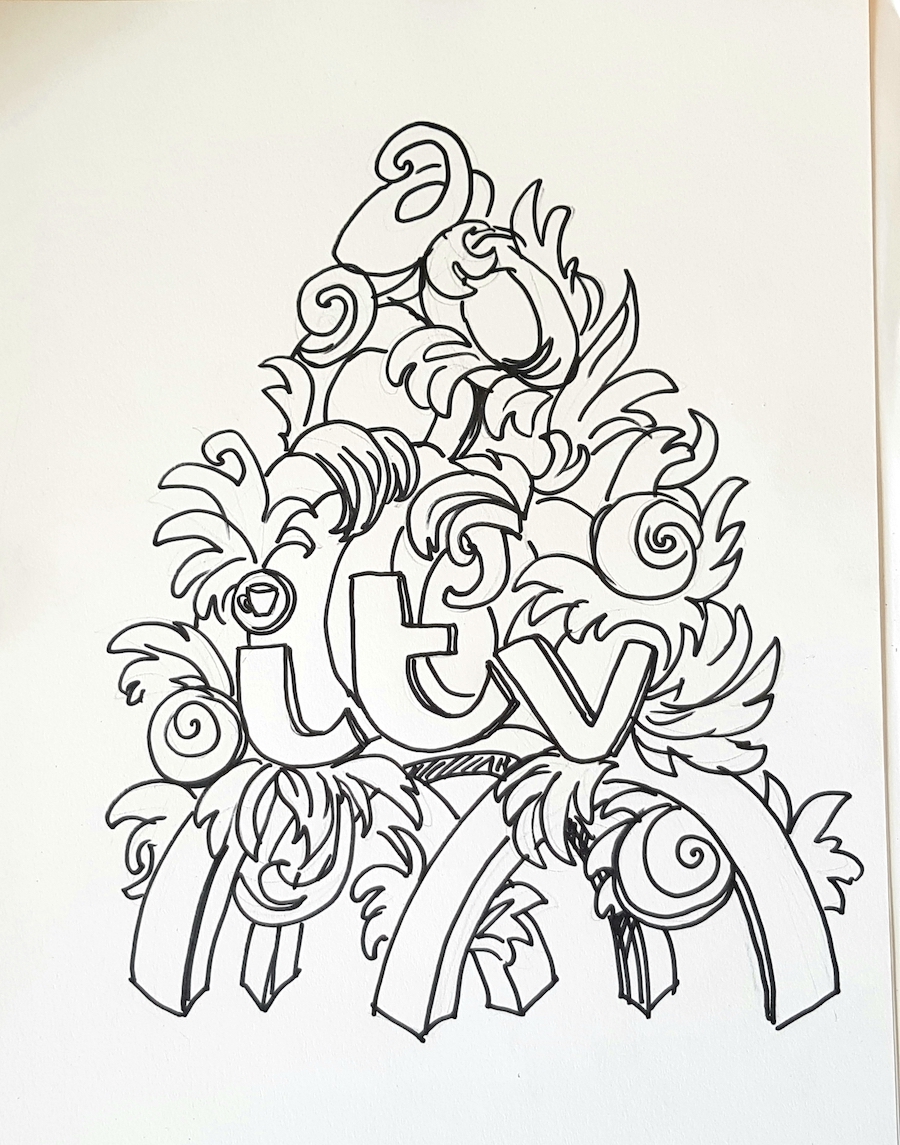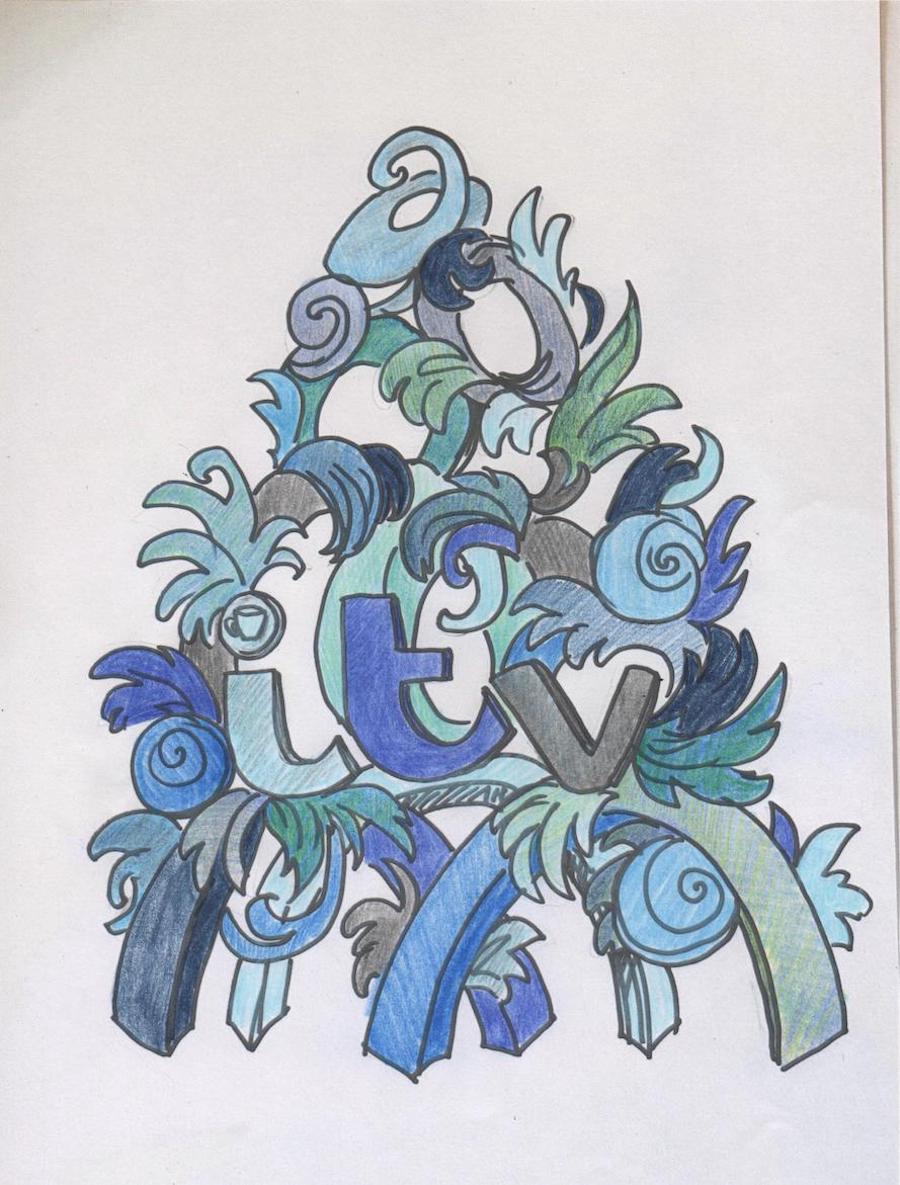 Discussion questions
Ask your students to examine Jo Taylor's proposal as if they represented the client, ITV.
How has Jo explored the themes with her sculpture?
How does the sculpture represent drama?
Which features of the sculpture represent the viewers at home?
Why has she chosen these colours?
Does the proposal meet the brief?
Ident films
Jo Taylor's sculpture was created to a deadline and taken to a studio for filming. It was broadcast as ITV's ident for a week in November 2019 and again in September 2020.
The artwork created by each artist was broadcast throughout the year. Some examples are included in the following video.
Though each artist worked to the same brief, each ident artwork created was very different. Jo Taylor told us: 'I met quite a few of the other artists and whilst everyone approached it differently, we all kept a lot of our specific art practice in the final work – the curator chose us all on the basis of what we had already done, and wanted to keep that essence in the final outcome.'
Activity: work to a brief
Ask students to prepare a proposal responding to the following brief:
You are commissioned to create a sculpture interpreting a broadcaster or streaming service's logo to be filmed for an ident. Your sculpture will be filmed from all angles. You will include a clear proposal to be agreed before making the final piece. The proposal can be presented as sketches, collage or CAD drawings. The final sculpture can be temporary or permanent, made from any material and can be large or small scale.
Students may choose their favourite broadcaster, streaming service or other media channel. Encourage them to research their choice, consider what sets the identity of that brand apart, and incorporate this into their proposal.
As students can use any material, you may wish to show them a range of idents created for ITV Creates for inspiration. For example, artist James Brunt used autumn leaves and soil. Carleen De Sozer used light and freestanding objects. Rubbena Aurangzeb-Tariq used plaster casts.

For help with responding to the brief in three dimensions, encourage students to imagine the piece will be filmed from all angles so that the broadcaster logo may be revealed gradually. Students could warm up by looking at these sculptures for inspiration and deciding where they could incorporate a logo: