The Collections Portal is a self-service system that allows collections to manage their data and add artworks to Art UK. Using the Portal, collections can:
Add new artworks, one-by-one
Edit existing artworks
Change information about venues that are managed by the collection
Add images and logos
We encourage all collections to add new acquisitions in oil and acrylic, and new sculpture, and to keep their records up to date.
Our Partner and Founder Partner collections may also add artworks in any media, e.g. drawings, watercolours, prints, collage.
The minimum size for adding images to artwork records is 1,200 pixels on the longest side.
If you want to also add works to the shop, then the pixel width and pixel height added together must exceed 3,000 pixels, and the image must be 300 dpi. If you need help with this, email images@artuk.org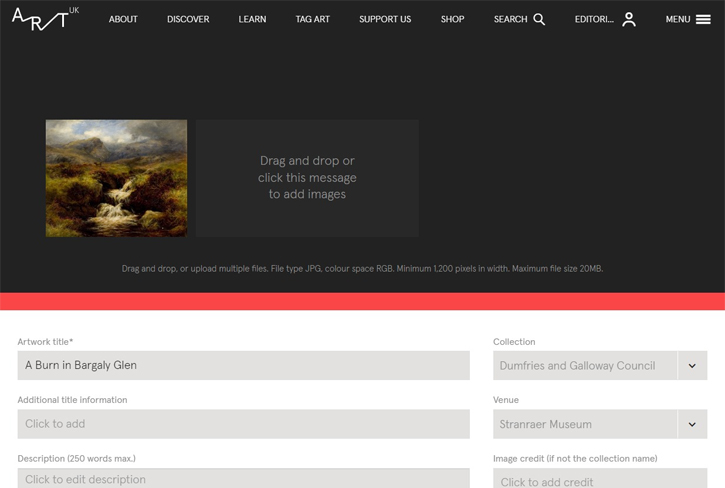 Adding a batch of artworks
If you want to add a large number of artworks, please get in touch (collections@artuk.org). Rather than adding them one by one through the Collections Portal, Art UK can add them all at once, on your behalf. Just send us the data and images and we'll do the rest. We'll take either your raw data or can provide a spreadsheet template to fill in.
Accessing the Collections Portal
Collections are required to have signed an Art UK Image Reproduction to have access to the Collections Portal. If this is still outstanding, collections can contact the Copyright and Licensing Team (copyright@artuk.org) who will be able to provide them with a copy of the form.
Once an agreement is signed, Art UK will email our lead contact (e.g. a curator) to notify them about access. The login details will be the same as for accessing Art Detective.
Where to find the Collections Portal
The Collections Portal can be accessed by logging into Art UK using a designated collection account. Click the 'SIGN IN' button in the top corner of Art UK. Once signed in, the Collections Portal menu appears in the top-right corner.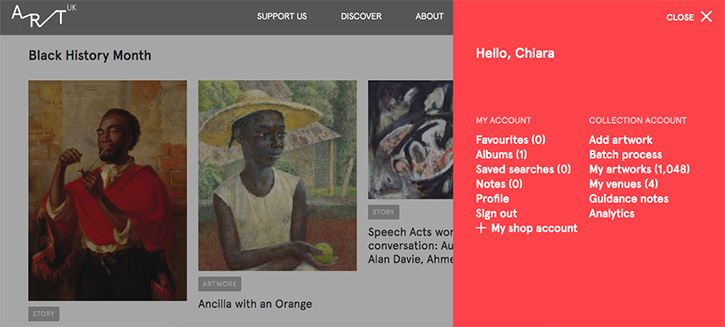 Analytics
Partner and Founder Partner collections may also access analytics and statistics pages, on request.
If you have any questions about using or accessing the Collections Portal, please email collections@artuk.org