Art UK partners with Bloomberg Philanthropies to offer collections both Bloomberg Connects – a free-to-use app for their venue – and the chance to participate in an online talk series, Art Unlocked.
Bloomberg Connects
The Bloomberg Connects app provides a free digital guide to individual cultural organisations, expanding access to arts and culture around the world. The innovative portfolio design offers multiple institutions on one platform, giving you a powerful way to serve your audience, while also reaching a diverse and growing group of users. You can offer this free app to your visitors, both onsite and off, to increase visitor engagement while also serving as an audience development tool.
The Bloomberg Connects portfolio includes museums, historic sites, parks, gardens, galleries, special public art exhibitions and more. The institutions range in size and discipline and are located in an expanding range of cities across the United States and Europe, with more being added every week.
Bloomberg Connects & Art UK
Art UK collaborates with Bloomberg Connects to bring partners an exciting, free digital opportunity to offer their visitors for broader engagement. Art UK works to facilitate relationships between Art UK partners and Bloomberg Connects, in line with our aims to share the nation's public art. Art UK provides content and marketing support throughout the process of producing a guide, and is on hand to answer any questions.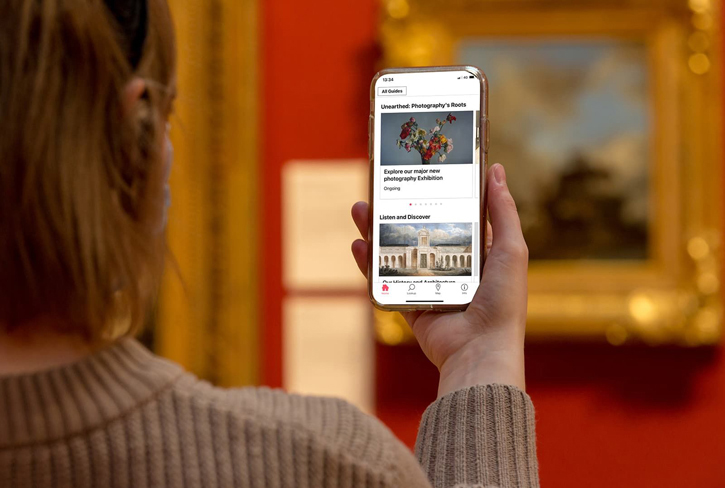 Why Bloomberg Connects?
Bloomberg Connects lets you provide a robust digital guide to your organization, for use by visitors on-site as well as remotely. In addition, the platform lets you engage with and gain insights from new audiences, without the burden of ongoing tech development and maintenance.
Free to use for cultural institutions and users
Fast-growing audience
Reach new global audiences
Hands-on help from the Art UK and Bloomberg Connects teams
Own the story, not the cost and maintenance
Manage with ease using the web-based CMS
Understand user behaviour with robust data and analytics tools
Designed for accessibility
Supports multilingual content
Connects to external resources, such as ticketing, membership and fundraising
Bloomberg Connects is a philanthropic partnership. A dedicated, multi-disciplinary team works with cultural partners every step of the way, offering: content support and guidance; research and analytic insights; marketing and social media services; designers, writers and strategists an always-on advertising campaign; and ongoing technical support.
If you'd like to take part in the Bloomberg Connects app, please email camilla.stewart@artuk.org for further information.
Art Unlocked
Art Unlocked is a free online talk series developed in collaboration with Bloomberg Philanthropies. Each week, curators and directors from different partner organisations deliver a short talk on selected works from their collections. Recordings of the talks are shared on Art UK's YouTube channel, and you can find Curations for each of the talks on the Art UK website.
A huge number of partners have participated so far, from Aberdeen Art Gallery to Yorkshire Sculpture Park, and we are always looking to invite more to get involved and share their own collection stories.
If you'd like to take part, please email hazel.preston@artuk.org for further information.
Previous Art Unlocked selections feature as Curations or you can watch the full recordings on a YouTube playlist: