Today we announce the winners of the second Write on Art prize. This award is jointly sponsored by the Paul Mellon Centre for Studies in British Art (PMC) and Art UK, and is aimed at students in their last four years of school.
On Saturday 6th July 2019, some 60 shortlisted students and members of their families joined staff from the PMC and Art UK at the Paul Mellon Centre in Bedford Square, London, to discover who would be the winners of this year's competition. The prize-giving ceremony was followed by a picnic on the lawns of the square and was a fitting celebration of the excellent essays submitted this year, not only by the shortlisted candidates but by so many of the 170 entrants.
As Val McDermid, best-selling crime novelist and one of our judges, said:
'The overwhelming impression I took away from reading the Write on Art entries was the passionate engagement of the fledgling critics. They'd done their homework to contextualise the works they chose but what shone through was genuine responses that went far beyond a dry academic exercise. We're constantly told that young people are only willing to engage with constantly shifting digital content – these reactions demonstrate how wrong a judgement that is. I came away feeling more optimistic about the future of art.'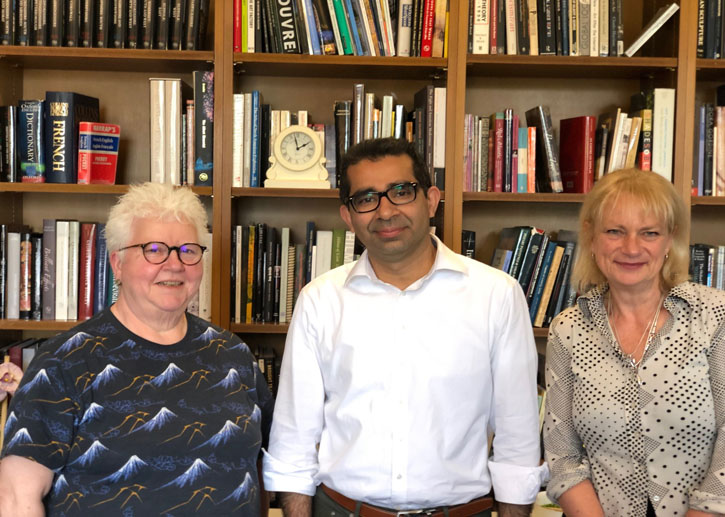 Joining Val in making the difficult decisions this year on which of the shortlisted candidates would be category winners were Louisa Buck, author and journalist at The Art Newspaper, and Hammad Nasar, curator and writer. In the end, after much deliberation, our three judges made the following choices of winners and runners up:
Years 12 and 13
First place: Viola Turrell from James Allen's Girls' School on Blotter by Peter Doig
Second place: Grace Page from Ysgol Bro Pedr Comprehensive on Greenham, Peace Vigil by Claudia Williams
Runner up: Heloise Pinto from Hills Road Sixth Form College on The Evening Star by J. M. W. Turner
Runner up: Amelie Slack from Paston College on Urd Werdande Skuld (The Norns) by Anselm Kiefer
Runner up: Sophie Smith from Godalming College on Metamorphosis of Narcissus by Salvador Dalí
Years 10 and 11
First place: Jack Harrison from Giggleswick School on La Mitrailleuse by C. R. W. Nevinson
Second place: Maryam Khan from the Queens School Chester on Bacchus and Ariadne by Titian
Runner up: Jonathan Clark, home educated, on La Mort d'Arthur by James Archer
Runner up: Toby Golding from Richard Hale School on Light and Colour (Goethe's Theory) by J. M. W. Turner
Runner up: Gaia Mannings from The Abbey on Celebrating the Birth by Jan Steen
Commenting on her experience judging this year's Write on Art prize, Louisa Buck said:
'It was a great pleasure to be a judge for Write on Art and I was very impressed by the standard of entries. Jack Harrison's response to Nevinson's La Mitrailleuse shone out as especially fresh and personal. Viola Turrell's analysis and examination of Peter Doig's Blotter made me see the painting with new eyes.'
The winning students in each category received £500, the second-placed students £200 and each of the runners-up £100. The top two essays in each category will be published on the Art UK and Paul Mellon Centre websites this week and then on The Art Newspaper website.
We wish all the candidates in this year's competition great success in their future careers.
Art UK and the Paul Mellon Centre launched the Write on Art prize in 2017 to encourage a greater interest in art and art history at schools. Both institutions hope that this prize will be of particular interest to students and teachers at state schools, where the future for the teaching of art history remains challenging.
Submissions for the third annual prize will be open between October and March 2020.
Andrew Ellis, Director of Art UK, and Sarah Turner, Deputy Director for Research at the Paul Mellon Centre