In the spring and summer of 1959, the Royal Academy staged an exhibition of many of Sir Winston Churchill's paintings in some of its rooms at Burlington House.
It was a sensational success, with more than 3,000 visitors on the opening day, which was a record for a one-man show. By the time the exhibition closed, over 14,000 people had visited – a greater number for any exhibition held in the same spaces of Burlington House except for one devoted to Churchill's fellow artist, Leonardo da Vinci.
'We think', the Academy's President, Sir Charles Wheeler, wrote to Churchill, after the show had closed, 'it has deservedly marked in the most effective and significant way your historic membership of the Royal Academy, thus crowning your 'Extraordinary' title in our annals.'
The years from 1955, when he retired as Prime Minister, until his death ten years later, were for Churchill personally a time of slow physical and sad mental decline; but they also witnessed his late-life apotheosis as 'the saviour of his country', 'the largest human being of our time', and as the most famous, honoured and venerated man in the world.
Such encomiums, although not universally shared, rightly recognised the extraordinary longevity and outstanding achievements of Churchill's public life, as a politician, party leader, prime minister and international statesman; but they also bore witness to the unusual range of Churchill's extra-curricular activities as (among other things) a soldier and journalist, historian and biographer, bricklayer and bon viveur, polo-player and racehorse owner.
But on any list of what Churchill called his 'hobbies', and which we might call his 'hinterland', painting eventually came to rank very high, both in terms of the therapy and pleasure it gave him, and also as an important aspect of his latter-day reputation as 'the most remarkable human being ever to have occupied 10 Downing Street'.
For, while he never claimed to be a great artist, but was merely an amateur producing little 'daubs', painting did come to occupy a uniquely important place in his recreational repertoire. As the Royal Academy exhibition devoted to him made plain, it also furnished an essential element of his latter-day public persona as a veritable Renaissance man of exceptionally varied talents and accomplishments.
It is well known that Churchill took up painting late in life, in the aftermath of the Dardanelles disaster, for which, rightly or wrongly, he shouldered most of the blame. Suffering from a depression so deep that his wife Clementine thought he would die of grief, Churchill turned to painting – initially in watercolours, subsequently in oils – which absorbed him completely, helped him drive away the 'black dog', and enabled him to begin to enjoy life again.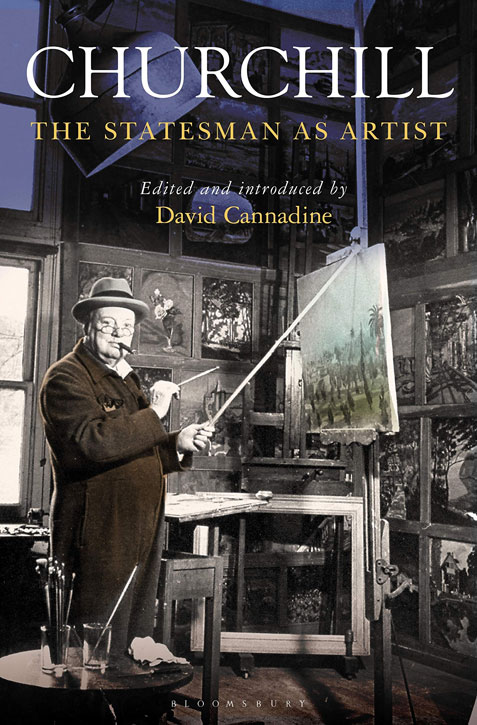 And after some early experimental efforts, Churchill settled on a style and on subjects that were bright, cheerful and uplifting: the interiors and exteriors of the great houses where he and Clementine stayed; still lives of flowers, fruit and wine-bottles; and sun-drenched depictions of the French Riviera and the walls, turrets and minarets of Marrakesh, with the Atlas Mountains in the distance.
Among dead artists, Churchill admired J. M. W. Turner and the French Impressionists (especially Paul Cézanne), among the living he was impressed by Henri Matisse, and he took lessons from Sir John Lavery, Walter Sickert, Sir William Nicholson and Paul Maze.
By the 1920s, he had established a reputation as a talented amateur painter: he wrote journalistic articles that would eventually be republished in 1948 as Painting as a Pastime, and he was a regular speaker at the Royal Academy summer dinner. In 1947, he began to exhibit at the Academy's revived summer exhibition (he would do so every year until 1964), and in the following year, he was elected an Honorary Academician Extraordinary. No amateur artist had ever been so recognised before, and none has been so honoured since.
'If it weren't for painting', Churchill once told Sir John Rothenstein, 'I couldn't live. I couldn't bear the strain of things.' Painting was certainly therapy for him, and became an essential element of his late-life renown; but it was also one more outlet for his exceptional creative energies. Across more than four decades, Churchill would eventually complete some 500 canvasses – an astonishing output, given the many other calls on his time, energy and imagination.
'Winston', his doctor Lord Moran once observed, 'sees everything in pictures'. And it is also in his own paintings that we can see and find so much of him.
David Cannadine, President of the British Academy
Churchill: The Statesman as Artist, edited and introduced by David Cannadine, is published by Bloomsbury